Man plays Imagine in Paris in defiance of terror attacks
Paris attacks: The story behind the pianist who drove 400 miles to play 'Imagine' outside the Bataclan
Davide Martello heard the news while watching the France v Germany match on TV
Davide Martello was enjoying a drink in a German pub on Friday night when he heard news of the horrific terror attacks in Paris.
While millions watched the horror unfold on TV, the 34-year-old grabbed his portable piano and headed to Le Bataclan in Paris, where 87 people had been massacred by Islamic State gunmen at an Eagles of Death Metal gig.
He drove 400 miles from Konstanz to play a haunting instrumental version of John Lennon's iconic pacifist song "Imagine" in front of a grieving crowd. This is his story:
"I phoned my friend to talk about it, got in the car and drove all through the night," Martello said, according to the Guardian. "I just knew I had to do something. I wanted to be there to try and comfort and offer a sign of hope.
"I can't bring people back but I can inspire them with music and when people are inspired they can do anything. That's why I played 'Imagine'."
Martello is known for travelling around war zones with his piano attached to a bicycle, and often performs under the name Klavierkunst. He performed at the site of the Charlie Hebdo shootings in January and the Taksim demonstrations in Istanbul, and announces on his website that his goal is to "play in every capital of the world with his grand piano".
"Davide needs the support of the local authorities to play without getting into trouble with local laws," a message reads, adding that he welcomes suggestions of "beautiful places to play".
Fans have been writing in his online guestbook following his Paris performance, thanking him for "inspiring the whole world during such a difficult time".
"Thank you for creating light when there is darkness with your music," wrote Rachna Dhall, while others posted pictures of the Eiffel Tower made into a peace sign.
The world mourns Paris attacks - in pictures

Show all 25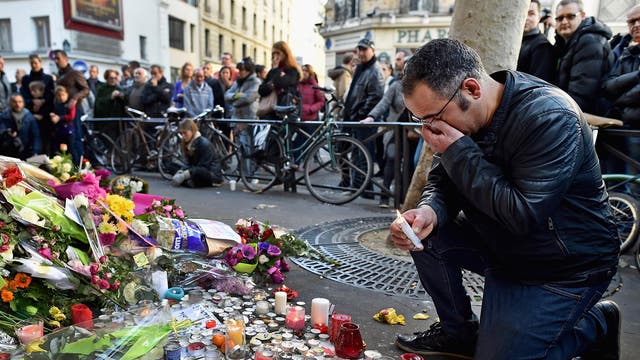 A campaign has been launched to get Eagles of Death Metal, all of whom survived the siege, to number one in the UK charts. The band's British merchandiser, Nick Alexander, is among the dead.
In total, at least 132 people were killed and many more critically injured in a series of co-ordinated attacks throughout Paris, including bombings at Le Stade de France during the France versus Germany friendly and shootings at restaurants and cafes.
Join our new commenting forum
Join thought-provoking conversations, follow other Independent readers and see their replies