Scotland's singing siblings The Proclaimers celebrate 25 years in the music business
The Proclaimers celebrate 25 years in pop with a new album. James McNair meets them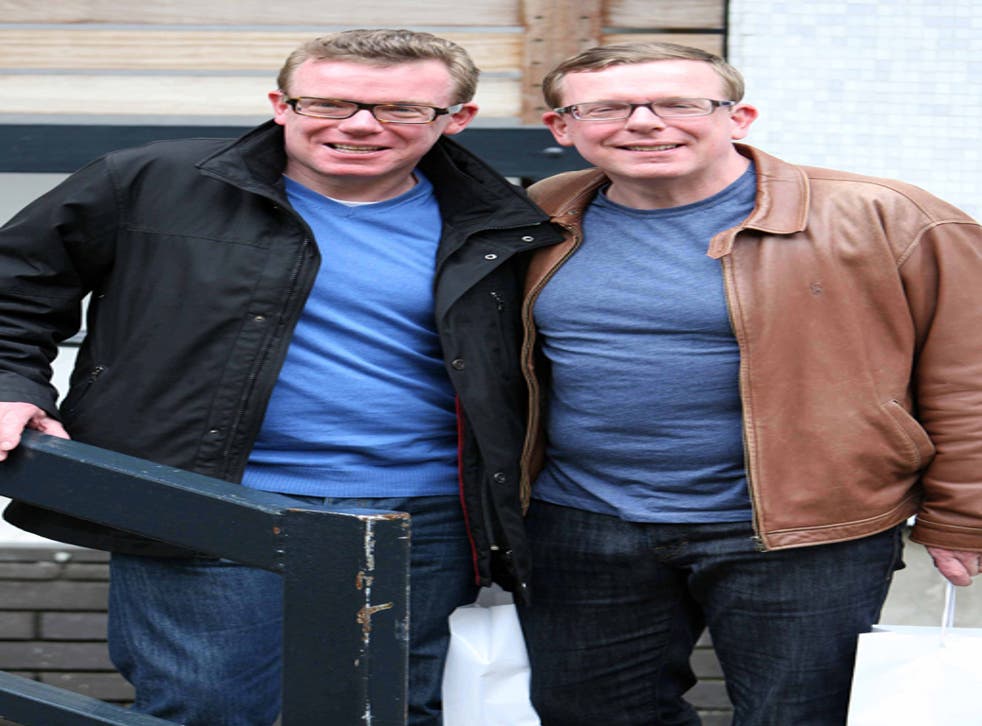 The Scots twins Craig and Charlie Reid, 50, grew up to be stentorian-voiced duo The Proclaimers.
Though Charlie's dispensed with the trademark specs and middle age has began to differentiate the once identical siblings, a brace of Reids still turns heads. When the kilted doorman at our posh Edinburgh hotel rendezvous gives them the nod, you sense their faces are as familiar to him as that of Billy Connolly.
The Reids and I have met to discuss Like Comedy, The Proclaimers' ninth studio album. A work that sees them celebrate 25 years in the business, it's a typically passionate and eloquent affair, its songs tackling everything from life's simple pleasures ("Women and Wine"), to a carefully considered agnosticism ("I Think That's What I Believe"). The title track, meanwhile, is about accepting life's surfeit of pathos and bathos. "It's also about recognising how foolish you can be, and how foolish the people and situations around you can be," expands Craig.
It's the video for the album's first single, "Spinning Around in the Air", though, that is currently making waves. Directed by Little Britain star Matt Lucas, it's a comic Grand Guignol that presents The Proccies as we've never seen them before. Mischievously, Lucas insisted that Craig and Charlie drag-up as old ladies.
"I remember our tour manager Tom joking that The Proclaimers would end up in pantomime," says Charlie. "Well, this is close. Matt joked that it would be liberating for us, but that's an understatement. Stanley Baxter always looked good when he dragged-up, but me and Craig look like Hinge & Bracket."
Craig explains that Lucas's directorial debut is actually a satire on a golden wedding party set in a Glaswegian bungalow. Much potent punch is consumed, things get rowdy, and the Strathclyde police are called out. Though Lucas has joked that his first music-video treatment may end up being his last, his love for The Proclaimers is a matter of public record. "'Sunshine on Leith' said more to me about my life than anything [by] Morrissey or Cobain," wrote the comedian, bigging up C&C's second album in liner notes for the 2002 compilation, The Best of the Proclaimers. "Their music makes me laugh and it makes me cry."
Factor in the duo's formidable live reputation and such quality-controlled albums as 2001's Persevere and 2007's Life with You, and it's hard to fathom why the twins aren't bigger stars. Sure, they've had their triumphs – six weeks at No 1 with "I'm Gonna Be (500 Miles)" when it was re-recorded for Comic Relief with Peter Kay and Matt Lucas; playing to a TV audience of over a billion prior to the 2002 Uefa Champions League Final at Hampden Park – but the travesty is that some still see the Proccies as something of a novelty.
Perhaps its the specs and the parochial accents, I suggest? Perhaps the public's readiness to don a Jimmy wig and mimic The Proclaimers has led to the duo's world-beating songs, largesse and deft, Everly Brothers-like harmonies being somewhat overlooked?
"I don't know about that," says Charlie, "but let's face it, Craig and I could write our obituaries tomorrow. We're always going to be the funny-looking twins with glasses who wrote that song about walking 500 miles. The good thing is, once you've realised that, why worry?
"I genuinely don't care if people think, 'Oh, it's just those Scottish guys'," says Craig, picking up the baton. "Song for song, I think our stuff is as good as anything anybody's put out in the past 20 years. Many people have got it, but if the majority of people either don't care or are actively hostile, so be it."
'Like Comedy' is out now on Cooking Vinyl
Join our new commenting forum
Join thought-provoking conversations, follow other Independent readers and see their replies