The Simpsons once referenced Alan Rickman and David Bowie in brilliantly British clip
Just Severus Snape, randomly appearing in Parliament to talk about love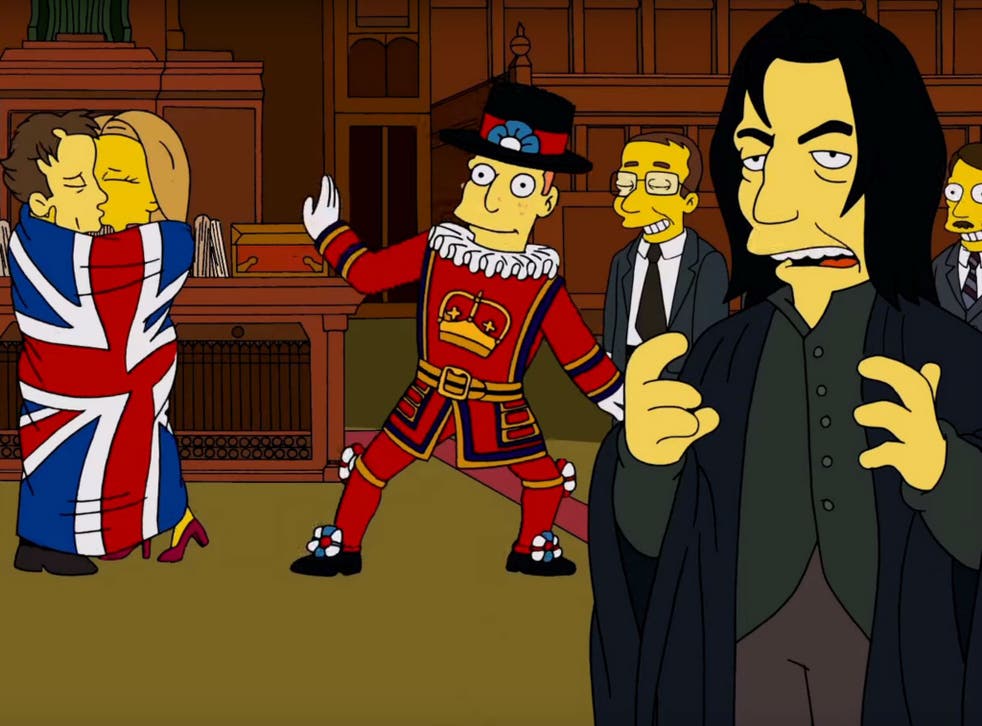 The world said goodbye to two very talented performers this week, David Bowie and Alan Rickman, and it turns out they were once referenced in the same The Simpsons, scene.
Two of Rickman's most memorable films, Love Actually and Harry Potter, were parodied, in a clip circulating again today in light of the actor's death.
The clip begins with Homer and his Springfield pals trying to understand their wives by watching Love Indubitably, featuring a Prime Minister voiced by none other than Benedict Cumberbatch using his power to declare his love for his secretary, Eliza Commonbottom.
Parliament erupts into cheers as they kiss as "All The Young Dudes" by David Bowie, who also sadly and unexpectedly died this week, blasts out.
Then, not randomly at all, Rickman appears dressed as Professor Severus Snape to give a speech about love. "Love is more powerful than all my magic," he says, before Shakespeare, Churchill, Sherlock and Isaac Newton perform The Full Monty as director Alfred Hitchcock steps out of Dr Who's Tardis and breakdances.
The scene originally aired in February 2013 during the episode 'Love is a Many-Splintered Thing'.
Join our new commenting forum
Join thought-provoking conversations, follow other Independent readers and see their replies