Adele, Glastonbury 2016, review: It's impossible not to love her
Possibly the biggest sing-a-long Worthy Farm has ever seen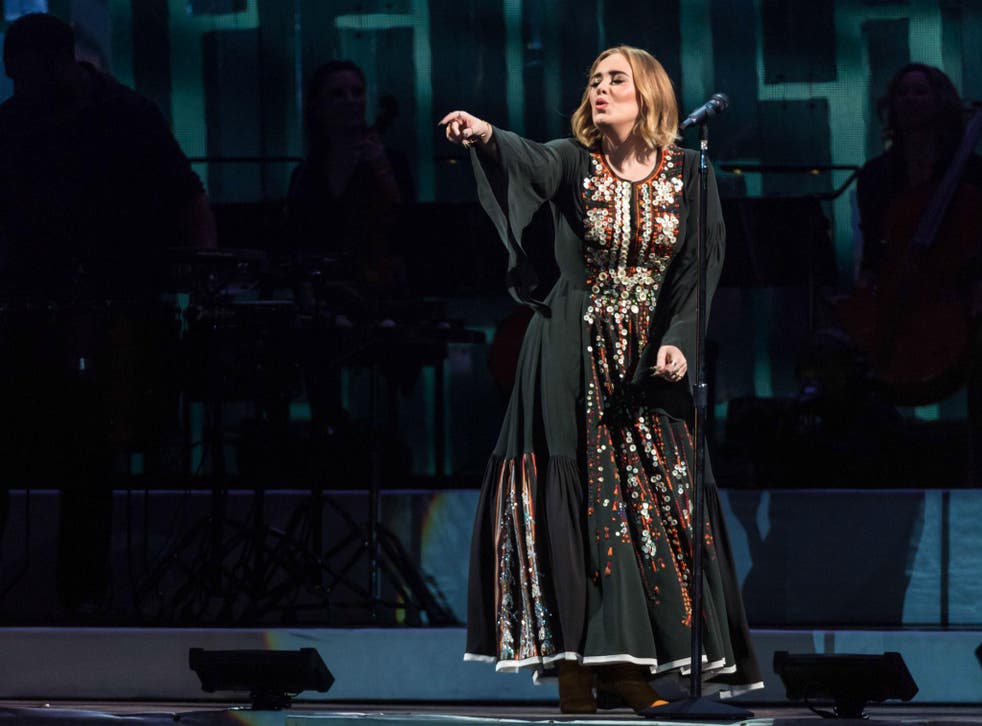 Despite having remained absent from the festival circuit for years, the current queen of pop, Adele, decided it was about time she accepted that Glastonbury request, taking on the Pyramid Stage's Saturday night slot previously held by The Rolling Stones, Metallica, and Kanye West.
Before the set starts, the singer's closed eyes light up the screens behind the stage, opening upon her entrance to the words of "Hello" (the words changed to reflect being in Glastonbury, of course).
Within seconds, the multi-million selling artist is running around the stage, her excitability setting off the crowd in possibly the biggest singalong Worthy Farm has ever seen (until later in the set, that is).
Backed by a huge band, compromised of multiple singers, drummers, violin players and guitarists, Adele launches into "Rumour Has It", standing stern in the stage's centre, composing the crowd as if they were her orchestra.
By the time "One and Only" hits, a ballad that sees the singer only accompanied by a piano to begin with, certain members of the crowd are crying. However, it's when 10-year-old Lyla, a Bastille fan, is invited on stage, telling the crowd her favourite colour is pink, that the water works really start.
What follows is an interlude of pure joy, one in which Adele says "F*ck you" to the haters while admitting my greatest fear about her set; that it's going to be full of "miserable" ballads. Thankfully, she's entirely self aware, deciding to launch into the more upbeat "Water Under The Bridge".
After another chat with the crowd, in which she reveals why she didn't film a video for "Skyfall", the lights dim and the Bond theme launches the crowd into another singalong, Adele's voice as crisp as on the record (any accusations of auto tuning being blown out of the water).
"I don't know how to say anything," she says in another beautifully authentic break. "I had a Chinese last night, watched Muse. So many stories to tell you."
Glastonbury 2016 - in pictures

Show all 10
Then "Hometown Glory" comes, the singer holding mug of water, her body language showing a person genuinely taken aback by a crowd lapping up every minute. Unfortunately, when followed by "Don't You Remember", a little momentum is lost. However, it's quickly brought back as Adele tells another motherly tale of lovers past, revealing she was totally like "nah bruv" to him because "you live with your mother".
What follows is a trio of upbeat numbers that the crowd react wonderfully to. For "Send My Love (To Your New Lover)" she trails the lower stage, walking along the pathway, having a little dance. Then, for "River Lea", it's a quick restart ("It's all that dancing, I'm not used to it," she admits) followed by "Rolling in the Deep", a set highlight that sees hundreds flock to their Snapchat accounts to take selfies.
For "Make You Feel My Love", she asks everyone to light the hill up with their phones, something almost everyone engages with, and it looks incredible. If it wasn't for someone with this amount of pure showmanship, it wouldn't have worked; instead, someone proposes to their partner next to me.
Glastonbury crowd sings tribute to Jo Cox
Up on stage next is teary superfan Maria, from Brazil; they take a selfie and Adele burps, igniting laughter from the crowd, all before a little break in which a member of the crowd is whisked off by security. The pause is no problem though, her motormouth keeping everyone entertained, while "Set Fire to the Rain" launches the crowd to new heights, helped by fireworks.
For her encore, Adele abruptly leaves the stage before footage of her in her youth, playing her first Glastonbury set - shot on what must be an ancient Nokia - beams on the screen. Then, as "When We Were Young" is sung, more photos of a young Adele, leading to numerous 'awes' form the adoring crowd.
Before her last song, a message to Glastonbury, on how watching Garbage formed her career and how "I will never forget this moment in my life." And with that, a final singalong to "Someone Like You", surpassing the previous peak set by "Hello".
Even if you've never liked her songs, Adele undeniably won over everyone at Glastonbury, her charisma, charm and down-to-earth attitude so authentic, it's impossible not to love her.
Join our new commenting forum
Join thought-provoking conversations, follow other Independent readers and see their replies