Africa Express, The Arches, Glasgow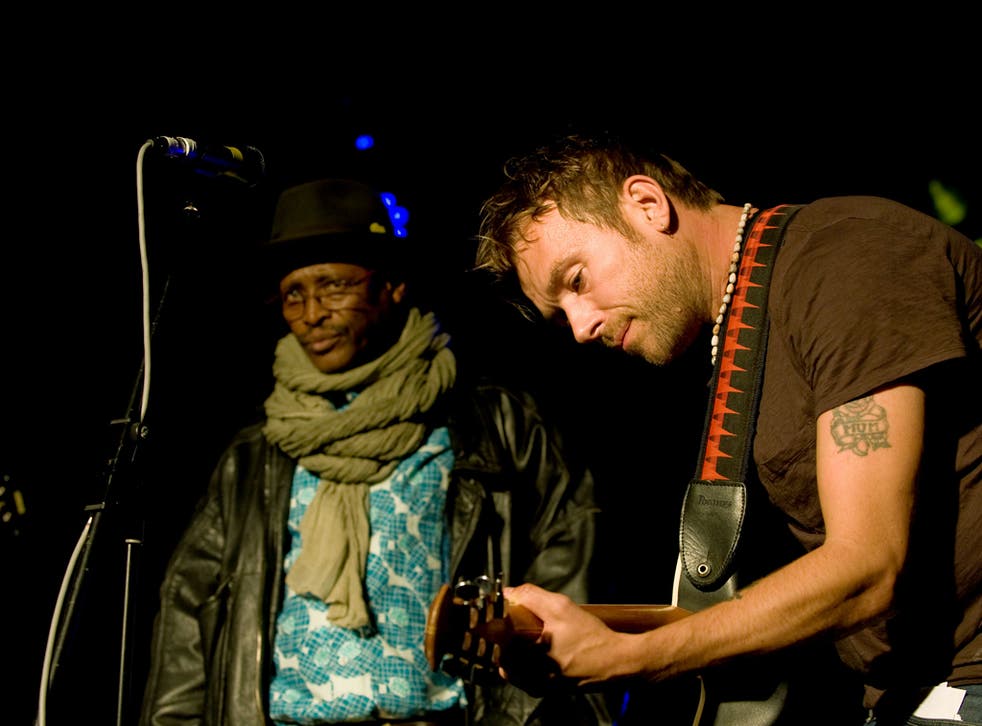 "Feedback piano - it's the future!" declared Damon Albarn after one of the allowable technical glitches which assailed this show - surely one of his biggest musical undertakings to date - and only slightly sullied a wonderful piano duet of Gorillaz' !'On Melancholy Hill' between himself and the powerfully-voiced Malian singer Rokia Traore. Expect charts and awards ceremonies to soon be filled with artists celebrating the applied misuse of amplification equipment, because Albarn sure knows how to spot a trend and jump on it when he sees it.
In fairness, his musical career outside Blur or Gorillaz during the last ten years has proven his interest in the traditional and popular styles of the African continent to be an abiding passion rather than a passing interest. This large-scale, London 2012-sponsored package tour of collaborating UK and African musicians sold itself in accessible form, right down to the specially commandeered train-come-rehearsal space which is carrying the crew around the country, and which pulled into Glasgow Central station earlier in the day amidst much media fanfare.
With nearly eighty musicians representing more than forty individual groups across two stages and four hours, the briefest of occasional onstage introductions and no formal running order were perhaps not enough to satisfy the curious audience member who wanted to find out more about many of the unheralded African artists appearing before them.
So the focus inevitably shifted to the familiar, and how it had been manipulated by on-the-tracks rehearsals during the day: the Libertines' 'Don't Look Back Into the Sun' performed by its co-composer Carl Barat, Harley Alexander-Sule from Rizzle Kicks and members of The Temper Trap alongside Ethiopian funk trio Krar Collective; Bombay Bicycle Club's Jack Steadman trying to keep up with the frantic jazz drums played over his own 'Shuffle'; and Reverend and the Makers' John McClure growling out the Clash's 'Train in Vain' with Barat's backing vocals and Amadou Bagayoko's chiming guitars in the background.
Undoubtedly the show was a highly entertaining success, although perhaps a qualified one, with those who weren't inclined to take notes perhaps remaining unaware that Traore's was the name behind that elemental vocal, or that the Zanzibarian Mim Suleiman was the woman with the ferocious voice and dance moves appearing alongside Krar Collective in the second room. This is only a small retrospective complaint, though, and as Albarn's version of Rocket Juice and the Moon's 'Poison' cranked up into an improvised rap tribute to Tony Allen, the drummer whose friendship with Albarn helped start it all, it was impossible to escape the feeling we'd witnessed something thrillingly unique.
Join our new commenting forum
Join thought-provoking conversations, follow other Independent readers and see their replies