Album reviews: Haim – Something To Tell You, Calvin Harris – Funk Wav Bounces Vol. 1, Offa Rex – The Queen Of Hearts
Also, Broken Social Scene – Hug Of Thunder, Jupiter & Okwess – Kin Sonic, Public Service Broadcasting – Every Valley, and Gil Scott-Heron – The Revolution Will Not Be Televised… Plus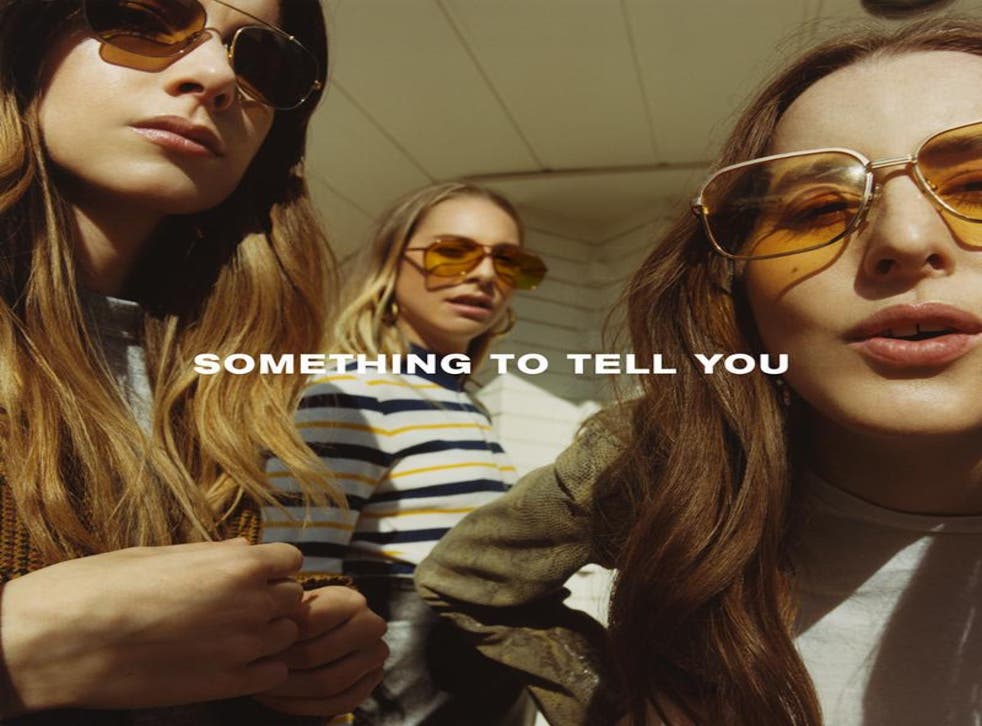 Calvin Harris, Funk Wav Bounces Vol 1
★☆☆☆☆
Download: Holiday; Rollin; Skrt On Me
On his follow-up to Motion, Calvin Harris all but ditches the brutalist techno that was his stock-in-trade for albums like 18 Months, in favour of a more reflective, retro-styled collection: as the title suggests, not so much bangers as bounces. In many ways, it's a typical contacts-book R&B exercise, with an impressive cast of guests (including Frank, Pharrell, Snoop, Nicki, Katy, Ariana and others) on a fairly underwhelming series of grooves. Pharrell's light pop touch lifts the pleasant party piece "Heatstroke" and cod-reggae number "Feels", featuring Ariana Grande and Katy Perry, respectively; and Frank Ocean adds his usual idiosyncratic take on dancefloor mores and moves to "Slide". But among a collection nodding variously back towards Italian house piano fanfares, dancehall twitches, and invitations to "party like it's the Seventies", it's the echoes of Nineties G-Funk in the low-rider celebration "Rollin" and the quacking synth riff of "Holiday" that are most welcome.
Haim, Something To Tell You
★☆☆☆☆
Download: I Want You Back
Haim's follow-up to Days Are Gone suffers from much the same shortcomings as that debut, but further debilitated by the classic Difficult Second Album Syndrome. Clearly knocked up in the studio following months of weary touring, these songs are as limp as long-lost lettuce, several of them barely meriting the appellation "song" at all. Instead, those family-sized harmonies are harnessed to a slim selection of stylistic tropes hinting at influences they'd hope might trigger memories of grander designs: "Nothing's Wrong" boasts a spangly keyboard sound prevalent in plenty of Eighties West Coast pop, while "You Never Knew" has a tick-tock pop pleasantry akin to Christine McVie, though not as melodically adhesive, despite the achingly extended repetitions that seek to rivet these half-songs into one's consciousness. But the titles tell their own story: "Ready For You", "Right Now", "Walking Away", "I Want You Back"… it's the songwriting equivalent of a child's colouring book, except they never crayon anyone blue or green.
Offa Rex, The Queen Of Hearts
★★★★★
Download: The Queen Of Hearts; Blackleg Miner; The First Time Ever I Saw Your Face; Willie O'Wimsbury; Old Churchyard
Understandably beguiled by Olivia Chaney's enchanting 2015 debut album The Longest River, The Decemberists' frontman Colin Meloy tweeted his request that she cover the traditional ballad "Willie O'Wimsbury". A sweetly selfish demand, it triggered a touring alliance between Chaney and Meloy's band that led to his eventual suggestion, as she came offstage one night, that the two parties consummate their shared love of traditional English folk music by recording together, with The Decemberists, as he put it, playing The Albion Dance Band to her Shirley Collins.
The result, recorded by electro-acoustic production genius Tucker Martine, is The Queen Of Hearts, a sublime collection of old songs given contemporary heart transplants without ever betraying their essential original truth and spirit. Martine has long been The Decemberists' go-to producer, and his deft touch with female vocals was confirmed by last year's album from Neko Case, kd lang and Laura Veirs; here, he plays midwife to a beautiful brood of offspring from the collaborative Offa Rex, ranging in style from the jaunty Fairport-esque romp "Bonny May" to a moving version of Ewan MacColl's "The First Time Ever I Saw Your Face" featuring Chaney's pure, clear tone aching over her lonely harmonium drone.
The album's psych-folk-rock bona fides are established at the outset by the title-track's electric harpsichord, which summons echoes of "Sunshine Superman" – except that here, it proceeds with an unusual, courtly gait, whilst Chaney negotiates a lyric of unrequited desire between the eponymous Queen of Hearts and the Ace of Sorrow. "Blackleg Miner", which follows, is a centuries-old political broadside sung by Meloy over a dense weave of guitar, mandolin and harmonium driven by resolute drumming. It's revelatory, a rollicking reminder of how workers have faced the same battles through many generations, albeit in subtly different guises. And starkly different tactics: the retributions threatened on the titular turncoat here are far more brutal than anything encountered in these more delicate days.
Elsewhere, the delicate filigree of guitars and violin which carries the seductive "The Gardener" contrasts with the rockier approach taken on "Sheepcrook And Black Dog", where organ, electric piano and heavy fuzz-guitar chording offers a piquant contrast to Chaney's sylvan tones; while the fizzy guitar arpeggios, violin and harmonium of "Old Churchyard" build up a dense droning texture of almost oppressive eeriness. Best of all, though, is the collaboration's germinal seed, "Willie O'Wimsbury", on which loping double bass and subtle guitar picking provide a relaxed but enveloping bed for Chaney to spin a tale of commoner intercession into royal romance. It's quite, quite beautiful; and like the album itself, it reaches a happy conclusion.
Broken Social Scene, Hug Of Thunder
★★★☆☆
Download: Halfway Home; Protest Song; Skyline; Hug Of Thunder
As Leonard Cohen once ruefully noted, "everybody knows the good guys lost" – an observation that fellow Canadian collective Broken Social Scene are finally catching up to on Hug Of Thunder, their first album in seven years. They haven't lost the righteous anger that drove earlier releases – tracks like the ebullient "Halfway Home" and Arcade Fire-soundalike "Protest Song" still charge proudly, the sprawling retinue's strings and horns driving them along – but here, hope has become tainted by experience. Things are "Gonna Get Better", for instance, because "they can't get worse", and the album is spattered with similarly disillusioned musings, like "all the fools are winning" and "the sky waits for the fall". But for all the broken dreams, what's impressive about the album is the way that BSS balance tones, textures and themes, as on the title track, where lightness is sustained despite the depth of sound, and "Skyline", where the swelling alliance of harmonies and horns creates a mood that's warm, but sad.
Jupiter & Okwess, Kin Sonic
★★★★☆
Download: Musonsu; Pondjo Pondjo; Nkoy; Ekombe
Congolese bandleader Jupiter Bokondji's follow-up to the feverish Hotel Univers follows much the same route of Afro-rock crossover stylings, heralded in "Hello" by the alliance of heavy-rock drums and fuzz-bass riff with lighter, spiralling guitar part. The crossover is cemented by a couple of key guests, Damon Albarn adding a cute, wheedling keyboard line to the propulsive groove and snaking, cyclical guitar figure of the unity anthem "Musonsu"; while less predictably, Bad Seed Warren Ellis's distinctive violin and keyboard drones lend an intriguing new depth and texture to most tracks, whether it's the loops and rhapsodic violin break in "Pondjo Pondjo", or the shimmering strings providing an ominous character at odds with the twinkly soukous guitar loops of "Nkoy". Jupiter's songs remain daringly iconoclastic, from the anti-monarchist critique of "Benanga" to the anti-materialist slant of "Pondjo Pondjo"; but there's still plenty of room for pure pleasure, as per the dashing, ebullient celebration of dancing, "Ekombe".
Public Service Broadcasting, Every Valley
★★★☆☆
Download: The Pit; All Out; They Gave Me A Lamp
Though still drawing on period documentary narration to sketch out a real-life narrative, the focus of Public Service Broadcasting's J Willgoose, Esq shifts here from universal to local, hopeful to betrayal. Rather than the optimistic, outward-looking The Race For Space, on Every Valley he tells the grim story of the decline of Welsh coal-mining, from the title track's proud proclamations, declaimed in Richard Burton's Rushmore rock-face of a voice, through to the poignant conclusion of "Take Me Home", a Welsh male voice choir's plea to "let me live again". En route are several significant shifts of mood: over the tom-toms, bassoon and lowering horns carrying a documentary account of working a 200-yard coalface in 80-degree heat, a sparse guitar figure lends a touch of nobility, evoking the dignity of labour in "The Pit". While the sequence travelling from recruitment and bullish optimism through pit closures and strikes is capped not by disillusion but the proud emergence, in "They Gave Me A Lamp", of miners' wives as a newly politicised force.
Gil Scott-Heron, The Revolution Will Not Be Televised… Plus
★★★★☆
Download: The Revolution Will Not Be Televised; Home Is Where The Hatred Is; Whitey On The Moon; Pieces Of A Man
"Peace won't be still of its own free will," observed Gil Scott-Heron, a typically deft lyrical conceit which he tried to embody in his own career. In 1974, this (newly expanded) compilation of his early work became one of the building blocks not just of his own reputation, but of hip-hop. Back then, the title track's combination of anger, sarcasm, political acuity and sheer lyricism was Dylanesque in its intensity, while more studied depictions of ghetto deprivation in blues like "Pieces Of A Man" and "Home Is Where The Hatred Is" rooted anger firmly in analysis. Scott-Heron preferred the term "bluesologist" to "rapper", mingling soul-jazz songs such as these with rawer rap declamations like the bitterly ironic "Whitey On The Moon", on which he was accompanied just by hand drums, in the manner of The Last Poets. Despite changes wrought by social media and camera phones, their pertinence has not declined; rather, in an age of shameless political grotesquerie, the targets have become so less deserving.
Join our new commenting forum
Join thought-provoking conversations, follow other Independent readers and see their replies