Album reviews: Kaiser Chiefs – Duck, Mini Mansions – Guy Walks into a Bar and Spoon – Everything Hits at Once
Kaiser Chiefs rest on their laurels, Mini Mansions' new album navigates through a single, tumultuous relationship, while Spoon's greatest hits album could be one of the best things they've ever done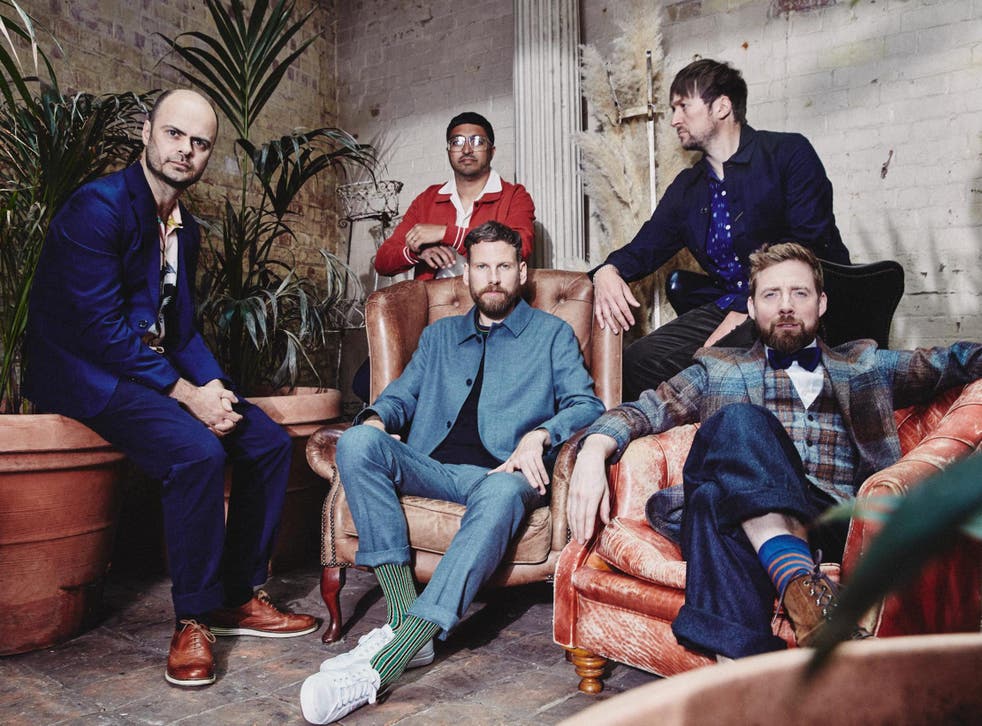 Kaiser Chiefs – Duck
★★★☆☆
Even in their prime, Kaiser Chiefs could hardly have been called a necessity – anthemic if faceless, with a run of catchy singles that were pleasant if always resolutely inessential. But such a shrug-worthy musical identity goes some way in explaining how they've managed to outlive many of their mid-2000s contemporaries, the band chugging away on a wave of singalong indie-pop built for karaoke nights with workmates you're not particularly close with.
Duck, the band's seventh album, doesn't veer off that trajectory. Outside of occasional detours into more danceable electro-pop, a sound left over from their 2016 album Stay Together, this is very much a Kaiser Chiefs record in the traditional sense, full of repetitive chanting, soaring choruses and pleasant hooks. True to form, the best tracks are simply the catchier ones – like the frantic saxophone-assisted power pop of "Wait" and its withering takedown of surviving the entertainment industry ("Gimme gimme gimme celebrity bikini click fame," frontman Ricky Wilson blares), or album closer "Kurt vs Frasier (The Battle for Seattle)", which pays tribute to youthful ebullience, name checks Kurt Cobain and Frasier Crane and yet is somehow winning rather than cringeworthy.
"Can we stay here our whole lives?" Wilson asks on the pretty "The Only Ones", in a line that officially is about a romantic relationship but could easily double as a reference to the sound the band have comfortably sat within for the last 14 years. No one will be celebrating Duck for breaking new ground, but long-term fans won't much be complaining either.
The best albums of 2019 (so far)

Show all 67
Mini Mansions – Guy Walks into a Bar
★★★★☆
Recording an album when your bandmates happen to be members of three massive rock bands is a feat in itself. Making it a good one is something else entirely.
Yet this is what LA trio Mini Mansions, formed from members of Queens of the Stone Age, Arctic Monkeys and The Last Shadow Puppets, have done – although they almost called it a day before the release of their excellent 2018 EP Works Every Time. The title track from that project – a slice of Eighties-influenced melancholia – is the only one to appear on Guy Walks into a Bar, but there's plenty more to get stuck into here.
As with the EP, Mikey Shuman explores the emotional fallout from his split with his fiancée. The album is structured like a relationship that begins on an exuberant high before closing on "Tears in Her Eyes", which is performed by a man who sounds as though he's been through a few bouts with that guy who beat Anthony Joshua. Smack-bang in the middle you've got "I'm in Love", which captures the reckless abandonment of someone who is delirious in their passion for another person.
Shuman shares vocal duties with Tyler Parkford; his voice falls somewhere between the sleazy drawl of his QOTSA bandmate Josh Homme and Alex Turner's more adenoidal tone on opener "We Should Be Dancing". With tracks that frequently dart from sprawling, psychedelic pop to scuzzy post-punk and rock references, the record has a superb dynamic that holds the listener's attention, while the band navigate through a single, tumultuous relationship. By the end of all that, you feel like they deserve a pint.
Spoon – Everything Hits at Once
★★★★☆
Are greatest hits albums still a thing? According to Spoon, who have more than enough material from their 26-year career to make one, they are.
On Everything Hits at Once, the Austin-formed indie veterans have compiled a glimmering collection of songs that date back to 2001's Girls Can Tell, or are as recent as to come from 2017's Hot Thoughts. There's also a brand-new song, closer "No Bullets Spent" (built using parts from "Dracula's Cigarette" of their Get Nice! EP), which is a low-simmering take on power and corruption: "The master returns, there's always some kind of war / And counting his steps, you know it's him at the door."
From the chugging bass on "Don't You Evah" to the brassy acoustic of "I Summon You" from their critically adored 2005 album Gimme Fiction, there's more than enough to cement Spoon's reputation as one of the most consistently great bands of their generation. "I love a greatest hits LP when it's done well," frontman Britt Daniel said of this record. "It can be a thing unto itself." Fortunately for Spoon, Everything Hits at Once might be one of the best "things" they've ever done.
Join our new commenting forum
Join thought-provoking conversations, follow other Independent readers and see their replies