Album reviews: Queens Of The Stone Age – Villains, The War On Drugs – A Deeper Understanding, and more
Izzi Dunn – Recycle Love, Portico Quartet – Art In The Age Of Automation, Susan Cattaneo – The Hammer & The Heart, Gogol Bordello – Seekers And Finders, and Olafur Arnalds – Eulogy For Evolution 2017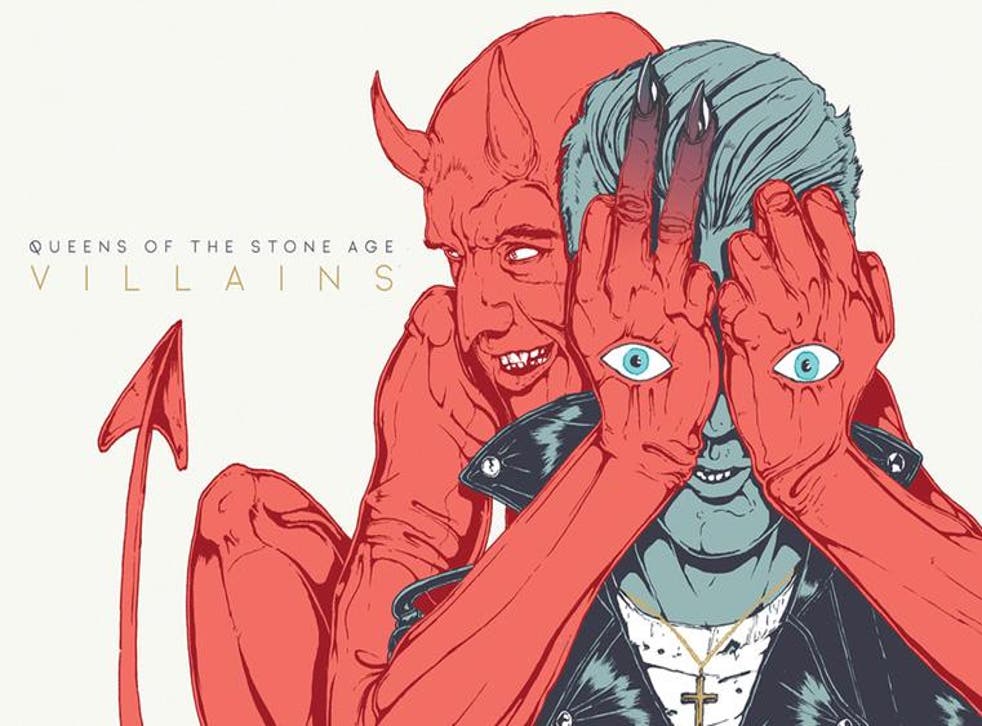 Queens Of The Stone Age, Villains
★★★★☆
Download this: Feet Don't Fail Me; The Way You Used To Do; Head Like A Haunted House; Un-Reborn Again; Villains Of Circumstance
There's always been a curt, peremptory edge to Queens Of The Stone Age's music, a character that's somehow both engaging and rather off-putting at the same time. No other heavy rock band sounds anything like them: where most simply bludgeon or carpet-bomb listeners into subjection – a wall of sound delivered from behind a lank curtain of hair – QOTSA's terse, rigid rhythms offer instead a distinctive sonic analog of what it might be like to be mangled by tank tracks. It's rock music as an industrial process – and as such, probably the last producer you'd expect them to be working with would be Uptown Funkmeister Mark Ronson, more noted for his skills with swing and soul.
So it's a shock to hear just how effectively the two parties party on Villains. The band have retained their brusque character but it's less ponderous than before, with several tracks taken at an unfeasibly rapid tempo; while Ronson has brought production clarity and a punchy funk sensibility that transforms QOTSA's trademark robot-rock rhythms into something much more dynamic and danceable.
At first, there seems a slight reluctance, as "Feet Don't Fail Me" lumbers in from a distance as a cloud of guitar noise on a lowering pulse, before the strident main riff muscles in after a few minutes like a dam bursting. But it's unusually fast, and the usual dark imaginings are tempered with shafts of light. "Life is hard, that's why no one survives," sings Josh Homme, "but I'm older than I thought I would be." It's the sound of a hard-partying rocker coming to terms with age and mortality, and deciding he's enjoying himself too much to stop just yet: "Feet don't fail me now, I've just got to move on."
The first place he moves to is a complete surprise. The rasping, buzzy riff of "The Way You Used To Do" has serious offhand cool, a snazzy sort of sound punctuated with handclaps, all handled with a swingy panache that even Elvis would recognise as rock'n'roll – which wouldn't usually be the case with heavy rock. The strut-stomp "Domesticated Animals" and moody "Fortress" head back to the darkness, the former's warning that "today is the day the wilderness comes to reclaim everything" segueing via strings into the latter's equally cheery observation that "everyone faces darkness on their own". But gloom is swiftly dispelled by the frantic "Head Like A Haunted House", which bristles with euphoric determination. With a wheedling theremin squeal chasing its shrill riff, it's the most headlong, pell-mell piece here.
Towards the album's end, a trio of songs hint at influences lurking beneath the surface. The complex, heavy riff of "The Evil Has Landed" is pure "Trampled Underfoot", but ultimately subsumed by a slicker funk-rock groove. Less expected is "Villains Of Circumstance", a heavy-hearted separation plaint sung by Homme with a wan vulnerability that recall Bernard Sumner. "Miss you now, what's come over me/Hostages of geography," he laments, over an arrangement of subdued trepidation occasionally teetering into furtive hope. It's quite charming, and its winsome modesty provides a pleasing counterbalance to the brash "Un-Reborn Again", which, I kid you not, is like a slowed-down "Telegram Sam" sung by the Bowie of "The Man Who Sold The World". Extraordinary!
The War On Drugs, A Deeper Understanding
★★★☆☆
Download this: Pain; Holding On; Nothing To Find
Though it's by no means bereft of beautiful moments, The War On Drugs' first album for Atlantic fails to live up to the expectations built by the band's 2014 breakout Lost In The Dream. In particular, it confirms that although he may look like Jerry Garcia and sing like Bob Dylan, bandleader Adam Granduciel lacks their extempore, questing spirit, repeatedly bolting his songs into mechanistic arrangements, cramping even the splintery guitar break of opener "Up All Night". With its precise, methodical layering, there are parallels between his music and the luxuriant psychedelia of Neu!'s Michael Rother, though Granduciel crucially lacks both the German's melodic warmth and his exploratory attitude. The results are OK for a few tracks, notably "Pain" and "Holding On", but the combination of laborious arpeggios and quotidian Eighties timbres soon wears thin, while it soon becomes apparent that the solos don't go anywhere new, and worse, don't want to. It's all too controlled and unambitious; and just aping Dylan's wheeze doesn't make it any more intriguing.
Izzi Dunn, Recycle Love
★★★☆☆
Download this: Our Time; Look Up To The Sky; Devices; Pyro
As a cellist, Izzi Dunn has worked with the likes of Gorillaz and Mark Ronson; but this latest album more prominently features her soulful vocals, demonstrating a grasp of nuanced emotion that shames more celebrated R&B performers. The blend of homegrown soul, social comment and strings in tracks like the gently shuffling "Look Up To The Sky" recalls Soul II Soul, and although the generic positivism of slogans like "Our time soon come/Heads high, hold on" eventually becomes a tad wearisome, it's still a relief to be spared the usual R&B autobiographical soap opera. Dunn's multi-instrumental talents are impressive, as is her stylistic breadth, which ranges from the limber funk of opening manifesto "Our Time", via the more languid, spartan groove of "Pyro" (offering "a little taste of power for the powerless") to more amorphously-styled pieces like "Belong", where Dunn's voice floats beat-free above swaying curtains of strings, and "Devices", where a similarly gossamer backdrop offsets her best vocal.
Portico Quartet, Art In The Age Of Automation
★★★☆☆
Download this: Objects To Place In A Tomb; Beyond Dialogue; Art In The Age Of Automation
There's a moment at the beginning of "Rushing", on this fourth album from Portico Quartet, when the prancing piano pulse inescapably brings to mind Roxy Music's "Virginia Plain"; but sadly, it doesn't develop as dynamically, instead teasing out the minimalist possibilities of the layered keyboards, before a martial snare ushers in a more dancey direction. Either way, it's a bit of a letdown. Elsewhere, Art In The Age Of Automation finds the group expanding their sound to accommodate strings and horns alongside their core armoury of drums, bass, keys, sax and hang, the latter's steel-pan timbres pleasingly sprinkled over the slow drift of "Objects To Place In A Tomb" and prominently featured in "Beyond Dialogue", two of the better tracks. Otherwise, with soprano sax sweeping over the pulsing keyboards and drones of tracks such as "Endless" and "A Luminous Beam", they resemble an 808 State re-booted for the 21st century – ie, they get to the point a bit quicker, while being less hidebound by dancefloor demands.
Enjoy unlimited access to 70 million ad-free songs and podcasts with Amazon Music Sign up now for a 30-day free trial
Sign up
Susan Cattaneo, The Hammer & The Heart
★★★★☆
Download this: Work Hard Love Harder; The River Always Wins; Ordinary Magic; Dry; In The Grooves
"Words are like water, and this well's run dry," sings Susan Cattaneo here in the cooling-love lament "Dry": it's a line which elegantly contains its own contradiction, as might be expected from a professor of songwriting at the Berklee College Of Music. This double album is stuffed with similarly pithy apercus – "make mistakes, they'll make you smarter"; "some things can't be fixed, they can only be carried" – delivered as either raucous country-rockers on The Hammer or more restrained, folksy numbers on The Heart. "Work Hard Love Harder" features on both discs, most effectively as a rocking romp with The Bottle Rockets; elsewhere, former Commander Cody guitarist Bill Kirchen contributes twangsome rockabilly lines to the vinyl tribute "In The Grooves", and a passable Willie Nelson impression to the duet "When Love Goes Right". But it's Cattaneo's songwriting that impresses most, whether celebrating the simple wonder of love in the Mary Chapin Carpenter-esque "Ordinary Magic", or musing in "The River Always Wins" on water's welcome for anglers, baptists and suicides alike.
Gogol Bordello, Seekers And Finders
★★☆☆☆
Download this: Did It All; Break Into Your Higher Self; Walking On The Burning Coal
Eugene Hutz's gypsy-punk combo – a sort of Balkan-American Pogues – functions best here on galloping grooves of fiddle and accordion like the opening "Did It All" and "Break Into Your Higher Self". But the latter, in which discontent prompts the search for a more transcendent purpose, hints at the cod-philosophising which damages Seekers And Finders. "We are all headless riders," Hutz suggests in the title track, a duet with Regina Spektor which sets up an iffy antagonism between the titular parties, ultimately resolved in the need to "turn fight into dance" – a duty later questionably fulfilled in "Saboteur Blues" when he attacks what he views as Cartesian passivity by positing more of an "I feel, therefore I rock" attitude. He's marginally more effective when pondering personal spiritual and emotional matters in tracks like "Clearvoyance" and "Walking On The Burning Coal", where logic comes a distant second to evocations of "walking on a cloudy morning, with a certain shadow on my soul".
Olafur Arnalds, Eulogy For Evolution 2017
★★★★☆
Download this: 0040; 1953; 3055; 3704/3837
When Olafur Arnalds was told his 30th birthday would be celebrated with a tenth anniversary reissue of his debut album, the Icelandic composer drily described it as "the most passive-aggressive birthday present ever". But, cleaned up and remixed, it proves an impressively serious piece of juvenalia: recent experiences of birth and bereavement had led the teenage Arnalds to compose a work reflecting the cycle of life, mapped out mostly through piano and strings. The early stages thus evoke innocence tickled by wonder, the piano's exploratory urges stumbling hesitantly through the strings' protective warmth, gradually gaining confidence and direction as the piece builds to its emotional peak during "1953". A cloaking harbinger of ambient wind noise around the piano in "3055" is dispelled as strings and drums impose a rocking momentum, before an anguished climactic welter of distorted strings and beats in "3704" is finally supplanted by the funereal organ drone of "3837": a whole life, in under 40 minutes.
Join our new commenting forum
Join thought-provoking conversations, follow other Independent readers and see their replies