Album reviews: Warpaint, Mutual Benefit, The Gloaming, Mogwai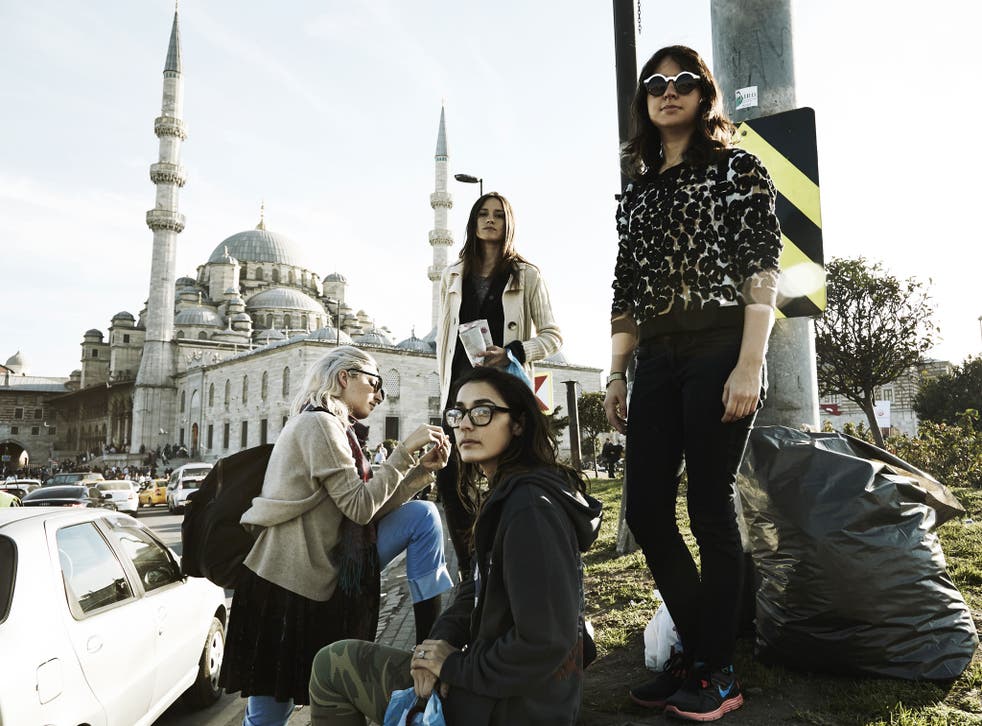 Warpaint "Warpaint" (Rough Trade)
North of three years is a long wait for a band to follow a fêted debut, but Warpaint don't operate in haste. That slow-burn tendency pays off on Warpaint, where the four LA women unite with Depeche Mode/PJ Harvey producer Flood to expand on the harmonious insinuations, gothic reverberations and intuitive precision of 2010's The Fool. Refusing to surrender its secrets instantly, it envelops like quicksand, pulling you in the more you wrestle with it.
The opening lyric on "Keep it Healthy" – "I could not believe what I was seeing" – is an invitation to look closer, to seek out shapes from vision's-edge shadows. Both locked-down and loose, the combination of Emily Kokal's dreamy vocals, Stella Mozgawa's tense percussion, Jenny Lee Lindberg's sinuous bass, Theresa Wayman's spidery guitars and Flood-friendly spook-synths works hard to forge a rarefied air of haunted mystique. The Cocteau Twins-ish "Love is to Die" furnishes the album's catchiest melody, but its unnerving images ("I got a knife to cut out the memories"), itchy rhythms, submerged vocals and exhalation of synths concoct something closer to an anxious sigh than a song.
Elsewhere, a tensile fluency ferries Warpaint from lush melancholy ("Teese") to dub seductions ("Hi") and Cat Power-goes-prog ballads ("Son") with range and focus aligned. The album's latter third drifts slightly, but the funk jolt of "Disco/Very" serves strident proof that Warpaint can do immediacy when required. Mostly, though, this lingered-over comeback offers sumptuous returns for those prepared to linger over it.
****
Kevin Harley
Mutual Benefit "Love's Crushing Diamond" (Other Music)
Jordan Lee describes himself as "a professional amateur musician". As such, he moves where the music takes him (Texas, Boston, Brooklyn) and plays in bands with friends and makes albums that previously have been released online-only under the name Mutual Benefit.
But then he recorded Love's Crushing Diamond and, from an initial pressing of 250 vinyl copies, things started to pick up, with the likes of Pitchfork taking notice. Such is the way the music industry works now.
And, occasionally, it does work. Because, by word-of-mouth, blog and stream-and-share, people got to hear Lee's string-laden pop songs. Maybe now he can sleep a little less on floors and spend more time making gorgeous albums like this. Please.
****
Simmy Richman
The Gloaming "The Gloaming" (Real World)
The Gloaming are a five-piece ensemble eliding Irish folk music with the contemporary New York art-music scene. The upshot is a rather ECM-ish well of open space irrigated by a flow of motifs, textures, tempos and, more abstractly, romantic yearnings, as if an attempt were being made to elongate traditional form – the transatlantic folk impulse taken to unusual lengths ("Opening Set" lasts 16 minutes).
The group comprises fiddle (Martin Hayes), voice (Iarla O Lionaird), guitar (Dennis Cahill), Hardanger fiddle (Caoimhin O Raghallaigh) and piano (Thomas Bartlett, who also produces). They are awfully thoughtful, though the thoughtfulness does frequently give way – sometimes you feel with a sigh of relief – to the technical liberation of jig and reel.
****
Nick Coleman
Mogwai "Rave Tapes" (Rock Action/Sub Pop)
The last time we heard from Mogwai was on the soundtrack to Channel 4's spooky drama The Returned (or Les Revenants for those with an intermediate grasp of French) last year, and that same dreamlike quality has made its way on to much of Rave Tapes. So far, so Mogwai.
Enjoy unlimited access to 70 million ad-free songs and podcasts with Amazon Music Sign up now for a 30-day free trial
Sign up
However, a few surprises have been chucked in, too: "Remurdered" is synth-heavy and krautrock-esque, full of momentum, with echoes of Errors – a band signed to the band's own label, Rock Action. "Blues Hour" is more shoegaze, drifting slowly to and fro, but with that rarest of additions on a Mogwai tune: a vocal.
Elsewhere, one track can pass into the next almost unnoticed, which takes us, perhaps inevitably, back to soundtrack territory.
***
Emma Finamore
Join our new commenting forum
Join thought-provoking conversations, follow other Independent readers and see their replies