Bastille and Billy Bragg at the Union Chapel: Remarkable offering of solace
To a young audience overwhelmed by bad news and political impotency, a charity fundraiser offered some much-needed respite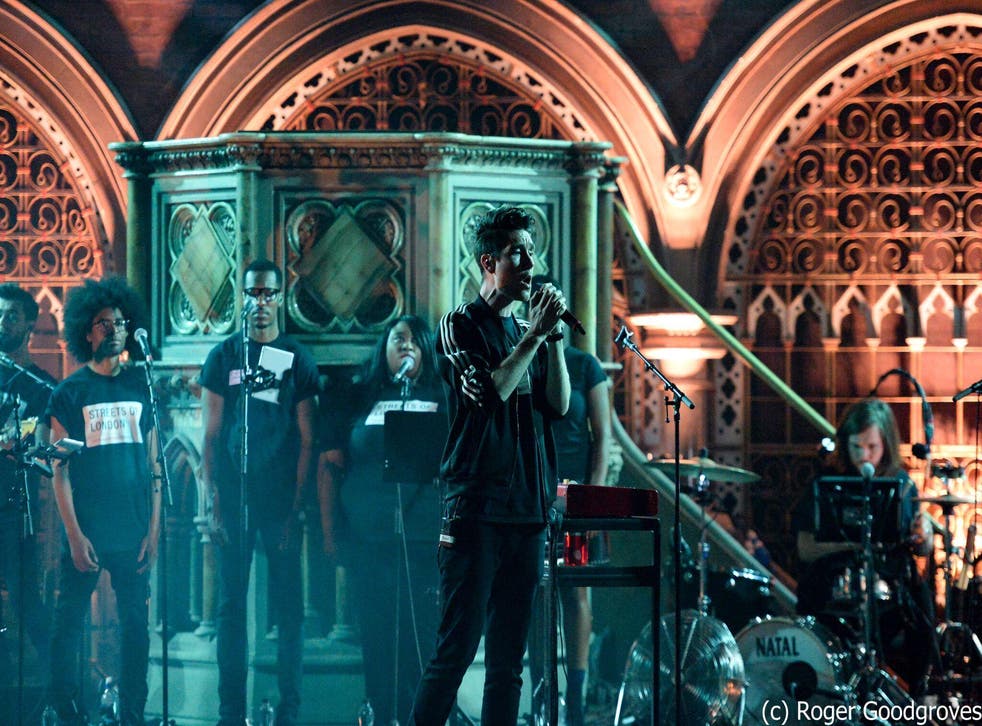 Put anti-homeless charity ambassador Dan Smith (Bastille frontman) and protest singer/veteran activist Billy Bragg on stage just before a general election, with an audience of 20-something-year-olds – in 2017 – and what do you get?
Politics.
But for a generation cowed by a political movement they (by and large) didn't vote for, and to a city overwhelmed with near-daily seismic Trump bulletins and some shambolic election manifestos of our own, a fundraiser for the homeless community felt almost transgressive in its sheer usefulness.
Indeed the event, organised by Streets of London charity, was remarkable in offering some solace to the audience, so tangible was their weariness with their own political impotency and their desperate need to believe in a better future.
The atmosphere was even quasi-religious in its shared ideology – not least because it took place in the breathtaking Union Chapel, with a seated audience utterly captivated by the stripped-back performances and the gospel-esque backing vocals.
Of course, Bragg exhorting the audience to register to vote was somewhat inevitable, as was a scaremongering story of Margaret Thatcher's win in 1979.
But his wonderfully bastardised version of the Bob Dylan classic, rechristened "The Times They Are A Changin (Back)", somehow managed to turn Donald Trump and Theresa May into something palatable and – dare I say it – farcical?
A special highlight was the surprise cameo of Ralph McTell, a key player on the folk stage since the 1960s, performing, as a duet with Bragg, his magnum opus "Streets of London". It's hard to imagine a more fitting dedication to the charity's great work (especially considering that the charity's name is of course a tribute to the song).
(Quick shout out goes to support act Jamie Lee, whose affable 'bloke in the pub' shtick was belied by his own impressive vocal command of the stage.)
And then, enter Bastille – fresh from the hallowed ground of our own studio for their Music Box session. Backed by a string quartet and choir, their acoustic-orchestral performance was a powerful departure from their usual arena band vibes.
Enjoy unlimited access to 70 million ad-free songs and podcasts with Amazon Music Sign up now for a 30-day free trial
Sign up
Lead singer, producer and songwriter Dan Smith took up Bragg's mantle when explaining the meaning of "The Currents": "I've never explicitly said this before...but this song is basically a massive 'f*** you' to Theresa May and Donald Trump."
Smith is hardly your average frontman: in fact, he spent most of the set in profile. Facing his band and in constant communication with his musicians, he's more of a conductor than a rock star, without anything resembling ego.
He fidgeted and hunched away like an awkward teenager, avoiding eye contact with the audience and keeping his chats to a minimum, but that only served to keep everyone's attention exactly where it should be: on the masterful on-stage collaborations of the musicians.
But don't let his lack of swagger fool you – Smith delivered what can only be described as a bravura vocal performance.
For over two hours of an 18-song set list, Smith attacked the microphone with very little respite or support. His range is truly astonishing: he booms into the bass notes before segueing effortlessly into the softest soprano, without compromising on power.
Even during "Pompeii" and crowd-favourite "Flaws", which he delivered acapella, in haunting gospel-choir style, his pitch never once wavered: without flaws, ironically.
That said, the ability of the boys to recreate their huge electronic sounds in a small church with a live bare bones orchestra, evident on "Fake It" and the crescendo of "Good Grief", is a testament to their technical musicality.
They avoided pandering to the crowd with the chart-topping covers of their early days, with the exception of an almost mournful version of the TLC classic "No Scrubs".
Instead, they focussed their energy on emotion and dedication to atmosphere. The last song, "Weight of Living (Part 1)" – which had never been performed live before – saw Smith alone at the piano, and culminated in a sort of wolf howl into the darkness: one note encapsulating all the shared anguish and tired rage.
No surprise that the audience's biggest reaction was to "Things We Lost in the Fire", when they collectively sang: "The future's in our hands and we will never be the same again."
And perhaps just for a moment, the audience felt some respite from a sense of hopelessness that's all too common these days. It was desperate, yet defiant to the last.
---
If you would like to donate to Streets of London, you can do so via the charity's official website: streetsoflondon.org.uk
Join our new commenting forum
Join thought-provoking conversations, follow other Independent readers and see their replies