Christine and the Queens review, Hammersmith Apollo: 'This is no ordinary pop show'
A fitting showcase for her latest album 'Chris' – an irresistible mix of Eighties funk, squelchy synths and clarion-call lyrics tackling gender identity and sexuality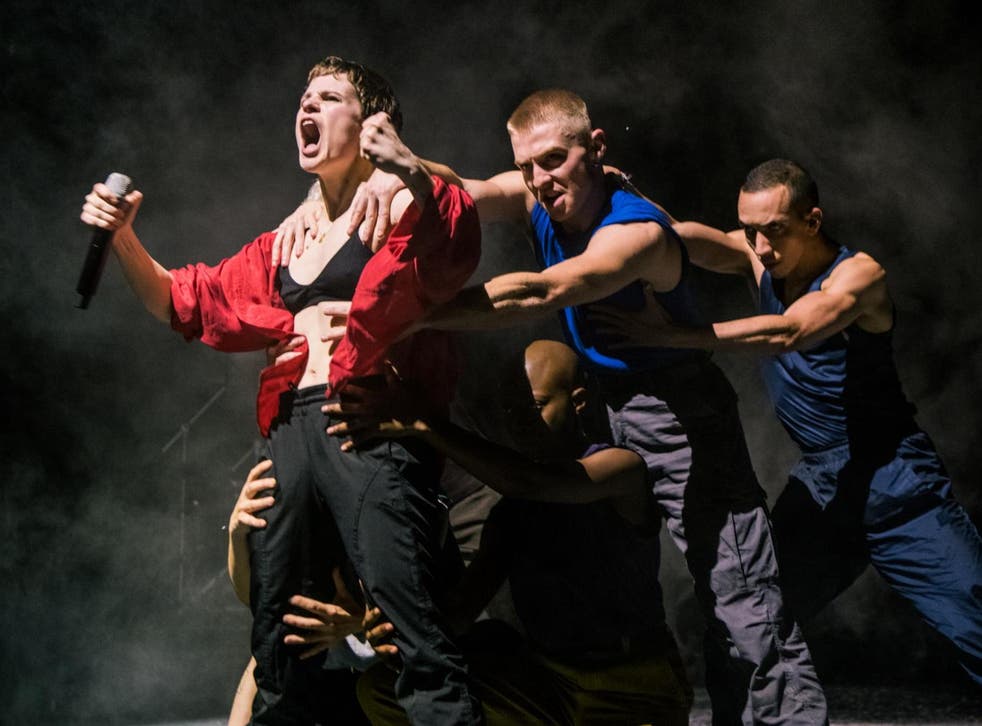 "I think we finally have some surprises for those who come to the shows!" Héloïse Letissier, known as the artist Christine and the Queens, announced on Twitter hours before the first London date, at the Hammersmith Apollo, of her tour. Letissier, or Chris as she prefers to be called, certainly fulfils her promise – as she showcases her latest album Chris, an irresistible mix of Eighties funk, squelchy synths and clarion-call lyrics tackling gender identity and sexuality.
This is no ordinary pop show. For a start, the cropped-haired musician performs with an equally gender-fluid cohort of athletic dancers who not only look spectacular, but whose roles extend to physical theatre. They help to tell the story behind the Nantes-born artist who was the breakthrough star of Glastonbury 2016, and had the biggest-selling debut album in the UK that year with Chaleur Humaine. The dancers' theatrical performance mirror the songs in vividly bringing to life her personal turmoil in finding a way to embrace her pansexual identity, and the resulting sense of liberation. Between-song patter tells of her struggle; the standout song "Tilted" is pre-empted with an honest description of spending many exhausting years trying to fit in. It's like Christine and the Queens: The Musical, only of the most original kind.
The stage design is sparse but effective. An early backdrop of seemingly idyllic mountains suggest loneliness, especially when her four-piece band fade into darkness for an emotional rendition of "Paradis Perdus". The ballad ends with her head in her hands, before an exclamation of "It's time to break the walls down!" as the backdrop falls to reveal crashing waves. At one point she removes her open red shirt, dancing freely in a black bra and trousers. Everything in this show drips with symbolism.
Musically, there is plenty of variety to keep the attention. Beginning with the album's two exuberant Eighties funk-fuelled opening numbers, "Comme Si" and "Girlfriend", is a sure way to instantly grip the crowd. So, too, is her channelling of Michael Jackson in "Feel So Good", and when she pays further tribute to the King of Pop's influence with a segue from "Nuit 17 à 52" into "Man in the Mirror".
"Damn (What Must a Woman Do)" unleashes female lust, with empowering confidence and erotic movement.
It's a show that covers all human emotions, from joy to vulnerability. "The Walker" is a melancholic banger, while the intense "What's-Her-Face" is devastating, with the spotlight beaming on her as she intensely delivers memories of playground bullying to the anxious throb of bass, minimal beats and synth.
Chris is a consummate performer: quick witted and able to switch from tender high-pitched vocals to powerful with ease. Heckling is tackled with the aplomb of a smart comic. She responds to "Vive La France!" with "Vive everyone! It's a safe space, ladies and gentlemen, and everyone inbetween. Free to experiment. Free to choose another name – you can call me Chris." And when a pair of knickers are tossed onto the stage, she pockets them with delight.
There are more surprises. She pops up on the balcony, parodying Romeo and Juliet, before appearing in the midst of the crowd. And she teases playing another French ballad for the encore, only to gleefully burst into the exhilarating "Intranquillité". What a fitting performance of what is surely the album of the year.
Join our new commenting forum
Join thought-provoking conversations, follow other Independent readers and see their replies