Deftones, Alexandra Palace, gig review: Elegiac alt-metallers battle poor sound but prevail by the strength of their songs
Dire sound issues mar what should have been a triumphant London show for the venerable Sacramento quintet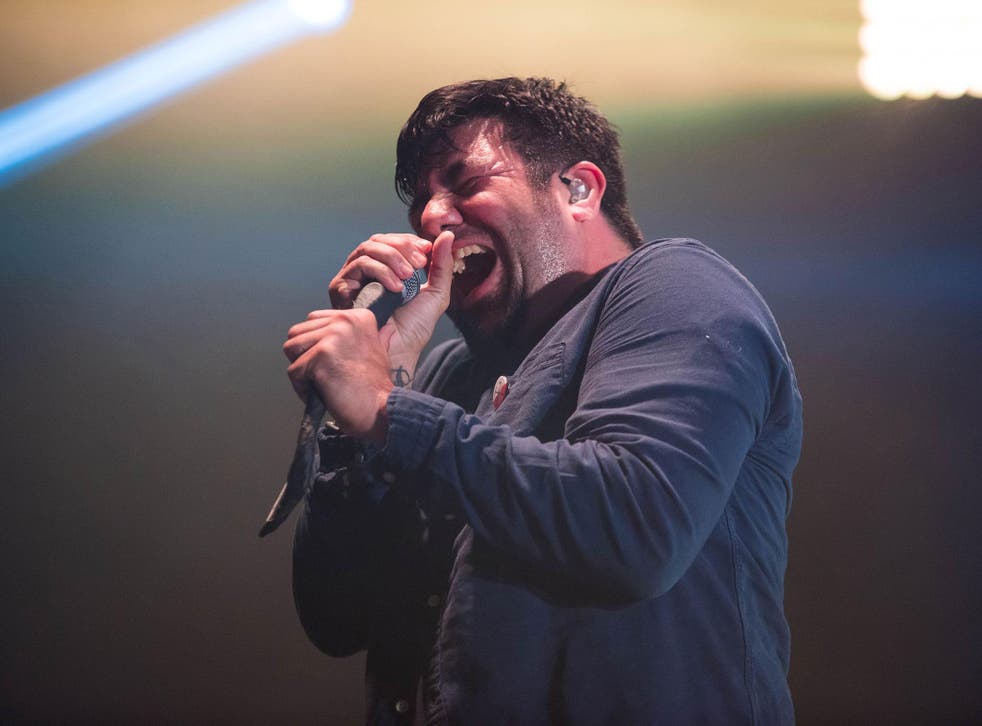 If artistic merit and popularity were in tandem, the human race would've had to build new stadiums to accommodate Deftones shows years ago. In a world that celebrates banality over creativity, the alt-metal Cali-quintet have never quite managed to fill the rooms that they deserve to. After the success of their career defining album White Pony, the band had a brief dalliance playing the UK's vast concrete arenas. But 2006's poorly received (though severely under-appreciated) Saturday Night Wrist relegated them to playing umpteen shows at the 5,000 capacity Brixton Academy whenever they made their way to the English capital.
It's little wonder that after 8 albums released over 22 years, Deftones (or more likely, their management) have decided to make the push back into the UK's arenas. Last year's show at Wembley was generally well-received (certainly in comparison to their first attempt playing the soulless North-West London concrete shed back in 2003) and with fellow Californian natives AFI in tow, tonight should be a triumphant display that re-establishes Deftones rightful place as the premier act in alternative metal - if only life were so simple ...
An ominous pulsating beat ushers in AFI's first show in the United Kingdom for seven years and Messrs Carson, Puget, Burgan and Havok emerge one by one to a raucous cheer. Whilst this is undoubtedly Deftones' show, the fellow Californian natives are (quite rightly) a big draw for a sizeable portion of this evening's audience, despite the fact that their sprawling cinematic horror punk bares little musical DNA with the headliners. To anyone with a sensible head on their shoulders, this is clearly no bad thing; variety is the spice of life and good music is good music.
Unfortunately, it immediately transpires that this won't be the glorious return to these shores that the band so thoroughly deserves. The technical logistical nightmare of making a loud rock band sound powerful and clear in a cavernous 144-year old room that was built for no such purpose becomes apparent about 6 seconds into AFI's opening song Girl's Not Grey. What should sound like a defiant, rebel-rousing call-to-arms descends into a muddy slushy mess that echoes around these cavernous walls like a fart in a cave.
You can't fault the band themselves however, who play with a fevered energy throughout and traverse the stage as if it were made of hot coals. Frontman Davey Havok in particular treads a charismatic, idiosyncratic line between theatrical flamboyance and searing truth. Part Morrissey, part Glenn Danzig, his presence is utterly captivating, whether crooning through the synth-wave influenced Aurelia or screaming hoarse over The Leaving Song Pt. II. These songs in particular showcase AFI's secret weapon; Jade Puget exhibits guitar skills and lead lines that are far beyond the majority of his peers.
The dark industrial stomp of I Hope You Suffer is an outstanding example of a band retaining their dark twisted heart whilst maturing with grace and the irresistible infectious strains of Miss Murder elicits a response worthy of the modern rock anthem that it is, but it's a hollow victory. Support sets, in theory, should provide a platform for excellent bands to play in front of vast audiences and win over yet more fans. Tonight AFI were robbed and rather than gain new ground, they were merely given the chance to preach to the converted. The sooner they return to the country for some headline shows playing at full strength, the better.
After several years of being an incredibly hit or miss live act, this decade has seen Deftones really step up to the plate to the point where a 'bad' performance has become about as rare as an honest Tory. The band's decision to mix things up and play a different set each night is extremely welcome, especially considering the wealth of rarely played gems they break out this evening. It's a bloody good thing too; tonight, Deftones are saved from the same sound problems that plague AFI by the strength and consistency of their extraordinary and inimitable back-catalogue.
The sound doesn't so much hit one in the gut as swirl around ethereally in the cavernous space above our heads, an unfortunate situation that completely robs opener Korea and the usually ferocious Elite of their sonic power. Things do improve marginally once they break into the timeless My Own Summer (Shove It), but the struggles with the PA are a constant battle for Deftones this evening.
Thankfully, a brave dive into rare cuts and songs that have been conspicuously missing from their sets for many years saves tonight from being a colossal waste of everybody's time. The twisting, time-signature-shifting barbarity of Hexagram is glorious, as is Cherry Waves, an unexpected gem that highlights the elegiac shoegaze elements that lift this band far above their peers. Sextape is performed so undisputedly beautifully this evening it could illicit an emotional response from the dead and vocalist Chino Moreno's unorthodox vocal melodies on the grievously underrated Kimdracula positively boggle the mind, cementing his position as one of the finest vocalists of all time.
Teething, a song not played for 10 years prior to its reinstatement on this tour, is a very welcome addition, and whilst the band were always keen to distance themselves from the cookie-cutter nu-metal of the late 90's, it's undeniable that when Moreno drops the chorus to the seminal Life's a Bitch by Nas midway through the song, it sounds more vital and invigorating than 90% of that genre's output. A phenomenal light show, particularly captivating during a momentous Swerve City and the aforementioned Teething and Cherry Waves, shows some concession to the size of this show, although it's enticing to wonder how far Deftones could push the larger arena-sized elements at future gigs.
Of course tonight doesn't only consist of rarities; Passenger is played with relish and received with fanaticism (although a duet with Davey Havok covering Maynard James Keenan's vocal parts seems a missed opportunity). A stellar Be Quiet and Drive (Far Away) bulldozes straight into a cataclysmic rendition of Headup, an inspired pairing that will no doubt provide a sizeable chunk of this crowd's most potent adrenaline rush of the year. The usual encore cuts from 1995 debut Adrenaline are superseded by the rhythmic tour-de-force of Rocket Skates and the record-label appeasing Back to School (Mini Maggit).
Tonight we witness an exceptional band at half their strength. If as much consideration had been taken with the sound as it had over the set-list, we'd be talking about a historic show, one that firmly and undeniably justifies the Sacramento quintet's place as an arena band but watching Deftones this evening is sublime and irritating in equal measure.
Join our new commenting forum
Join thought-provoking conversations, follow other Independent readers and see their replies