Donald Trump 'Make America Great Again' song review: A jingoistic orchestral number reminiscent of the Kim dynasty
A red, white and blue vomit of pomp and circumstance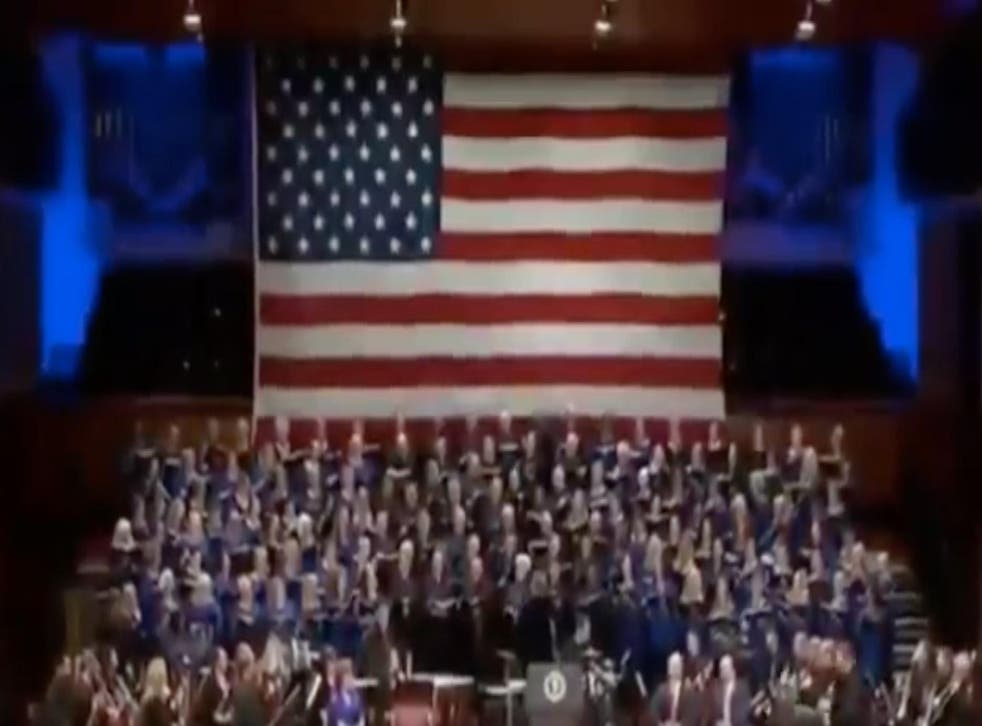 In honour of Independence Day, President Trump has tweeted a performance of a song based around his campaign slogan 'Make America Great Again' that was sung to him at a 'Celebrate Freedom Rally' at the Kennedy Center over the weekend.
Fittingly titled 'Make America Great Again', it was composed by the minister of music at the First Baptist Church of Dallas, Gary Moore and was sung by a Baptist choir in front of an enormous Stars and Stripes flag.
The song has the bombast and heart-on-its-sleeve hyperbole you expect of a political rallying cry, while the production has a strong North Korean vibe.
There's an intricate yet sloppy rallentando drum fill at the 0:46 mark, and cliché lyrical highlights include: "Lift the torch of freedom all across the land / Step into the future joining hand in hand".
The song ends with an incredibly shrill reprise of the chorus line, "Make America Great Again", the flatness of the vocal perhaps owing something to the exclusive whiteness of the choir.
The lack of bugle call feels like a missed opportunity for jingoism, but there is some kind of glockenspiel in the background, hammering home the melody so it can be repeated at rallies nationwide.
Truly music to start nuclear wars to.
Lyrics in full:
Make America Great Again
Make America Great Again
Lift the torch of freedom all across the land
Step into the future, joining hand in hand
Make America Great Again
Yes, Make America Great Again
Make America Great Again
Make America Great Again
Lift the torch of freedom all across the land
Step into the future, joining hand in hand
Make America Great Again
Yes, Make America Great, each and every state
Make America Great Again
Make America Great Again
Join our new commenting forum
Join thought-provoking conversations, follow other Independent readers and see their replies