Album reviews: Flying Lotus – Flamagra and The Amazons – Future Dust
Flying Lotus enlists Solange, Anderson .Paak and David Lynch for his first record in five years, while The Amazons defeat second album syndrome by flexing their rock muscles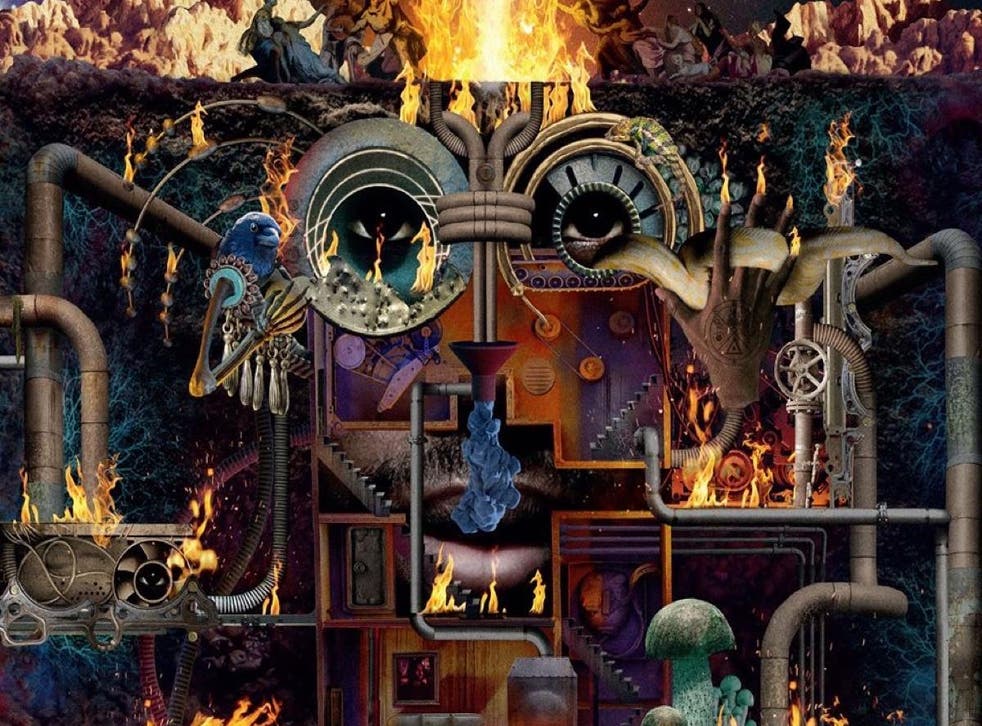 Flying Lotus, Flamagra
★★★★☆
It's been a long wait for Flying Lotus's new album. In fact, the LA producer has been masterminding Flamagra for the past five years – snatching moments between collaborating with Kendrick Lamar on To Pimp a Butterfly, directing and writing the comic horror movie Kuso, producing much of Thundercat's Drunk and growing his Brainfeeder label.
But it was worth the wait. Flamagra – a playful yet melancholic, skittish yet meditative 67 minutes of cosmic genius – is one of Flying Lotus's most accessible releases. A 27-track masterpiece, the album features the likes of Anderson .Paak, Little Dragon, David Lynch, and Solange, and serves up a hot, textural mix of hip-hop, psychedelia, funk, soul, jazz and electro.
The 30 best album covers - ranked

Show all 30
Anderson .Paak's nimble vocals pack a punch on "More", and David Lynch's eerie narration on "Fire is Coming" delivers a surreal tale. According to Flying Lotus, it's one that helped shape the theme of fire which crackles throughout.
As the astral journey comes to a close, Solange's voice percolates through the soaring strings of "Land of Honey", and "Thank U Malcolm" forms a tribute to the late Mac Miller.
Flamagra is a strange, twisting journey that begins to settle on repeated listens. After half a decade, it's good to be drawn back into the bizarre universe of Flying Lotus. Ellie Harrison
The Amazons, Future Dust
★★★★☆
When Reading band The Amazons released their self-titled debut album in 2017, they stormed both the top 10 chart and festival stages. Yet they also took a bit of a critical battering for their occasionally adventuring, meat-and-potatoes indie rock. "Black Magic", a highlight on their debut, showed a more alluring side to the band, and their singer Matt Thomson has described their pursuit ever since for "a dirtier, grittier, sexier" sound by immersing themselves in the blues.
It's paid off. Their follow-up is more Royal Blood than Catfish and the Bottlemen. You get this sense from Future Dust's defiant opener "Mother", which builds from an atmospheric intro into a beefy riff, before the startling lyrics "Friends wanna kill me" hit.
The subject matter, too, takes a more sinister turn. "Dark Visions" tackles the "demons" of depression to the pounding of rolling drums and distorted guitars, while "End of Wonder" explores an epidemic of eating disorders.
A heftier sound is never at the cost of melody, which shines through in Thomson's vocals, the rest of the band's backing falsetto, and the searing blues grooves stamped all over Future Dust. Those qualities are captured nowhere more satisfyingly than on "25". "All Over Town" is their singalong anthem, neatly positioned in the middle to ease the pace.
If there's a twist here, it's final song "Georgia", which takes its classic-rock licks straight out of the Eagles' songwriting book. But this is an album that shows a band who've grown stronger and unafraid to flex their muscle. Elisa Bray
Join our new commenting forum
Join thought-provoking conversations, follow other Independent readers and see their replies