Glastonbury 2016, Friday review: Christine and the Queens deliver the knock-out show of the day
Muse's headline slot seems in tune with the tangibly unsettled post-Brexit atmosphere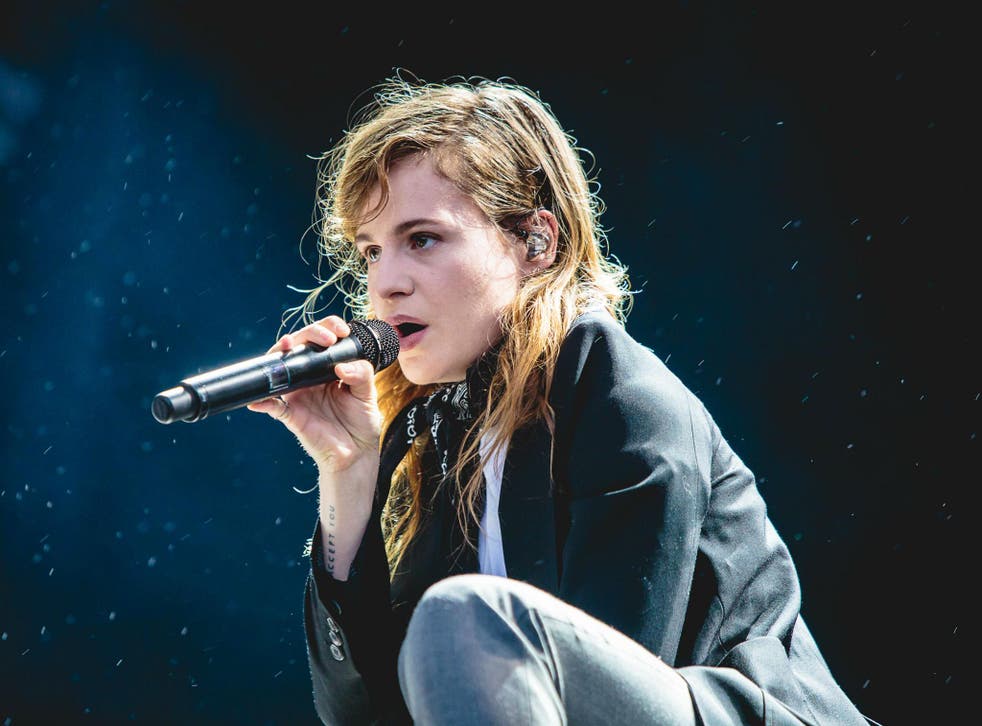 On a day where, post-Brexit majority, Glastonbury's fabled inclusive spirit is being tested like never before - festival organiser Michael Eavis opened the mud-caked Other Stage lamenting "it wasn't a great morning for several reasons" - Muse's third Glastonbury headline slot seems in tune with the tangibly unsettled atmosphere onsite. In a catalogue that has already tackled global conspiracies, elite greed, misuse of science and Orwellian nightmares, new album Drones goes full-on concept, telling the story of battle-weary soldiers dissenting and rising to power, destroying the world in the process.
The story arc couldn't be more Muse, and the show that accompanies them tonight is their bombast reaching its logical limit: we get visions of dystopian future and warnings of the evil of man, all back dropping a performance as methodically accomplished as you'd expect from stadium stalwarts. The spectacle partly masks that newer material pales compared to a blistering "Plug in Baby" or operatic space-rock stalwarts like "Knights of Cydonia": only opening glam stomper "Psycho", like Marilyn Manson if he'd been part of a witch-hunt rather than subject to them, truly convinces. But with a colossally hefty rhythm section behind him, the virtuosity of Bellamy - channelling Brian May and Jeff Buckley as songs orbit outer space - and a healthy smattering of older songs make the pomposity enjoyable, as well as fearful.
Fearlessness was, however, on display directly before Muse. London post-punkers Savages' set at The Park was an incendiary display of fury and precision, while Oxford quintet Foals marked the unlikeliest of climbs from angular, opaque math-rockers to sure-fire future headliners. The ascent is fully deserved: a ferocious live band since day one, even on such a stage - or perhaps because of - frontman Yannis Philippakis retains an intensity that sears the soul. Foals' songs are just as bold and though they can disco-anthem as well as anyone, their best ("Inhaler", "Providence") crunch with thunderous muscularity: the title track of latest fourth album "What Went Down" threatens to tear a hole in the sky.
Earlier, with rain never far away and mud ever-thickening, California has never felt more distance: so instead 22-year-old Long Beach rapper Vince Staples brought the sound of his hometown to Somerset for a thrilling mid-afternoon show at West Holt's stage. With boundless energy he offers an unflinchingly truthful account of his upbringing (drugs, murder, run ins with the police) via tracks from his excellent debut Summertime '06. At times dense and claustrophobic, occasionally populist in bent (the infectious "Norf Norf") but always utterly stirring, it is hip hop at its most captivating. Similarly, grime's poster boy Skepta calls on his own London surroundings for a rabble-rousing show in front of a swollen 2pm Pyramid stage.
Glastonbury 2016 - in pictures

Show all 10

Christine and the Queens aka Héloïse Letissier is already a star in her native France, and is on her way to the same ubiquity over here. Such an outcome seems inevitable: her Other Stage display is the knockout show of the day. As on her UK debut Chaleur Humaine, songs like "Tilted" mix subtle hip hop beats with a luxurious electronic sheen to create the sound of thoroughly modern pop. But what a performance: flamboyantly choreographed with a troupe of male dancers, it was nonetheless Letissier's charm that was impossible to resist as she struck a balance between self-deprecation ("I'm a hashtag tiny French angry thing") and touching warmth, handing out flowers to the crowd "on our first date". It won't be the last.
Join our new commenting forum
Join thought-provoking conversations, follow other Independent readers and see their replies