Green Man Festival, Glanusk Park, Wales, review: 'Well thought out with no ego'
This is not the place for wayward teenagers passed out in semi-erected muddied tents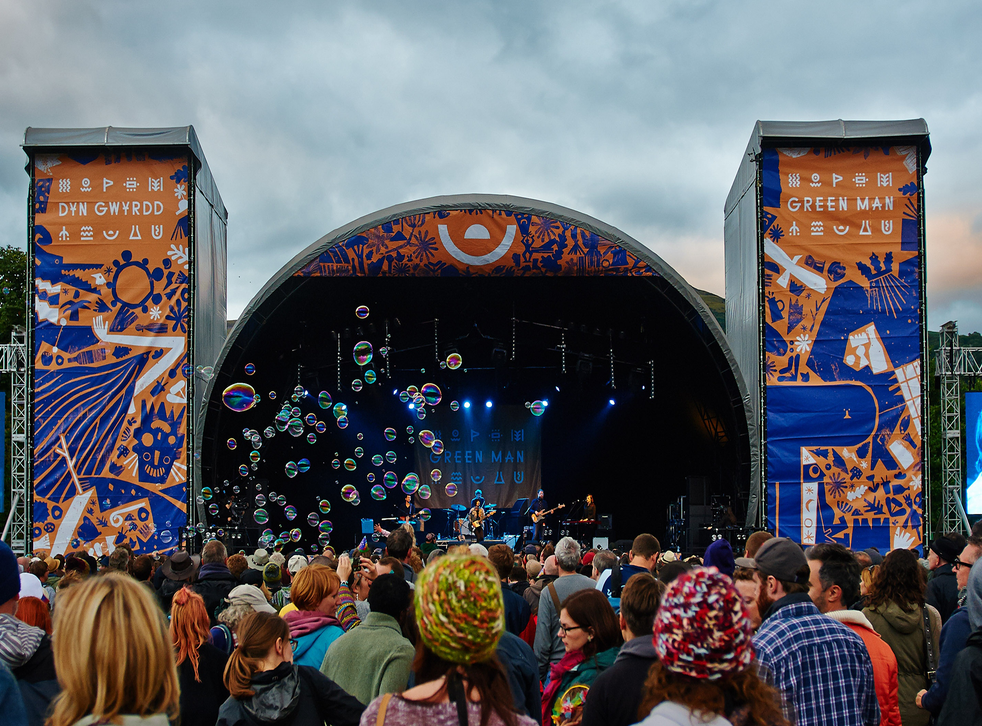 Set in a Welsh valley surrounded by stunning views sits a most civilised festival. On arrival you notice, aside from the shadows of clouds on the hillside, families erecting large tents, picnic tables and gazebos – all the things needed for a comfortable camping experience.
This is not the place for wayward teenagers to pass out in semi-erected, muddy tents; instead, Green Man's ethos is to champion high quality Welsh, UK and international talent in a variety of mediums. Curated with no ego, Green Man is a festival content to just do its own thing.
Highlights on the Friday included Mac DeMarco's witty and charged set, which featured songs from his Salad Days LP, as well as from his first solo album, including the old favourite "Rock and Roll Night Club". Surrounded by band members with painted faces, he ended on an extended version of "Still Together", bravely crowd surfing into the middle of an elated audience.
Those who stuck around afterwards were delighted by Caribou's exultant set. Their mature dance-pop – combining elements of garage and house to create simple crowd-pleasing tracks – had the throng dancing furiously from start to finish. They tore through "Can't Do without You", the first song from their 2014 album, Our Love, and drew the set to a close with "Odessa" from their 2010 album, Swim. Next up came a DJ set from The 2 Bears (Raf Rundell and Hot Chip's Joe Goddard) and their troupe of wonderfully sexy drag dancers, which fired the crowd up even more.
The Green Man Rising stage is dedicated to emerging talent – and on Saturday afternoon, the all-female Deep Throat Choir sang beautiful a capella covers of songs like Sade's "The Sweetest Taboo". They indulged us, too, with a little audience participation during a cover of Donnie and Joe Emmerson's "Baby".
Over on the main stage, Brooklyn singer-songwriter Sharon Van Etten deployed her strong and confident vocals on a slow-burning set singed with raw emotion and sentimentality. She did, however, manage a little cheerful banter between songs.
The War on Drugs were up next, running through songs from their new album, Lost in the Dream. The band's lead singer, Adam Granduciel, is a seriously good songwriter and guitarist; he gave us sonic guitar solos and classic rock escapism, played with innovation, which managed to echo the likes of Bruce Springsteen and Don Henley.
A chilled-out Sunday included Nick Mulvey serenading the hungover masses with an acoustic set on the mountain stage. Then Hot Chip's Alexis Taylor played from his solo album on Domino, with assistance from Sarah Jones from Hot Chip and Members of Zongamin – and found time for a run-through of his main band's "Now There Is Nothing".
The festival appropriately ended in a blaze of fire with the burning of the giant green man: a fitting end to a magical weekend.
Join our new commenting forum
Join thought-provoking conversations, follow other Independent readers and see their replies