Kendrick Lamar new album DAMN. review: How to listen and first impressions
Kung Fu Kenny switches lanes multiple times on the same album, which is as eclectic in theme as it is in genre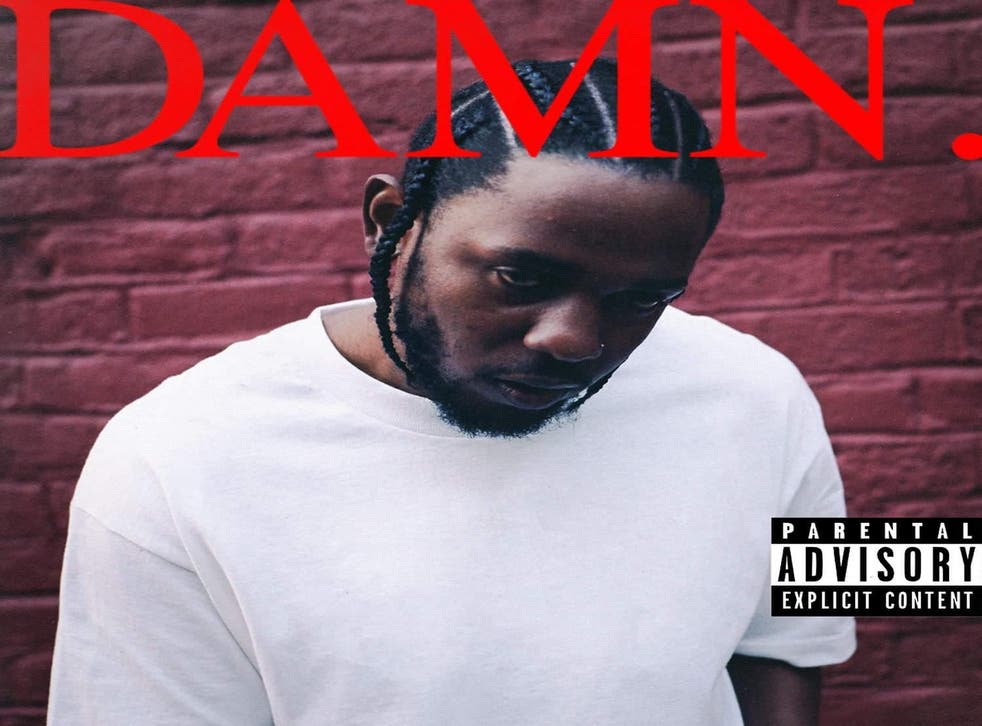 Did you get your shit together in time? Kendrick Lamar has unleashed the album he's been warning his rivals about, a fourth studio LP entitled Damn. - the follow-up to the Harvard-canonised To Pimp a Butterfly.
Sure to overshadow a few other big releases out today, it consists of 14 tracks, includes the recent stripped-back single 'Humble' and features Rihanna and U2.
The album can be streamed on Spotify (below), Apple Music and Tidal.
First impressions, track-by-track, as I listen to the album for the first time:
01 BLOOD.
Aaaaah! Here we go. It's 5.30am UK time but I'm so ready. Kendrick's albums are always very carefully constructed and sequenced so how is this one going to kick off?
With a parable. Kendrick sees a blind woman in distress on the street and offers to lend a hand (over some mellifluous, almost Easy Listening-esque strings). It sounds like it's going in the direction of TPAB's 'How Much a Dollar Cost' but the woman turns around and shoots him, setting a tone of violence and mistrust.
"Is it wickedness or weakness?" - a question about police brutality? This line is followed up with a sample of Fox News criticising Kendrick's track 'Alright', a song about hope that it falsely declared was aggressive and divisive.
02 DNA.
!!!!!
I expected to say the album title a lot but not this early. That drop in is incredible - the free jazz of TPAB and untitled. unmastered. is gone, this sounds more like Eastern-tinged trap. I still haven't dressed myself yet but there's more important things to deal with.
He's tackling racism head on, building on his "negus" speech from 'i' and celebrating his DNA and all that it contains. Flow-wise this is straight up Kendrick beast mode so far - 'The Heart Part 4' and 'Humble' definitely weren't empty threats...
03 YAH.
There's no "I remember you was conflicted" spoken word threading songs together this time as we flip straight into a woozy, reversed-sounding beat evocative of rolling in a car with the windows down in slow motion.
Lyrically, there's a lot of religious references, talk of Israel, and we can probably assume 'Yah' refers to the Hebrew name for Jesus, 'Yahuah'. I love how he's keeping up the onslaught on Fox News: "Interviews wanna know my thoughts and opinions / Fox News wanna use my name for percentage".
Enjoy unlimited access to 70 million ad-free songs and podcasts with Amazon Music Sign up now for a 30-day free trial
Sign up
The atmosphere of this track is really pleasing and I already want to listen to it again, preferably on a patch of grass about half an hour before the Sun disappears over the horizon. The album is so strong so far, and I say that as the kind of person who usually needs a few listen to really latch onto a record.
04 ELEMENT.
"Y'all know what happens on Earth stays on Earth." Ha! A nice IDGAF metaphor but also one that could be read as referring to our continuing ignorance when it comes to people hurting around the world.
This track has an old school vibe what with the record scratches, occasionally thrown off kilter by some ominous piano chords (contributed by James Blake).
He's calling out his rivals again and is clearly in a different mindset to when he made TPAB, as he sums up in the third verse: "Last LP I tried to lift the black artists / But it's a difference between black artists and wack artists".
The chorus refrain slowed down is very Frank Ocean (and you just know he was consulted in some way on this album, however casual).
05 FEEL.
The songs have been quite short so far and here's another straight-forward 3-minuter, in which Kung Fu Kenny (his chosen epithet this album) discusses being jaded with stardom. I think rappers/singers/musicians talking about how lonely it is at the top often rings a little false or hypocritical and probably isn't my favourite area of subject matter, but this is still an instantaneously alluring song, with a haunting, manipulated voice hovering above and a mournful synth lying below.
Also, at 2:48 we're treated to a classic Kendrick flow switch-up in which there's an a cappella line backed with a pitch-shifted version of it that signals the start of a more intensely-delivered verse.
Not my favourite song so far, but one that sounds like it'll seep into your bones over time. Next up, the Rihanna feature!
06 LOYALTY.
Well, this has 'single' written all over it. Bruno Mars' '24K Magic' (I think?) is chopped up and skewed into a high pitch and pinned down by steadfast, 'Money Trees'-esque (same producer - DJ Dahi) hi hats.
Awh, it's like a 60s duet with Kendrick and Rihanna singing together. For the first time on the album lyrics aren't at the fore here - it's more about just revelling in melody and vibe - kind of reminds me of Good Kid Maad City's 'Poetic Justice'.
"It's so hard to be humble" Rihanna sings in the outro. She's about to get a lesson in it in a couple of tracks time...
*Brb I need coffee. Awoke to a text from my friend in the US this morning saying 'BRO IM DYING' in reference to 'Lust', so looking forward to firing up that one.*
07 PRIDE.
Huh. Musically this is like an indie track - washed out, major chord, Mac Demarco-style guitar smiling over a simple drum beat.
Anna Wise (who you may remember from 'These Walls' and more) helps out on the hook, in between Kendrick musing on the corrupting nature of pride and his shortcomings, while dreaming of a perfect world where he'd "make schools out of prisons" and "take all the religions and put 'em all in one service."
This is a hazy daydream of a centrepiece to the album, and I imagine harder stuff is coming.
08 HUMBLE.
Whereas 'i' turned out to be a fake-out on TPAB, 'Humble' makes total sense as a teaser for DAMN. It's simple and effective musically and production-wise, and the duality of its chorus, i.e. trying to humble people but also be mindful of staying humble in the biblical sense, seems to run through the album.
As the artwork suggested, this record is a return to planet Earth after the jazz odyssey of TPAB and its offshoot untitled. unmastered.
*As I write this a theory is being cooked up that DAMN. is the second disc of a two-part release, with GOD or NATION to drop on Easter Sunday (i.e. GOD DAMN. or DAMN NATION). It's fanciful but I will happily indulge it. Update II: People are really running with it.*
Kendrick Lamar's albums, ranked

Show all 4
09 LUST.
This may be the most intriguing song so far. Musically it reminds me of Outkast and specifically the track 'Vibrate', while the lyrics blankly outline - and thus ridicule - the repetitive life of a stunting rapper.
Whether it's his numerous reminders on track that he doesn't smoke weed or lines like "I know the perks of bullshit isn't meant for me" on 'Momma', K-Dot has made clear throughout his career that he is not about that life, though he definitely has his own demons and vices.
We also get a little Trump commentary here, centring on the morning of the election, the outrage and then the return to daily life:
"We all woke up, tryna tune to the daily news
Lookin' for confirmation, hopin' election wasn't true
All of us worried, all of us buried and the feeling's deep
None of us married to his proposal, make us feel cheap
Stealed and sad, distraught and mad, tell the neighbor 'bout it
Think they agree, parade the streets with your voice proudly
Time passin', things change
Revertin' back to our daily programs
Stuck in our ways, lust"
Also, congrats to 21-year-old Brit musician Rat Boy on the guest spot!
10 LOVE.
Wow, I never would have expected such a pop track. A feather light drum beat that sounds a hell of a lot like the one in 'Hotline Bling' sits under a throwback, almost cheesy, synth melody (Kendrick's flow at 2:09 is also oddly Drake-esque).
The production from Greg Kurstin (Sia's 'Chandelier' and Adele's 'Hello') is on point and the Zacari hook is very catchy, but tonally this love song initially feels at odds with the rest of the album so far.
11 XXX.
I was holding my breath for this as it's the U2 track, but I didn't need to, it's really cool and there isn't a The Edge guitar riff in sight.
'America. God bless ya if it's good to ya.' Iconic opening line.
The first verse is delivered flat and kinda slurred, as though coming from the version of Kendrick looming on the album cover. A dark nursery rhyme then gives way to a police siren-backed hype beat in the vein of Run the Jewels, with Kenny recounting a friend telling him his son had been murdered and how he advocated responding with violence - speaking to the painful hypocrisy of how we denounce violent punishment until someone we love gets hurt. This theme is continued as the aggressive verse is interrupted by Kendrick remembering he has to speak at a convention about gun control.
This is the most fragmented song so far with several different styles/approaches/genres abruptly coming in. Bono, it turns out, was used much like Ash Riser on Section.80. His brief chorus hook is kind of lounge jazzy and doesn't really add a lot. I'm left wondering if Kendrick interpolated U2 just to confound people.
12 FEAR.
This almost 8-minuter feels like the 'Sing about Me / I'm Dying of Thirst' of the album and musically could happily sit on TPAB, making use of the groove Kendrick teased on 'The Heart Part 4'.
It's one of those absorbing, transportative songs, centring on moments of fear experienced at 7, 17 and 27. First up is a father terrorising his son with threats of beatings, then we hear from a dejected teen surrounded by dumb ways to die every day in the hood and scared that he won't get the opportunity to make a mark on this planet. The final narrator is a version of Kendrick worrying about losing the rap empire he's built. It's notably longer than the other verses, suggesting that while K-Dot has significantly improved his standard of living, fears hang over him heavier than ever.
We're getting into the deep stuff now, and I'm almost scared to hit play on...
13 GOD.
Here we get a soaring, blissed out beat as Kendrick explains the God-like feeling he gets from creating at such a high level. I can take it or leave it though, it feels like a familiar late 2000s hip-hop track rather than a blast of 'holy shit I've never heard anything like this before' you get from a lot of late Kendrick album tracks.
14 DUCKWORTH.
"It was always me versus the world / Until I found it's me versus me"
Ain't that the truth. If the world isn't beating you down you're beating yourself down.
DAMN. closes with a classic bit of Kendrick Lamar storytelling that showcases some blistering flow tricks in the process.
In 2014, his manager Dave Free said Kendrick still had "all these other stories, sh*t that will blow your brain, have never been heard before because they're just too personal. There's still so much to be said. The question is, is he gonna say it?" On 'Duckworth' we hear one of them - how Anthony Tiffith, CEO of Kendrick's roots label Top Dawg, once nearly killed his father while he was working in a KFC. Kendrick was only a child at the time, and ruminates on how Anthony could have been his enemy but instead the pair ended up in the studio making art together, all because of a split second decision.
This story is capped off with much of the album being played at high speed in reverse, a sort of metaphysical, mutliverse nod to how one action can mess up a whole timeline.
You can exhale now.
First impressions
On first listen through there are some major high points (mostly early on) and some really interesting ideas here. The album has clearly been obsessed over, with every track containing the kind of flourishes that are only thought of long after most artists would have considered the song 'done' and moved on, and all credit to Kendrick for putting in work.
It does initially feel like a slightly uneven/incoherent album though, and 'LOVE.' and 'GOD.' have a top 40 flavour I feel is a little beneath an inventor like Kendrick. It's definitely a great album and will sit in the discography ranking above Overly Dedicated and Section.80, but the jury's still out on whether it can top the cohesive, highly original masterpieces that were Good Kid, M.A.A.D City and To Pimp a Butterfly. Time to recharge before another pass.
Join our new commenting forum
Join thought-provoking conversations, follow other Independent readers and see their replies