Madonna, O2 London, gig review: It's religion and rebellion as her Madgeness reminds us why she is such an enduring talent
The show's origins probably come from a brainstorming session where Madonna said: "I want it to look like a mashup of The Great Gatsby, Madame Butterfly and the Bible and anyone who says no will be spanked with this pineapple."
Emily Jupp
Wednesday 02 December 2015 00:49 Comments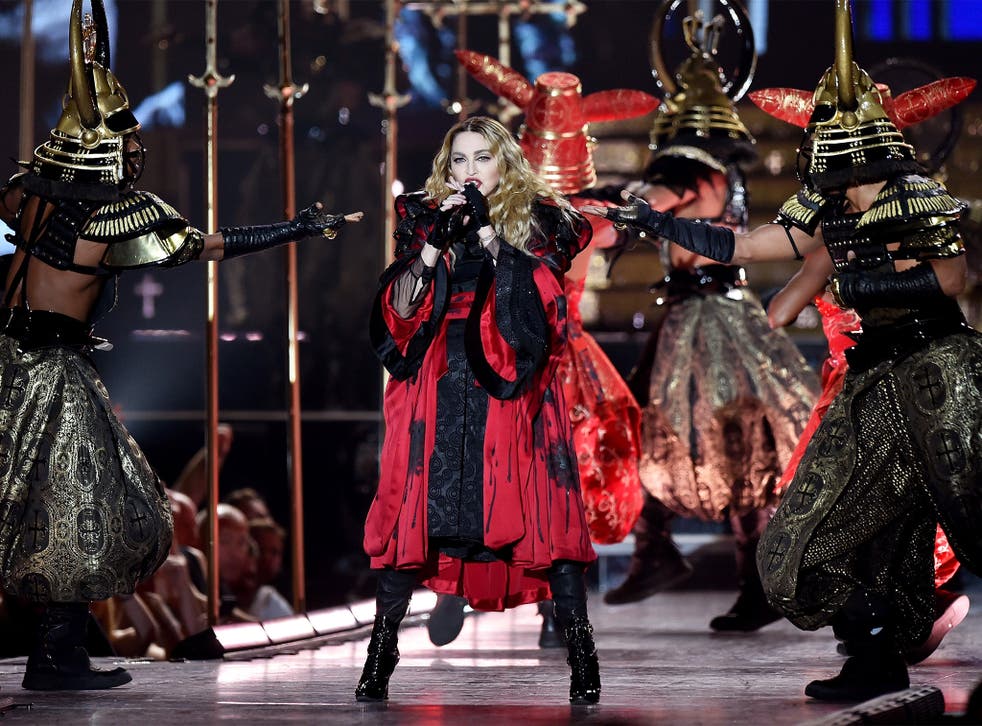 "London are you ready?" Madonna launches her two-day stint at London's O2 to promote her 13th album, Rebel Heart, with plenty of bling and swagger. Entering with a host of gold-clad dancers, she's modestly - for her Madgeness - dressed in black sparkly dress and a cape, which, perhaps due to a choreography rethink after her fall at the Brits earlier this year, is removed a good few seconds before she strides down the steps to the thrust stage shaped like a crucifix (but she calls it "the penis").
The demure costume doesn't last, of course, she soon strips down, and drops to her knees, her crotch meeting her fans' eye line while she plays electric guitar on "Burning Up" and pole dances on a crucifix with dancers dressed in pants and nuns' habits before reenacting the last supper for "Holy Water" and "Devil Pray". Can you see a theme developing here? It's all about her rebellious side, summed up by aggressive, raunchy Rebel Heart songs. "Bitch I'm Madonna" and "Iconic" -- both odes to her own superstardom. The religious references seem a bit old hat no matter how much she tries to shock us with it - we've seen it before with her black Jesus in 2009's "Like a Prayer" video. A third of the way through she diverts away from the Rebel Heart songs and finally gives us a reminder of why she really is an enduring talent. Adopting a country twang, and simple guitar, rarely performed "True Blue" takes the bass down and let's us catch our breath -- static and unfettered by snazzy pyrotechnics, it's a really intimate moment (which is difficult to come by in the 20,000 capacity venue) and a reminder that without the gloss and and attention-grabbing outfits, there's still real talent underneath.
Madonna's most iconic looks

Show all 28
With the Rebel Heart catalogue mostly out of the way, we get a smattering of old school crowd-pleasing classics, including "Like A Virgin" and "Material Girl", which has the crowd dancing manically. More interesting is her "heart" side. We get sweet purring vocals and floaty instrumentals on "Body Shop", accompanied by a fun "greased lightening"- inspired dance with stacks of tyres. "If anyone needs a mechanic to work on your body shop I'm your man! And I work hard! And these bitches are my gang," she yells before asking her dancers to take their tops off to prove "how hard they work." There's flapper dresses and Gatsy-style glamour for "Music" and a sing-along cover of "Diamonds are a Girl's Best Friend", she changes the line to "Girls DON'T grow old" and gets howls of agreement. There are a lot of crazy costumes here and exciting video projections, which is what you need to put on a show at the O2, but some of the ideas seem a bit random. The skits in between songs, which are mainly about how brilliant it is to be Madonna and how we, the crowd, are all her bitches, are a bit odd. At one point she nominates someone from the crowd to marry her. He is dressed in a tie-dyed top and, one assumes from the man who is snogging him, is as gay as a window. She then petulantly shouts "Do you even speak English?!" at him when he breaks the flow of her rehearsed joke. Another surreal moment involves Graham Norton and a banana. I think she told him to do something obscene with it.
As we spiral into the madness of a show whose origins probably come from a brainstorming session where Madonna said: "I want it to look like a mashup of The Great Gatsby, Madame Butterfly and the Bible and anyone who says no will be spanked with this pineapple," the only option is to accept that this is Madonna's world, she is the Queen and we are all her lowly servants. Long live her Madgesty. There's nothing quite like her.
Register for free to continue reading
Registration is a free and easy way to support our truly independent journalism
By registering, you will also enjoy limited access to Premium articles, exclusive newsletters, commenting, and virtual events with our leading journalists
Already have an account? sign in
Join our new commenting forum
Join thought-provoking conversations, follow other Independent readers and see their replies