Album reviews: MUNA – Saves the World, Iggy Pop – Free and Chrissie Hynde – Valve Bone Woe
MUNA's second album should see them join the ranks of the pop stars who brazenly borrow their sound, Iggy Pop mixes his traditional rock with spoken word, and Chrissie Hynde's collection of jazz standards shows an artist still keen to challenge herself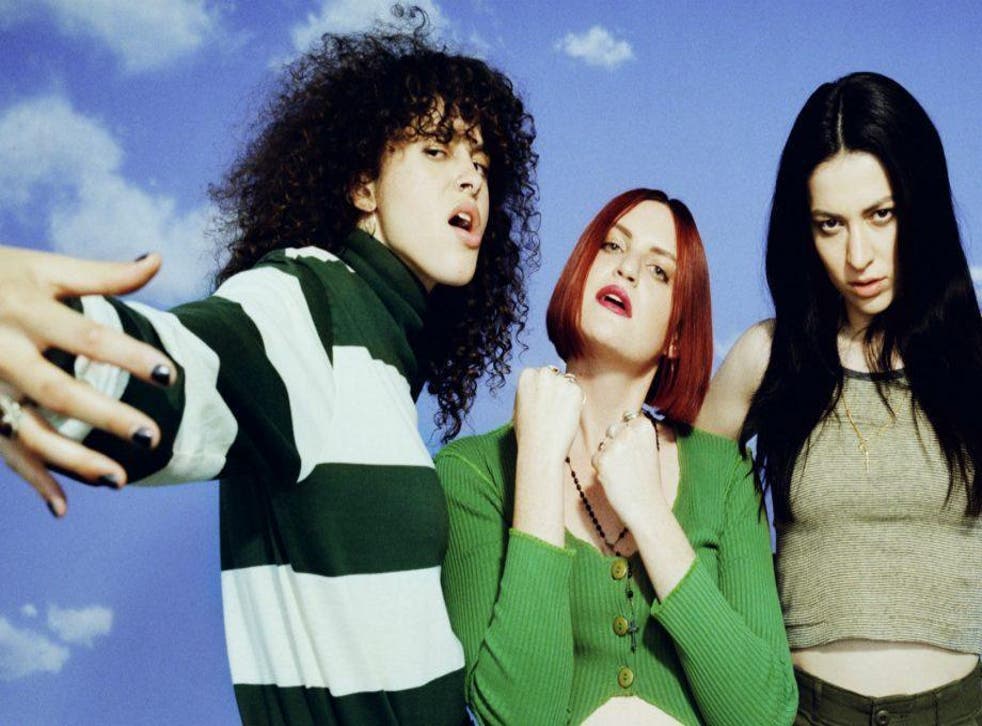 MUNA – Saves the World
★★★★★
MUNA might not be a household name yet, but their influence runs through the charts like a stick of rock these days. Listen to Katy Perry's summer smash "Never Really Over", or Taylor Swift's feminist clap back "The Man", and you'll hear the same dense, sticky synths and brawny beats that the emo-pop trio have been honing for the past three years. Their debut album, 2017's About U, was raw, poignant and just the ride side of melodramatic, queering the mainstream, one sad-pop anthem at a time.
If there's any justice, its follow-up, Saves the World, should see MUNA joining the ranks of those who have brazenly borrowed their sound. Lead single "Number One Fan" banishes intrusive thoughts – "Nobody likes me and I'm gonna die" – just in time for a lavish, self-celebratory chorus, one part earnest, one part tongue-in-cheek.
Elsewhere, they are downright defeatist. "Stay Away", whose clipped melody tap dances over Daft Punk-like pulses, laments the inevitable pull back to a recent ex. "Taken" reflects on a lover's similarity to an adulterous father, while "Hands Off" toys with temptation before slamming the door shut: "No you can't touch, get your hands off me". It is fierce and forthright.
On "Never", meanwhile, whose pummelling beat channels Robyn's latest masterpiece Honey, they ponder why they're even making an album: "I don't know if I like songs. I think maybe I was wrong to think I could make it hurt less with a chorus singalong". They should give their own music a try. Alexandra Pollard
The 30 best album covers - ranked

Show all 30
Iggy Pop – Free
★★★★☆
Ahead of the release of his 2016 album Post Pop Depression, a polished and energised collaboration with Josh Homme, Iggy Pop teased that it may be his swansong. Free, therefore, arrives somewhat unexpectedly. The iconoclast's 18th solo album is built this time not on an intriguing musical partnership, but unwieldy and uncertain jam sessions. It feels less cohesive as a result, a likely polarising listen that sees Pop embracing the guises of poet and provocateur, but with an admirable disinterest in whether the two ever satisfactorily coalesce.
Several tracks are in the traditional Pop vein. "James Bond" is his funky, double entendre-filled attempt at a 007 theme, while "Dirty Sanchez", a grimy call-and-response number, appears to be a winking critique of modern sexual mores. "You desensitised sluts always playing with your butts," Pop sneers. "This online porn is driving me nuts".
More intriguing, however, are the spoken-word tracks. Free often feels like the messiest kind of improv, full of stream-of-consciousness expressions and storytelling that doesn't follow any particular logic. But tracks like the tense "Glow in the Dark" or the sombre "The Dawn" are also oddly irresistible, loose, thoughtful and free-wheeling. "The darkness is like a challenger," Pop says on the latter, over a dreamy and sparse soundscape full of erotic-thriller saxophones and humming basslines. "In my stage of the game, he'll point out memories... the few moments that make life any f***ing good and he'll put those in my face in the dark."
In tracks like these, Free transforms not so much into a finite record, but one that feels like a lyrical wind-down, Pop pondering the road ahead and trying to make sense of it. Adam White
Chrissie Hynde – Valve Bone Woe
★★★★☆
The music industry offers few surprises in 2019. Even surprise albums feel cliched. So it's a delight to find Chrissie Hynde, rock legend of The Pretenders fame, is releasing… a jazz standards album.
Conceived after Hynde finished recording "I Wish You Love" for the 2000 film Eye of the Beholder (she wanted to do a more jazz-oriented album), Valve Bone Woe offers an impressive array of covers of classic songwriters such as Frank Sinatra, John Coltrane and Brian Wilson.
Many of the covers work well – opener "How Glad I Am", which gave Nancy Wilson a hit single in 1964, bursts in with big-band swagger and Hynde's smoky croon. Her take on the Beach Boys' "Caroline, No" is stunning, not least for some psychedelic flourishes in between the wistful flutes and stately horns.
Elsewhere, though, the coolness in Hynde's voice occasionally fails to convey the genuine pain and anguish of the earlier incarnations. While the piano and string arrangements on "I'm a Fool to Want You" are particularly lovely, you can't help but think of Frank Sinatra or Billie Holiday singing the same song, both versions of which have the power to move you to tears.
Overall, though, Valve Bone Woe is a lovingly crafted collection of covers – a surprising, successful new endeavour by an artist evidently still keen to challenge herself. Roisin O'Connor
Join our new commenting forum
Join thought-provoking conversations, follow other Independent readers and see their replies