Prince, London Roundhouse, gig review: Endless medley of hits renders modern artists embarrassingly under-accomplished
Part Two of the artist's guerrilla series of live dates gave fans just 48 hours to descend upon the venue for a set packed with classics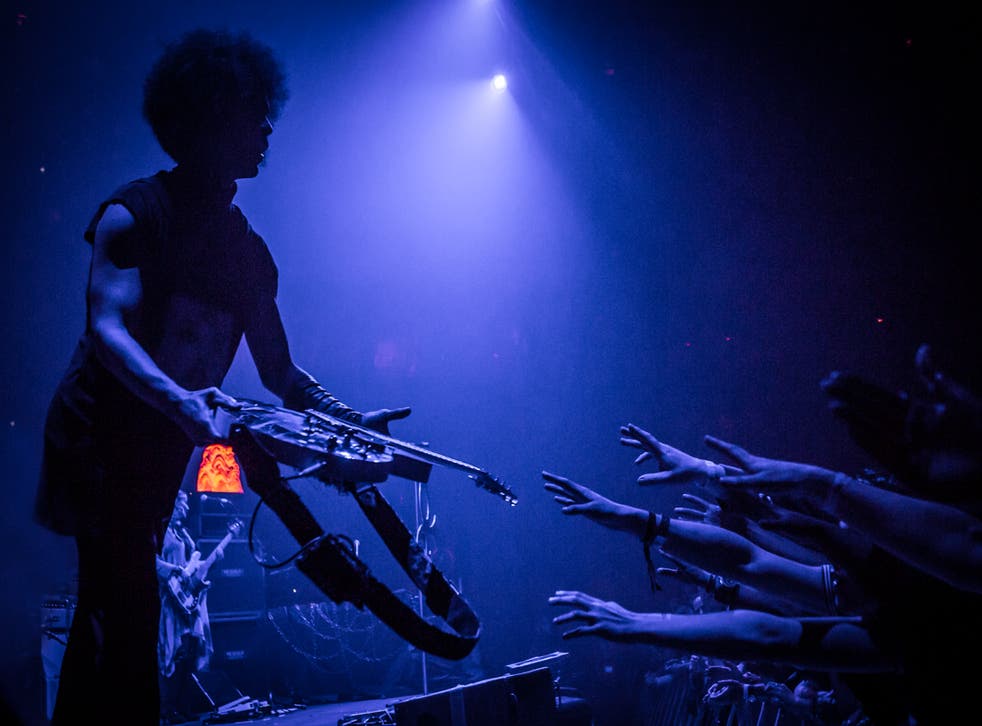 It's become a familiar sight in London in the past few months: an undulating line of people, snaking down through the street from the door of [insert name of famous music venue far too small to be hosting a show by the likes of Prince here], all elbows and anticipation as they jostle to catch a glimpse of the legendary artist in action.
Part Two of his guerrilla series of live dates – aptly named the 'Hit And Run' tour – paints a similar picture. This time, fans were given just 48 hour's notice to descend upon the Roundhouse in Camden for one of two separate shows this evening, both of which sold out just four minutes after going on sale.
And those lucky enough to get their cyber hands on tickets certainly get their money's worth. From the moment The Artist steps onto the stage, clad in a gold lamé smoking jacket and flanked by his equally glamorous all-female backing band 3rdEyeGirl, he sets into motion a seemingly endless medley of hits that blend into one silken performance of funk euphoria.
From the thunder clap start, it takes just two tracks and a squealing solo before the crowd are drawn deep into the neck snapping rhythm of "Raspberry Beret". Intense synths accompany a sing-a-long rendition of "C.O.O.L", punctuated by some impressive pirouetting, as the familiar keys of "When Doves Cry" plunge the Roundhouse into arm-waving hysteria.
Tossing his guitar to one side, he climbs behind the keys for an emotive, stripped back rendition of "I Would Die 4 You". "Controversy" and "Play That Funky Music" follow to rapturous reception, heightened to fever pitch with an up-beat instrumental interlude, "1999" and an overtly sexual, banter-laced performance of "Little Red Courvette".
"Nothing Compares 2 U" tugs neck hairs the room over, soon flattened back into position by a gyration-fuelled version of "Kiss".
The panic of the first encore is soon subdued as, now wearing a sleeveless black vest, Prince bounds back onto the stage for "I Could Never Take The Place Of Your Man".
"We love you London, but not like we love these guitars," he shouts, before diving into another anthemic rock instrumental.
Shade is provided back behind the keyboards with "The Beautiful Ones", as the stage is bathed in indigo and lilac for a special, extended version of "Purple Rain".
Enjoy unlimited access to 70 million ad-free songs and podcasts with Amazon Music Sign up now for a 30-day free trial
Sign up
After one-and-a-half hours of non-stop classics, many assume this to be the end, and although delighted, are mildly bemused by the striking up of a second encore. It's about this time that the venue security beef up the evening's somewhat aggressive 'No photos, no videos!' policy. Several quivering young audience members attempting to snap a keepsake on their mobile phones are rooted out and ejected from the venue by the arm in an almost military operation that adds an unsettling undertone to the evening's otherwise upbeat mood.
The set finishes with a solo-heavy version of "She's Always In My Hair". At the end of the song, Prince struts off stage, only to return laden with a bunch of helium-filled balloons, which promptly travel up to the roof as he attempts to throw them out into the crowd.
"It just… Really doesn't get any better," a near-by reveller reviews to a friend. She was, clearly, not one those caught taking their phones out. But, while her turn of phrase is hideously overused, few statements apply more accurately to tonight's proceedings.
Ageless, timeless, almost genderless, he remains an inimitable showman, with an emphatic back catalogue that renders the majority of modern solo artists so embarrassingly under-accomplished, it's almost hard to think of him as a real person.
So if you do see that queue forming at a venue near you, jump in it. Fan or not, it's an experience that simply can't be matched.
Join our new commenting forum
Join thought-provoking conversations, follow other Independent readers and see their replies