Simon Price on Girls Aloud: It's been emotional, says Cheryl. Forget that – it's been fab
What's not to love about the comeback of these five glam girls with their unrivalled fusillade of songs?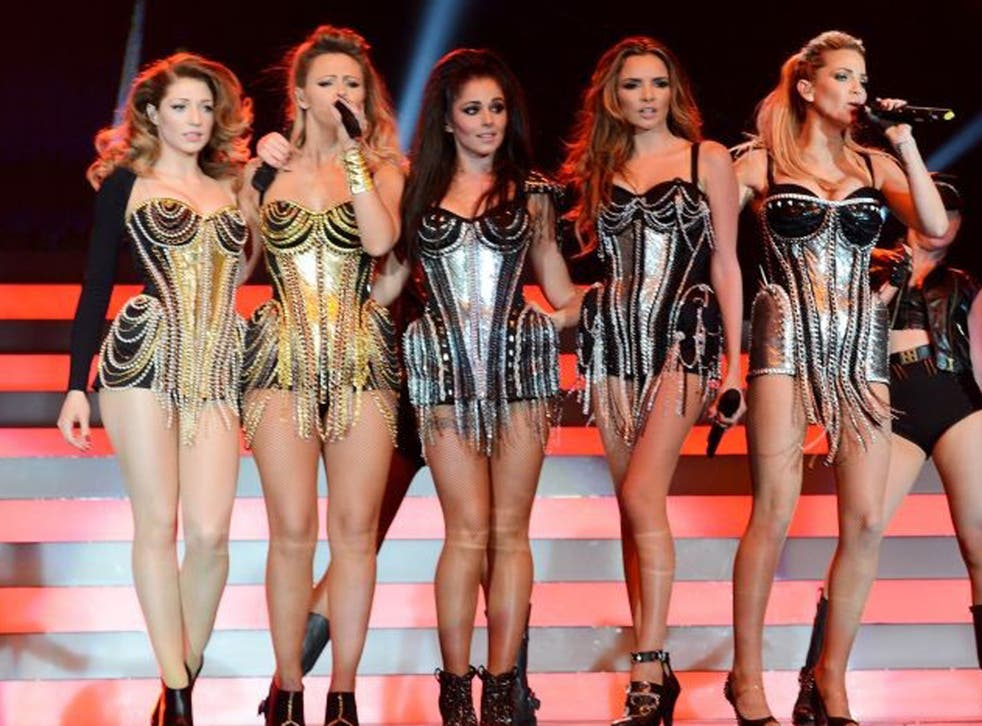 So, Cheryl's solo career had all the charm of a bailiff with BO. So, the group's members may or may not loathe each other, if you choose to believe the chip-wrapper press. It's still Girls Aloud playing Girls Aloud songs.
Not that you'd know that from the build-up. The homecoming of Cheryl Cole is the biggest story on local TV news, and the comeback concert by the greatest British pop group of the 21st century an incidental detail. Inside the arena, even the boyfriend is mobbed on the way to his seat.
Everyone here looks amazing, by the way, on the terms of their own Geordie Glam aesthetic. It's below freezing outside, and an army of women has clattered down Redheugh Bridge Road and up the stone steps in microskirts, spray tan and massive hair. That "Let's go, Eskimo" lyric suddenly makes sense.
They do love to honour one of their own tribe. From the moment the five metallic-corseted Bratz dolls descend from the ceiling atop their own logo, the crowd's cacophony trebles every time South Shields escapee Cheryl does anything, and quadruples if she mentions Newcastle into the bargain. If Alan Shearer himself tottered onstage in a sequined basque, the screams wouldn't be any louder.
Twiggy Stardust may have become the Special One since Girls Aloud last breathed, but her bandmates are far from mere Spiders. There's the chaotic and entertainingly brassy Sarah Harding, who gives the impression that this reunion has detained her from her true calling as a pole dancer at Bada Bing. There's Kimberley Walsh and her glowing high-street-honey loveliness, Nadine Coyle and her hilariously self-aware supermodel pout, and – my favourite – the impassive, indifferent Nicola Roberts, who looks as if she doesn't need all this, and didn't particularly want it in the first place. If Cheryl gets too full of herself, the other four ought to call her bluff, do a Take That and carry on regardless. They'd be fine.
Every arena-pop cliché is ticked off tonight: catwalk excursions and a "surprise" mini-stage section, pyros and confetti, high-backed chairs and feathery headdresses, fit black guys with six-packs, and the obligatory smartphone-waving ballad. There are opening-night hitches: the camera pointing at the wrong singer, a microphone malfunction, a key change that doesn't quite come off, and Harding going Awol and nearly missing the overhead cable ride.
It doesn't matter, because it's all about the songs: an unrivalled fusillade including the Tarantino-pop of "Sound of the Underground", the sublime Sixties-redux of "The Promise", the turbo-charged "The Show", the incongruous subtlety of "Can't Speak French", the Frankie-referencing "Love Machine" and Bowie-borrowing "Biology", and the immaculate "Call the Shots" (oh my goodness, "Call the Shots"...). Harding's in tears by "I'll Stand By You", her false lashes coming loose. And, before long, they're all at it. It's been emotional, Cheryl tells us. But never mind that. It's been Girls Aloud singing Girls Aloud songs. What's not to love?
Wednesday night, and several million ITV viewers – and a few thousand inside the O2 – witness the terrible, decisive victory of the New Boring. But everyone in the London music industry who isn't at the Brit Awards is at the Borderline, or so it seems: the moment you reach the foot of the stairs you have to fight through a sea of satchels.
The source of the buzz is a west London band called Night Engine (****). Fronted by an elegant sir in a Terylene shirt, with slicked-back strawberry blond hair and named only as Phil, and with a show-stealing Eno-esque synth-nerd called Dom, Night Engine have come from nowhere. With just a wedding band here and a Zappa covers band there in their rear-view mirrors, their emergence was so stealthy and so sudden that they missed all the January polls. The last time I remember a band arriving as fully formed and confident as this was Franz Ferdinand, a decade ago.
Enjoy unlimited access to 70 million ad-free songs and podcasts with Amazon Music Sign up now for a 30-day free trial
Sign up
They describe their sound only as "the music of the city", and you can certainly imagine it as the theme music for speeding along on the trans-Europe express, gazing at great cities through the glass. For me, it's Young Americans Bowie meets Gang of Four meets the Associates meets pre-shark-jump Simple Minds meets end-period LCD Soundsystem. And their ease with song dynamics – ascending verses, swooping middle eights, soaring choruses and fiendish hooks – is uncanny.
"What?" says Phil between songs, temporarily thrown. "Someone just said they love us?" Get used to it, mate.
Critic's Choice
The Darkness, those shameless showmen of hard rock, launch their UK tour at Sheffield City Hall (Fri) and Manchester Apollo (Sat). Meanwhile, chart-conquering South London girl trio Stooshe play a one-off show at Birmingham Institute (Tue).
Join our new commenting forum
Join thought-provoking conversations, follow other Independent readers and see their replies