Skinny Lister gig review, London: 'A visceral, deafening experience'
The band's new material is glossier than their previous work on record, but it's clear they've not lost touch with their punkish roots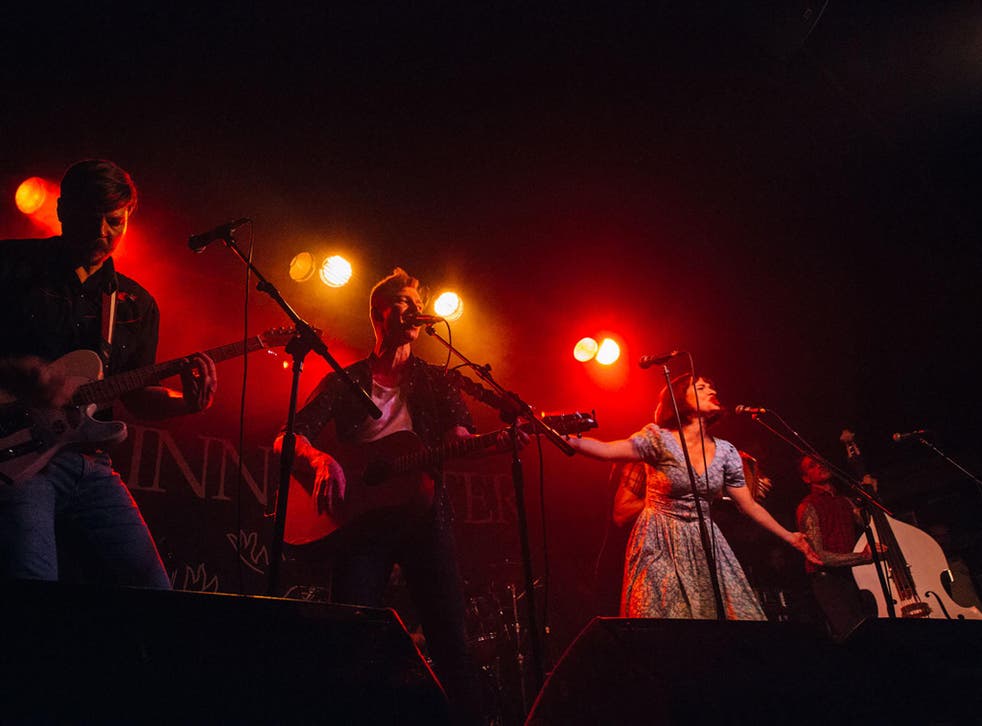 If this is a wedding, it's certainly a raucous one. Overcome with emotion and perhaps a tad drunk, Skinny Lister vocalist Lorna Thomas puts on her best serious voice to thank the crowd for coming, likening the evening to a matrimonial celebration.
It's the last night of Skinny Lister's sold-out UK tour for their third album The Devil, The Heart & The Fight, and among the distinguished guests at the Garage in north London is their label-mate and acclaimed singer-songwriter Frank Turner, and "Party" George; father of band members Lorna and multi-instrumentalist Max Thomas.
Turner joins the punk-folk six-piece for a rousing rendition of "Trouble on Oxford Street", an ode to one of frontman Dan Heptinstall's boozy nights out that got a little out of control, while father Thomas arrives to much fanfare for the encore, performing two of his songs that the band have been playing for years: "Forty Pound Wedding" and "William Harker". "Party" George has become a cult figure with Skinny Lister's fans and it's evident again tonight; the crowd chanting his name as if worshipping a champion boxer.
The London-formed group's new material is glossier than their previous work on record, but it's clear they've not lost touch with their punkish roots in the live arena. Tracks from The Devil, The Heart & The Fight, including "Wanted", "Beat It from the Chest" and even rock ballad "Devil in Me", sound louder and more aggressive in the flesh. It's a visceral, deafening experience as they lock the audience in with their raw energy. At times they seem like a band possessed, Heptinstall's neck muscles bulging as he bellows his way through track after track, while his bandmates' flailing limbs dominate the rest of the stage.
As the atmosphere builds with drunken giddiness, it's hard to keep track of how many times Lorna Thomas crowd surfs her way back and forth through the crowd, but what's abundantly evident throughout the night is the band's collective showmanship. Heptinstall may well be the lead singer, but every member performs with the same anarchic intensity, collectively commanding the audience. Skinny Lister close the evening with "Six Whiskies"; I think they may have had a few more than that, but somehow they still manage to pull off an outstanding show. I'm not sure many other bands could.
Join our new commenting forum
Join thought-provoking conversations, follow other Independent readers and see their replies