Slaves interview: What makes us angry? 'School, society, Syria, Brexit; the fact that we are overprivileged in the West, and don't even realise it'
From Tunbridge Wells, noisenik duo Slaves follow their Mercury Prize nomination with a second album 'Take Control'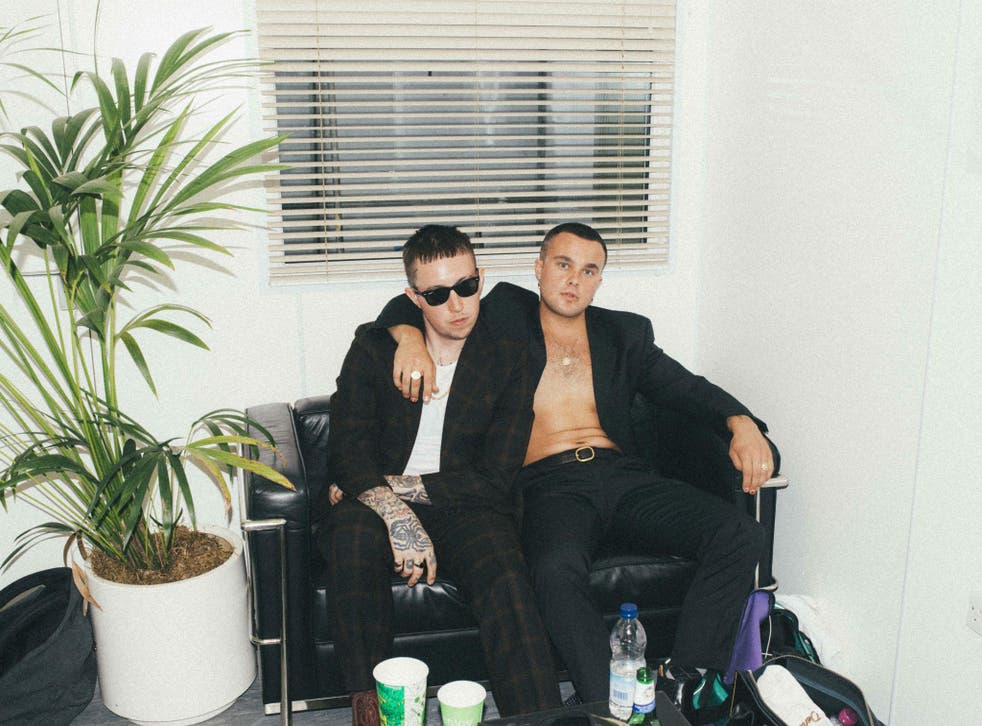 In the video to Slaves' new single, 'Spit It Out', the noisenik duo from Kent offer a candid peek into the chaotic flotsam that makes up their daily lives: pubs, drinks, dodgy takeaways, police vans, women and, because doubt is never a good thing, the occasional pregnancy tester kit. Frontman Isaac Holman, 25, recounts this all in his usual manner: by shouting with the kind of bug-eyed intensity that makes you fear for his state of mind. If anger really is an energy, then Holman is a thousand Duracell bunnies teetering on the edge of a very high cliff. It's an undeniably brilliant song, an instant moshpit classic, its sentiments – like those of all their songs – wholly anomalous in a chart more known, these days, for its earnest sensitivity.
"There's like a template for what gets into the charts these days, isn't there?" says guitarist Laurie Vincent, 23. "Less and less people seem to want to smash their gear around on stage in anger. We do."
Holman points to an almost instinctual sense of fury that runs through all their songs. "I just always felt full of aggression, always had these… these feelings inside me."
All of which makes the proposition of actually meeting the pair in the flesh a little unsettling. Will there be aggro if I ask the wrong question? Baseball bats? First to arrive in the south London pub on this late August lunchtime is Vincent: bang on time, partial skinhead, a terrible fringe, tattoos everywhere, and skinny jeans short enough to reveal a pair of white-socked ankles. But, smiling widely, he appears conspicuously amiable, no raising of fists, no spitting. He tells me instead about his imminent wedding to his girlfriend of two years, and the baby they are expecting in December. Turns out he's a lovely bloke.
"It's nice to not always live up to your reputation, right?" he grins.
Holman, meanwhile, is nowhere to be seen. Half an hour ago, we were told he would be here in 20 minutes, then 10, but he doesn't show at all, citing a train delay.
At this, Vincent smiles wryly. "The first time he blames the trains, you believe him. But by the time you've heard that excuse as many times as I have, you do start to wonder…"
When I finally catch up with Holman, hours later by phone, he proves to be the brooding yang to Vincent's beaming yin. He is sticking to the train story. "Southeastern trains' fault," he insists. For the entirety of our conversation, he will sound utterly inconsolable, like someone who has just watched their iPhone fall down the U-bend of a particularly unpleasant public toilet.
Slaves were one of the unlikeliest success stories of 2015. Straight out of Tunbridge Wells, they came over like street urchins, ASBO oiks, obsessed by punk but impressively capable – like the White Stripes and The Pixies – to merge apoplectic rants with keening melody. Holman was a captivating sight, all eyes and mouth, screaming blue-veined into his microphone, and drumming standing up. They released a debut album, Are You Satisfied?, which echoed Jamie T and The Streets' wry worldview but with more Bash Street Kids bovver to it. It made the Top 10, and later secured a Mercury Prize nomination.
Such mainstream acceptance made them even more anomalous. They were as close to punk as punk got in 2015, a year otherwise dominated by sophisticated balladeers whose songs were perfect fodder for X Factor contestants. Who on earth were they appealing to?
Enjoy unlimited access to 70 million ad-free songs and podcasts with Amazon Music Sign up now for a 30-day free trial
Sign up
"Actually," says Vincent, "all sorts of people, of all ages, kept coming up and thanking us for offering them something different. You want a bit of snarl every now and then, right?"
I ask him now – this man who, despite the proliferation of skinhead-approved skin ink, talks contentedly about a happy childhood and his excitement at becoming a father – about the band's anger. Why the perpetual curled lip?
He shrugs. "Don't know. School, society? Things like Syria, Brexit; the fact that we are overprivileged in the West, and don't even realise it."
But it is Holman who is clearly more in touch with his dark side. This is a man whose face, when relaxed, falls helplessly into a frown. "I've always felt like I've been living outside society," he says. "I think too much about everything. I over-analyse. I get pissed off about things."
As we speak, he is en route to a doctor's appointment. He tells me he has hypermobility in his joints, which means they pop out easily. He is still recovering from surgery to his right shoulder, and last weekend he managed to dislocate his left. He's in pain. "I was drunk," he sighs. "I'm an idiot."
The band's new album, Take Control, was recorded in, of all places, California. "Never seen so much sunshine!" Vincent laughs. They were invited over by Mike D, after the former Beastie Boy, a huge fan of their debut, was keen to produce them.
"I felt like the world needs an album like this," Mike D says of Are You Satisfied? "Something that is more raw, more alive and less polished. They actually speak their minds about social topics."
This is something they do in Take Control, too, which replicates its predecessor's cartoon vim but becomes infinitely more intriguing the more Holman vents his spleen. Here he takes swipes at all aspects of modern life, from capitalism ('Consume or Be Consumed') to the motives of former girlfriends ('Angelica'). 'Cold Hard Floor' boasts a malarial beat and a slurred lead vocal that renders it genuinely sinister, while the title track sees Holman, "questioning my sanity/questioning my health".
Earlier in the day, Vincent had told me that success has made him happy, and fuelled his ambitions further. He wants to be a painter – he is inspired by Basquiat and Keith Haring – and has just had his first exhibition. He and his girlfriend have recently moved into a house in Brighton. Holman, by comparison, has recently split up with his London-based girlfriend and is back living on home turf, Tunbridge Wells.
"Me and Laurie are very different people," he concedes. "He's settled, I'm not. He's got his new house, his family; I live in a one-bed with a pet rat."
He must be lonely, I say. "Actually, no. I've domesticated the rat to quite a high level. She's great. She brings me tranquility."
Take Control by Slaves is released on September 30
Join our new commenting forum
Join thought-provoking conversations, follow other Independent readers and see their replies