Weezer, Wembley Arena, gig review: Architects of geek-rock perfection inherit Wembley for one night only
Cali-alt rockers headline their first ever UK arena show at Wembley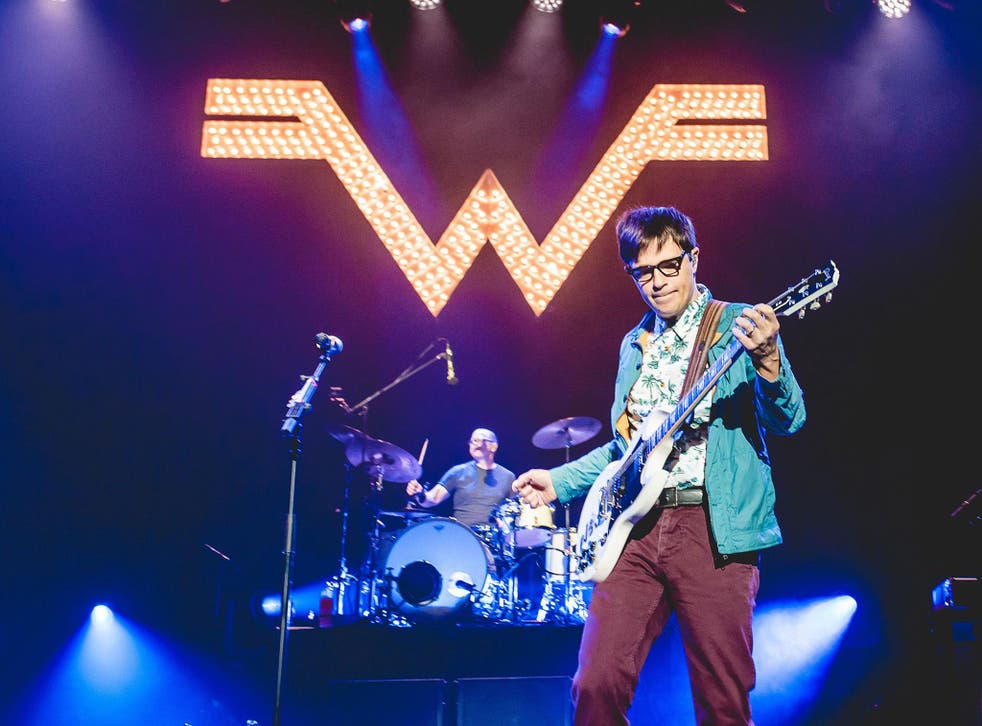 One thing you can't ever accuse Weezer of being is predictable. To frontman and songwriter-in-chief Rivers Cuomo's eternal credit, their ability to pull the rug from underneath the feet of their fans is laudable. After an erratic, unfocused run of mid-period albums that even the most ardent Weezer fanatic would probably label 'questionable', the last 3-4 years have seen the band begin to claw back some of the grunge-meets-Beach-Boys bluster that endeared them to the hearts of so many back in the mid-90s. 2014's Everything Will Be Alright In The End and 2016's The White Album in particular gained plaudits and won back favour from critics and fans, many of whom had seemingly given up on the band completely.
Rather than continue to ride that wave, Rivers and co's 11th album, Pacific Daydream, trades the buzzsaw guitars for processed beats and synthesised sounds. It's not an alien transition; strip away the unapologetically geeky lyrics and rock band instrumentation and you're essentially left with a pop band, albeit a magnificent and rather eccentric one. Management are clearly confident in the band's new direction however, as this evening, Weezer are playing Wembley, the first time in their 25 year history playing a headline U.K. arena show.
Before that though, Northern Ireland's proudest sons Ash play to a pleasingly large crowd. Support bands are more often than not given short shrift, particularly at arena shows, but not so tonight, the audience embracing Ash with mass arena-wide sing-alongs that are (almost) as seismic as those that greet the headliners.
To some, Ash and Weezer may seem a combination slightly at odds with one another, but upon close inspection, the two bands have much in common; both formed in 1992, both write massive pop hooks over loud guitars and both reward attentive listeners who look beyond the melodies to reveal deeper intricacies. Ash are accustomed to these sorts of slots and after 25 years, they've really learnt how to punch out a lean, mean 45 minute greatest hits set with incredible panache and proficiency.
The vast arena stage may dwarf them slightly, but you can't argue with songs as indelibly catchy and feel good as 'Goldfinger', 'A Life Less Ordinary' or 'Orpheus'. One imagines Tim Wheeler is probably sick to the back teeth of playing 'Shining Light' by now, but to his immense credit, there's no sign of fatigue at all when it joyously rings out at Wembley this evening. A 'screaming competition' during the under-rated 'Numbskull' is a nice nod to Hallows eve ending a set and a one-two punch of 'Girl From Mars' and 'Burn Baby Burn' is never going to be a bad way to conclude a show.
From the moment Weezer step out onto Wembley's stage, it's clear that they won't be messing around. Opening with an incredible salvo of 'El Scorcho', 'In The Garage' and 'No One Else' is a hell of a way to set your stall out early. It also answers a pertinent question fairly early on; will Weezer play it safe or dive head first into new, uncharted territories?
As it happens, only two songs are aired this evening from Pacific Daydream an album that lest we forget, has only been available for 45 hours when Weezer hit the stage this evening. Whilst it might be the most divisive song in a back-catalogue chocked to the brim with divisive songs, 'Feels Like Summer' feels ruddy massive in Wembley. The guitars are front and centre and the fuzzed up beats give the song a brazen, swaggering slightly grimy edge. Love it or loathe it, few would deny that this song has a heck of an impact live.
There is a charming ragged quality to Weezer this evening that is utterly thrilling and an usual in an arena act, as if we're baring witness to four friends practicing in a garage, albeit one that can comfortably house thousands of thirty-somethings singing lyrics such as 'If you want to destroy my sweater/ hold this thread as I walk away' as if their lives depended on it. It's reassuring that after the release of the most polished album of their career to date, Weezer can still perfectly embody the geek-garage-band aesthetic that they made their own perfectly.
Despite the step up to arenas and the new direction, fans wedded to the grunge-guitars-meets-Beach-Boys-melodies that was created and instantly perfected on the band's self-titled 1994 debut (affectionately known as The Blue Album) need not worry. In fact, for their biggest headline show in the country to date, this most unpredictable of bands plays it safe, with 4/5ths of that eponymous debut aired this evening (just 'Holiday' and 8-minute closing track 'Only in Dreams' are absent tonight). The set mainly derides from pleasingly colour-coded album's Blue, Green and White. Given the circumstances, it's a wise move; nobody in this room is going to complain about the lack of new tunes such as 'Weekend Woman' or 'QB Blitz' when the band are throwing out timeless anthems like 'The World Has Turned and Left Me Here' and 'Hash Pipe'.
Enjoy unlimited access to 70 million ad-free songs and podcasts with Amazon Music Sign up now for a 30-day free trial
Sign up
It's good to see three songs from last year's The White Album in the set, an under-rated gem that was in danger of being all but forgotten by such a hastily released follow up. 'California Kids' is the equal of any tune on their first four records and 'Thank God for Girls' is quite possibly the most preposterous song in the band's vast catalogue.
Widely perceived wisdom dictates that the devil has all the best tunes; if this notion is true, Rivers Cuomo must have been possessed by half a dozen or so devils hiding within his geek-chic exterior. Most bands would kill to write one perfect song; Weezer have written a handful, many of which get played this evening. The acoustic/electric guitar interplay of 'My Name is Jonas' is surely the most impeccable opening summation of a band in the history of music and equally, the guitar bends that usher in the second chorus to 'Say It Ain't So' are as glorious as they were when you first heard them back in '94. This evening, the geeks have not only inherited the Earth but, for one night only, they're headlining Wembley Arena as well.
Join our new commenting forum
Join thought-provoking conversations, follow other Independent readers and see their replies