The pioneering apartment block that offered a blueprint for modern living is back to its former glory
The Isokon Building in north London was 'the first example of Modernist communal living in the UK'
Christopher Beanland
Sunday 17 August 2014 00:56 Comments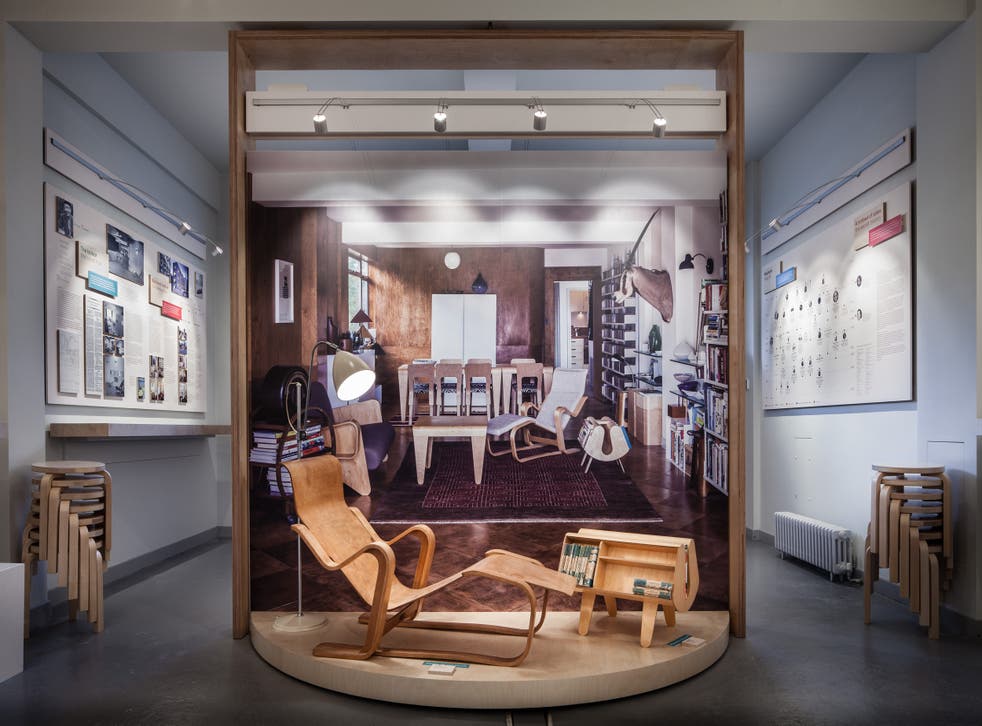 In a quiet street in Hampstead, north London, a surprise lies in wait. The Isokon Building, or Lawn Road Flats as it was christened in 1934, is a slice of pure Modernist swagger finished off in a delicate rose pink. On a sunny summer Sunday, the building seems to shine. Following a decade-long restoration project, it looks like new.
Meanwhile last month, 80 years to the day after the Isokon was opened, the ribbon was cut on a new exhibition to accompany the makeover. Housed in a gallery in the building's former garage, it tells the story of one of London's most intriguing residential blocks – a place where artists, writers and spies once lived at close quarters, and which transformed ideas about urban living.
The Isokon was "the first example of Modernist communal living in the UK", according to Joseph Watson of the National Trust, who has helped set up the gallery. "Nothing like that had been attempted," agrees John Allan of Avanti Architects, who lovingly masterminded the renovations. "It was a courageous enterprise."
The building's story is novelistic; its twists and turns form a fascinating narrative. The three key characters in its conception were the influential furniture designer Jack Pritchard, his wife Molly, and their architect friend, Wells Coates. The Pritchards were bohemians and Coates a playboy; all three shared a desire to champion Modernism and modern ways of living.
They set up a design firm, later christened Isokon, to do so, and after Molly and Jack bought a plot of land at Lawn Road, Coates set upon their first project: creating a block of flats that showed, according to Allan, that "it should be possible for people that aren't wealthy to live in an elegant and affordable way in the middle of a city. It's a building you can hear Jack and Molly thinking aloud about."
Coates had fallen for Le Corbusier's magnetism at Congrès Internationaux d'Architecture Moderne conferences, and in Hampstead he designed something radical, and radically different from what had gone before. It looks like a yacht. It's made of concrete but is so debonair that it can seduce people who think that they hate the hard stuff.
Inside, it was just as maverick. Famously the building offered all manner of services, including cooking, housekeeping, shoe-shining, window cleaning and sun decks; in the first Isokon advertisements the spiel went: "All you need to bring is a rug, an armchair and a picture." And, in keeping with its communal aspirations, it had a restaurant, the Isobar, which was initially steered by Philip Harben, who presented Britain's first TV cooking programme on the BBC in 1946. His bizarre cookbook Book of the Frying Pan is a brilliant addition to the Isokon Gallery's exhibition; Harben would cook flashy dishes such as Camembert ice-cream and send up meals to Jack and Molly's penthouse in a dumbwaiter.
Their tenants were progressive thinkers from across the arts world, including the writers Nicholas Monsarrat and Agatha Christie, critic Adrian Stokes, architect James Stirling, furniture designer Marcel Breuer and Hungarian artist László Moholy-Nagy. The star resident, though, was the Bauhaus leader Walter Gropius, who moved with his wife, Ise, into Flat 15, a second-floor studio with a balcony and kitchen, after fleeing the Nazis alongside Bauhaus teachers Breuer and Moholy-Nagy. A card in the tenants' ledger of the time read: "They [the Gropiuses] do not pay for rent or food." The Pritchards held out a welcoming hand to Walter and Ise and created a kind of British Bauhaus: Moholy-Nagy designed a logo for the Isokon company, Breuer came up with bespoke dining tables for the Isobar, and another resident, Austrian émigré Egon Riss, created the "Donkey" bookshelf, designed to hold Penguin paperbacks.
Political intrigue was often in the air. The Soviet spy, Arnold Deutsch, lived in the building and recruited Kim Philby and Guy Burgess during his time there. This wasn't a place working-class people could afford, yet its residents held communality in high esteem. Isokon was unBritish – sophisticated, progressive, inclusive, liberal, urban.
The ageing building fell on hard times in the post-war years, and didn't receive the care and maintenance it needed. By the 1990s, it was falling apart and threatened with demolition.
Eventually, Camden Council bought it, then the Notting Hill housing association stepped in and awarded Avanti Architects the contract to renovate it. Allan's commitment to the cause is evident by the affection with which he speaks of the building. "Although it's had mixed fortunes over the years, so much social value was invested in the beginning, it remained relevant." It's no surprise Allan ended up working on this project – he met many of the great Modernist architects, such as Ernö Goldfinger, Denys Lasdun and Berthold Lubetkin, and was Lubetkin's biographer. (One of Lubetkin's most celebrated designs, the penguin pool at London Zoo, opened the same year as the Isokon.)
Today's flats have the same floor plan as the originals, but the kitchens are 10cm bigger to accommodate a fridge. The Isobar hasn't survived – it was ditched sometime before 1970 – but Jack and Molly's penthouse has. Magnus Englund lives up there with wife Gjøril. "We've been lucky to make friends with Jack Pritchard's son Jonathan, who was at the opening in 1934, and his wife Maria, who managed the building in the 1950s," he tells me. "They got married on the terrace in 1955. When me and my wife got married this summer, we chose the same location." In a lovely piece of serendipity, Englund is managing director of Skandium, a furniture retailer which sells Donkey bookcases, Breuer tables and other Isokon plywood furniture to this day.
The Isokon presaged the explosion in single, young professionals wanting a small, well-designed place to live in the heart of the action, and it inspired a generation of apartment complexes flogging a branded lifestyle. Once it opened in 1934, so did the floodgates of Modernism: flats were the defining dwelling for the next 40 years. Coates went on to design the Embassy Court flats in Brighton. And today, flats are the defining dwelling once again. John Allan's last word is that: "I'd like to think the Isokon's clear social commitment and design invention might offer some lessons in the current housing crisis."
The Isokon Gallery, London NW3, is open Sat and Sun, 11am-4pm, until Oct (isokongallery.co.uk)
Register for free to continue reading
Registration is a free and easy way to support our truly independent journalism
By registering, you will also enjoy limited access to Premium articles, exclusive newsletters, commenting, and virtual events with our leading journalists
Already have an account? sign in
Register for free to continue reading
Registration is a free and easy way to support our truly independent journalism
By registering, you will also enjoy limited access to Premium articles, exclusive newsletters, commenting, and virtual events with our leading journalists
Already have an account? sign in
Join our new commenting forum
Join thought-provoking conversations, follow other Independent readers and see their replies