Brian Cox and Bill Paterson talk Waiting for Godot, the strength of Scottish theatre and Cinderella
'One thing that's always been underestimated is the strength of Scottish theatre'
David Pollock
Friday 18 September 2015 12:42 Comments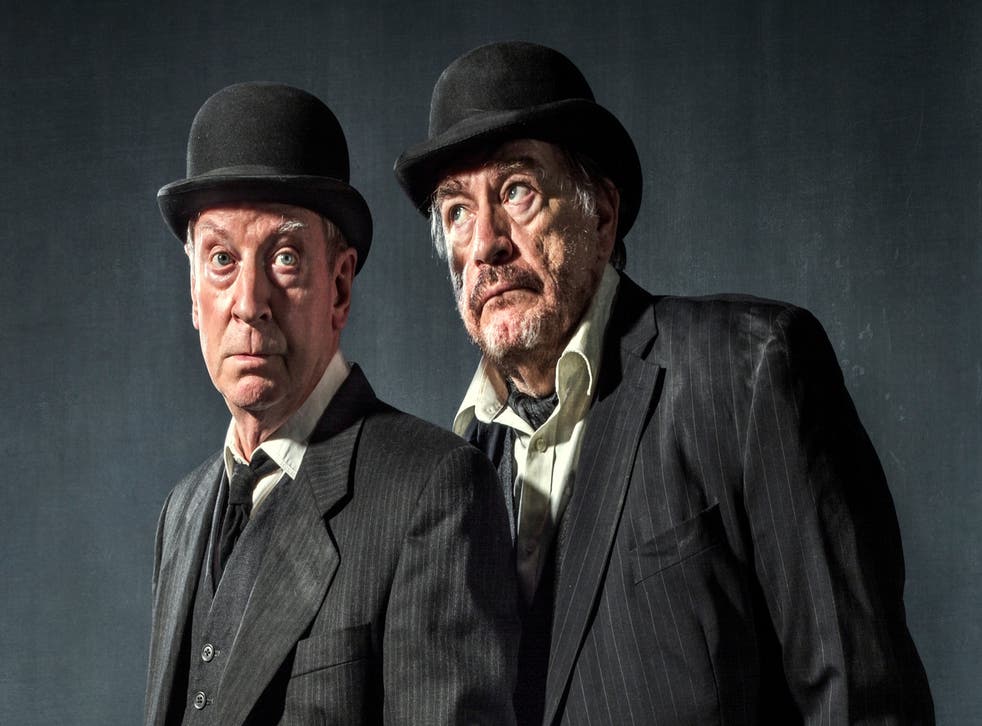 The first thing you see when you walk into the rehearsal area of Edinburgh's Royal Lyceum Theatre is Brian Cox. Not the actor himself, but a life-sized photograph of him on the stage, one of a series which hang around the canteen area depicting stars of famous past productions. Arguably, Cox is the most famous: a well-known face in Hollywood, the Dundonian was the first actor to play Hannibal Lecter in 1986's Manhunter, and has made significant appearances in action franchises like the Bourne, Red and X-Men films.
He's also, in this fiftieth year of the Royal Lyceum Theatre Company, the only member of the new season's flagship production who was here at the birth of this theatre's modern incarnation, having worked with the first artistic director Tom Fleming back in 1965-66. In a few minutes, Cox is with us in person, settling down to post-rehearsal dinner alongside Bill Paterson – Vladimir to Cox's Estragon – and Lyceum artistic director Mark Thomson.
"That was (Ibsen's) The Master Builder, which I did here in 1993," says Cox between bites of sushi and sips of beer, referring to the photograph. "Kenny (Ireland, Lyceum artistic director for 20 years) asked me to come up and do something, so I did that. And I sort of directed it as well, which was madness. An act of folly, but there you go." The Independent called Cox a "red-blooded barrel of energy" and said the production "emerges triumphantly" thanks to "exuberant confidence."
Sitting around with these actors and hearing their post-work thoughts on tackling Godot – surprisingly, the first time either Cox or Paterson have played Beckett – is an immersion in the benefits of age. At 69, Cox is warm, with a dry sense of humour, and Paterson, a year older, has a one-liner for everything. At the next table sit John Bett and Benny Young, Pozzo and Lucky in this Godot; actors who, between them, have racked up credits in films such as Out of Africa, Gregory's Girl, Chariots of Fire and Shallow Grave.
A 19-year-old Cox was in the Lyceum's first production, Victor Carin's Scots translation of Goldoni's famous work The Servant o' Twa Maisters. He reels off the talent which appeared alongside him: "Russell Hunter, Una McLean, Eileen McCallum, Tom Conti, David Macmillan. I remember it vividly." Paterson was in the Lyceum youth company – he's only appeared at London's National more than the Lyceum – and he and Bett played here when they were members of the highly influential 7:84 company, including with one of Scotland's great modern plays The Cheviot, the Stag and the Black, Black Oil.
"When did we do Cinderella, John?" asks Paterson. "That glorious production, with you and I as ugly sisters. Was it '74? That was my first appearance here. I was probably one of the finest Petunias since the war, of course."
"We nearly got murdered running through the auditorium, didn't we?" laughs Bett. "Those huge hooped skirts. We nearly got ripped to pieces."
"Yeah, by theatre lovers," shoots back Patterson. "We didn't try that again in a hurry."
So why Godot, and why here? Cox now lives in Brooklyn, New York, when he manages to stay still, and Paterson has been in London for many years, although he's seen a lot of Scotland of late through his role in Outlander. "Because it's the Lyceum," says Cox, "and because it's the 50th year. It reminds me that I'm still doing it after all that time, you know?" This will be the last of Thomson's 13 years as artistic director; his departure was announced some months back, with the appointment of his successor – David Greig, arguably Scotland's greatest living playwright – coming only a couple of hours before we meet.
"I saw him briefly earlier and we spoke," says Thomson. "We were talking about Godot, and David said 'that's it – it's because Brian and Bill are both in it that gives it the balance it needs." It's not nostalgia casting, I just really wanted to see Godot with Brian and Bill as those characters, I thought there would be something magical about it."
"Even if you've seen Beckett, if you've seen Godot, you underestimate what it needs," says Paterson. "You tend to think it's incredibly simple staging, just two guys, but it's much more complex – probably than what we anticipated, I think it's fair to say. But you can see how people have it as part of their repertoire. Once you get these parts under your belt you could live with them forever. They're like arias, the characters. They're operatic, almost."
"It takes away a lot of your familiar anchors," says Thomson. "It denies you, it takes away set, relationships, character. Every line, there's a choice. That's when you realise the detail of thinking… you have a great mind that's being very clever and quixotic, and you trust him. It's like tuning into a bandwidth, you feel about and then you get it and you jump onto it. I think anyone taking on Beckett as an actor, it's an act of faith and bravery."
How has Cox found it? "Well… it's been an act of faith and bravery," he deadpans, and everybody laughs. "No, it's exhausting. It's a hard play, there's no easy way to chart it. There are bits in it which are effortlessly magnificent, and there are bits where you have to work your socks off to pull the focus of it and keep the engine of it going. It's scarily simple, that's the problem with it, and you have to trust that. It isn't open to vast reinterpretations, it's only open to interpretation. You just have to get it right."
"No big music cue's going to come in and save us," says Paterson. He returns to the music analogy more than once; to him, Godot is also like a piece for a string quartet, where everyone must know the players alongside them as well as themselves. "You've all known each other for 40 years," says Thomson. "There's something very reassuring when you're making that act of faith or bravery that you're around your peers, and so you're speaking of a shared history."
There's a certain sense of regret from Cox and Paterson that their successful screen careers took them away from the Scottish stage and that they weren't around to mentor younger actors the way Rikki Fulton or Fulton Mackay's presence helped them. But they like what they see now; Paterson enjoyed the "very weighty" James Plays in London, and Cox saw the wonderful Our Ladies of Perpetual Succour at this year's Fringe. "I loved the vivacity of those kids," he says. "Contrary to what I've been accused of saying about younger actors, many of them do have it. When I see those lassies do what they did, you think, 'wow, this is the stuff.'
"One thing that's always been underestimated," he concludes, "is the strength of Scottish theatre. It's amazingly strong, amazingly powerful. Fair enough, we don't have our Shakespeares or our Chekhovs or anything like that, but we do have something. A kind of egalitarian feeling. Things like The Cheviot, which is about to happen again in Dundee. I missed that, because I wasn't here in the '70s…"
"You were in jail," muses Paterson.
"I was in jail. They caught me for bigamy. That was me for a few years." And now he's back.
'Waiting for Godot' is at the Royal Lyceum Theatre, Edinburgh, from Friday 18 September until Saturday 10 October. lyceum.org.uk
Register for free to continue reading
Registration is a free and easy way to support our truly independent journalism
By registering, you will also enjoy limited access to Premium articles, exclusive newsletters, commenting, and virtual events with our leading journalists
Already have an account? sign in
Join our new commenting forum
Join thought-provoking conversations, follow other Independent readers and see their replies