Gary Kemp on working-class actors, his new play 'The Homecoming', and a Spandau musical
​Gary Kemp, once of Spandau Ballet, is about to star in Harold Pinter's 'The Homecoming'. It's about time, he tells Nick Clark. Acting is obsessed with Oxbridge and received pronunciation, while less privileged performers are condemned to sitcoms and soaps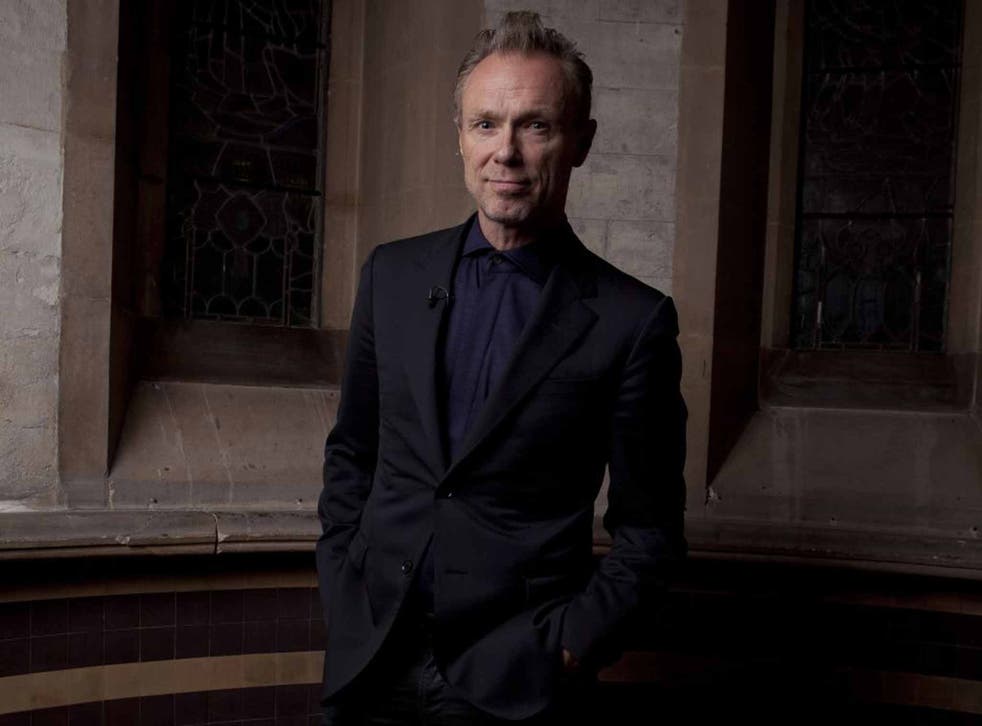 After playing 75 shows across the world with Spandau Ballet this year Gary Kemp is pleased that, for three months at least, he can walk to work from his London home.
"It's been a busy year for me," he said. "I'm OK but my wife's a bit frustrated. At least I'm home now. But I like to work so my children don't think I just look in the fridge for a living."
The musician and actor is to make his return to the West End after more than a decade since he starred in the hit show Art, with a role in a new production of the Harold Pinter play The Homecoming, which opens later this month.
The shift from arena shows with Spandau Ballet to the London stage for one of the 20th century's masterpieces is not as hard a leap as some may expect, Kemp believes.
"I don't know that it's a different headspace from the music. It involves rehearsals, structure, performance and a live audience. It's all acting," he said. "As an actor I much prefer theatre to TV or film. The same as being in a band, I much prefer being on stage than in a studio."
While many simply associate Kemp with the new romantic band that had a string of Top 10 albums in the Eighties, he has acted almost as long as he has strummed a guitar, attending Anna Scher's drama school for children.
He starred in The Krays in 1990 alongside his brother and bandmate Martin, and had a small part in The Bodyguard. He has acted sporadically on television with roles in series including Casualty and Lewis.
It is the first time Kemp will have the chance to appear in a professional production of a Pinter play, but he has admired the playwright's work since he was a schoolboy and even staged a renegade amateur production as a teenager.
"You can't get better words than Pinter," he said of the Nobel Prize-winning playwright who wrote more than 30 plays and two dozen screenplays. "He is the modern era's Chekov or Shakespeare. As a musician, I find his plays very musical. Harold's words have a strong sense of rhythm." His first brush with the playwright came when studying for his O-levels, and he was inspired by the words written by a working-class London boy like himself.
"With Pinter, our similar backgrounds early on connected me to him," Kemp said. "It was his ability to capture the working-class voice. I remember being really excited by the feel of it at school. I knew the people. No one successfully captured the working class idiom and the cleverness like him."
That fascination with Pinter even prompted him and a friend to stage an amateur production of The Dumb Waiter – about two hit men waiting for an assignment in a restaurant basement – in an Islington church, after they picked up part of the set from the Young Vic production that had just finished its run.
Steve Norman, who would become his bandmate in Spandau Ballet, was given the job of sitting in the dumb water providing props, but at one stage Kemp remembers having to kick it after his friend had fallen asleep.
Acting in The Homecoming was first suggested to him by Gary Oldman. Visiting then wife Sadie Frost on the set of Bram Stoker's Dracula in the early Nineties, Oldman suggested they star in the play in London. "I went home and read it and of course nothing happened. A quarter of a century later here I am finally doing it." Director Jamie Lloyd has assembled a strong cast for a revival to celebrate the 50th anniversary of the first production of The Homecoming – which was directed by Peter Hall and starred Ian Holm –including John Simm, Keith Allen and Gemma Chan, who appeared in recent hit show Humans.
In the play, Teddy returns home to his family in north London– an all-male household of two brothers, his father and his uncle –to introduce his wife after working as a philosophy professor for six years. The move upends the household in a play that has been described as "family romance and a turf war".
Critic John Lahr writing in The New Yorker said The Homecoming changed his life. "Before the play, I thought words were just vessels of meaning; after it, I saw them as weapons of defence," he wrote. "Before, I thought theatre was about the spoken; after, I understood the eloquence of the unspoken."
Kemp, who plays Teddy, is similarly enamoured by how the characters "sword fight with words". His character is a "weird guy" he said. "This is a battle between his brothers and father and about saving face. He's been played sometimes as a victim and sometimes as the biggest bastard in the house." He added: "I've tried bits of both but I think I've found my Teddy."
The play, set in 1965 was written when working-class people didn't cross into celebrity, or cross classes. He can empathise with the character who left his working-class roots and found home alien upon his return. "I went to grammar school and things became different, more middle class. My parents were definitely working class. My dad was a printer." He said. "I get that thing about coming home and having a different language to your parents and sometimes using it against them and sometimes feeling terrible because of that."
Today, he feels class restrictions remain visible, particularly in the acting world. It is, he said, "utterly class orientated. It's ironic really because it's incredibly liberal but underneath that facade there lies this need for Oxbridge, a need for the understanding of literature and a need for received pronunciation. Working-class actors are condemned to sitcoms and soap." He pointed out that the production's director Lloyd is working class. "That's as rare as hen's teeth."
Pinter himself described The Homecoming as "the most muscular thing I've written" in 2007, the year before his death, and it is also an unflinching look at masculinity.
"With the band, I know what it's like to work with blokes and the subtle way blokes undermine each other. Everything is a subtext involving power and Pinter understood that in a way no one had before," Kemp said.
Spandau Ballet formed in the late Seventies and were among the biggest bands to emerge from the new romantic scene. They would enjoy success around the world in the following decade, before splitting up in 1990. The relationship became acrimonious as Tony Hadley, Steve Norman and John Keeble launched an unsuccessful court case against Kemp over song-writing royalties. The band did not sit in the same room for almost two decades, Kemp said, other than in court until patching things up with a tour in 2009. They went back on tour in January this year.
"The tour laid a lot of the ghosts to rest. We have accepted our different views of the past and we've accepted how much we need each other and the legacy we should respect and how much fun we have on stage that none of us can do without each other," he said
Starting in January, the final date was in Hong Kong in September. "The tour was amazing, it was really the best shows we had ever done and the best tour we'd ever done," Kemp said. "We are going to put it to bed now for a couple of years and see what happens."
One way to marry Kemp's music career with his acting could be the increasingly popular West End trend for jukebox musicals such as the Kinks-inspired Sunny Afternoon.
There are moves for a Spandau version, but Kemp does not seem particularly enthused by the prospect. "I'm not involved," he said. "I'm sure there will be everything from a Genesis and Pink Floyd jukebox musical to a One Direction one. It's always about the story and if the story's no good then I don't get the point."
Bands like Spandau Ballet grew out of the scene at music clubs like the Blitz. These days, when Kemp makes the walk from his Islington home to the Trafalgar Studios it will be a journey with fewer grassroots clubs, according to recent research commissioned by the Mayor of London's office. Kemp is remarkably un-nostalgic. "If the market was there they'd still be open," he said.
While people still want the huge live experiences of hearing bands at Wembley Stadium or the O2 Arena "no youth cult has a place anywhere that I've heard of at the moment and I try and keep my ear to the ground. People meet now on Facebook. When those clubs were important, the internet didn't exist."
He has no current plans after The Homecoming finishes in February, but said he is likely to start picking up the guitar again. As he prepares to return to the rehearsal room he reveals the one goal he has in the long-term and it is in the theatre. "If I have one ambition left it would be to work at the National Theatre," he said. "That's the cathedral of British theatre."
'The Homecoming' at the Trafalgar Studios, London (0844 871 7632) 14 November to 13 February
Join our new commenting forum
Join thought-provoking conversations, follow other Independent readers and see their replies