George MacKay on Ah, Wilderness!, Peter Pan, and the sands of time
Rising - and busy - actor George MacKay stars in a rarely performed play by Eugene O'Neill. Charlotte Cripps reports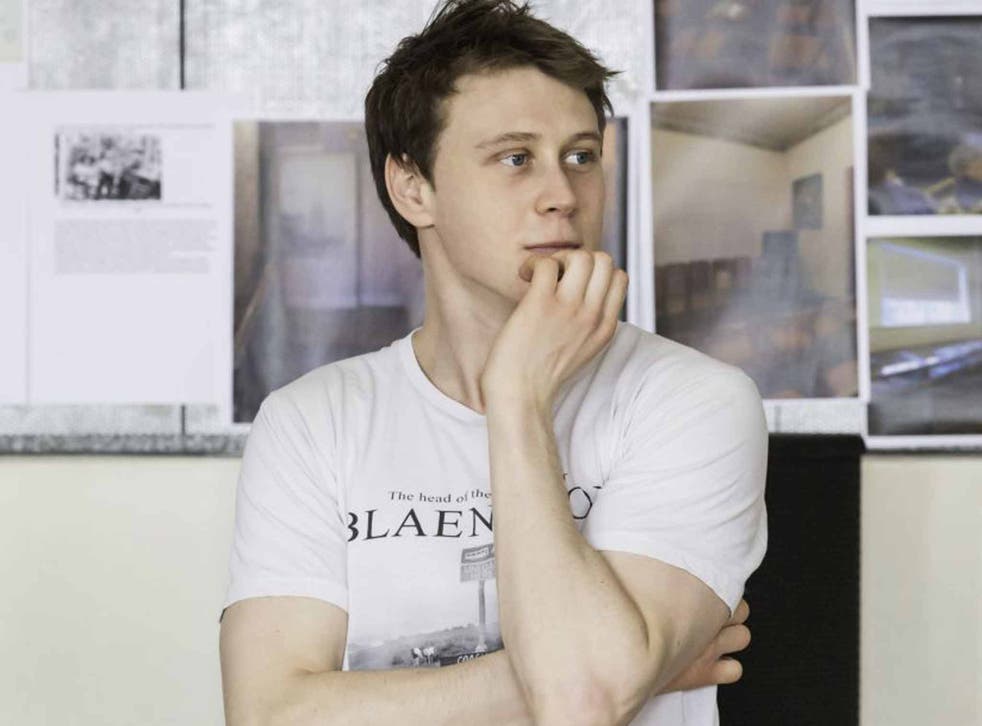 Rising star George MacKay, 23, is rehearsing in a giant sandpit for his latest role, playing troubled teenager Richard Miller in Eugene O'Neill's Ah, Wilderness! at the Young Vic. "Practically, the sand is not difficult to work on," says MacKay, who is on his lunch break and tucking into home-made chicken and rice from a Tupperware box. "But we do a tums-and-bums workout every morning together on yoga mats with the movement coach to get us physically used to the loose and uneven surfaces."
Written in 1933, and seen as a precursor to O'Neill's autobiographical A Long's Day's Journey into Night, this rarely performed play follows the dysfunctional Miller family in 1906 Connecticut. "It's a nuanced snapshot of a family's life," says MacKay, "but I wouldn't brand it a comedy. It looks into two days of family life and all the different dynamics and tensions."
The play is set at the coastal family home, based on O'Neill's childhood summer home, Monte Cristo Cottage in New London, Connecticut. The sparse, sandy set works as a metaphor, too, explains MacKay. "It plays upon the sands of time and an idealised memory – for O'Neill that was beaches and sand. Things can be buried in the sand and be lost – there are footprints but they can also be eradicated. The play is domestic in setting and we are trying to work out how much we address the non-naturalism. No character ever says, 'Oh, it's sandy in here', but when we are sitting down, we might be playing with the sand or feeling it in our hands."
This latest role follows MacKay's 2014 stage debut in Ian McEwan's The Cement Garden at the VAULT Festival, in which he played a teenager who has incestuous feelings towards his two sisters.
MacKay grew up in Barnes, south-west London, and was rejected by both Rada and Lamda, but he was nominated as a Bafta Rising Star in 2014. Though he cut his teeth long before that, aged 10, as Curly in PJ Hogan's film of 'Peter Pan', after being spotted at school by an acting scout, and was sent off to shoot in Australia for eight-and-a-half months. "The whole experience was ridiculous and amazing," says MacKay. "We were a group of 10-to-14-year-olds being taught how to sword-fight, on a make-believe pirate ship in a studio. A whole soundstage was filled with make-believe forests. It was truly amazing. It was then I realised I would like to act some more." He left school at 18, obsessed with the film 'Gladiator', and got the lead as Private Tommo Peaceful in the film adaptation of Michael Morpurgo's 'Private Peaceful', alongside Jack O'Connell.
In 2013, he starred in Kevin Macdonald's World War III teen romance How I Live Now and fell in love with his co-star Saoirse Ronan on set. He also played the singing soldier Davy in Dexter Fletcher's musical 'Sunshine on Leith' and won a Scottish Bafta for 'For Those In Peril'. More recently he was part of the illustrious cast of the award-winning 'Pride', playing a struggling young gay man.
This month he takes the lead role in Bypass, Duane Hopkins' indie film about "broken Britain". "I had to lose a lot of weight because he has an illness whereby he vomits," explains MacKay. "There is an element in 'Bypass' of a ticking time bomb. The illness was a metaphor for things getting too much for Tim, as well as his own morality."
Later this year he will star in the film 'Captain Fantastic' alongside Viggo Mortensen as his father in a story about a family who have been raised off-the-grid in the woods. He also plays the lead in BBC1's two-parter 'The Outcast', based on Sadie Jones's coming-of-age novel set in booming post-war Britain, due to air this summer.
For now, MacKay, in a tracksuit and blue shirt, is enjoying rehearsing 'Ah, Wilderness!'
"My character Richard is reading all this sensational literature by Swinburne and Oscar Wilde that has blown his mind, which for a middle-class family in New London is quite out there. He is at that stage where he is trying to find who he really is and impress his views on others. But because it is an ensemble piece you get to see all the different sides of it, it's not just his view of the world," says MacKay. "He has been writing love letters to the girl next door and her father has found them. He receives a letter from her saying that she never wants to see her again and he ends up in a brothel. He is suddenly in an environment which he has been reading about and it is all too much for him."
Time's up and MacKay is back in the sandpit: "It's about the stories that I want to tell. If Hollywood beckons - then that is what I will hopefully base my decisions on before I take a part."
'Ah, Wilderness', Young Vic, London SE1 (youngvic.org), to 22 May
Join our new commenting forum
Join thought-provoking conversations, follow other Independent readers and see their replies