The Hoff, hooked! Backstage with David Hasselhoff and the panto brigade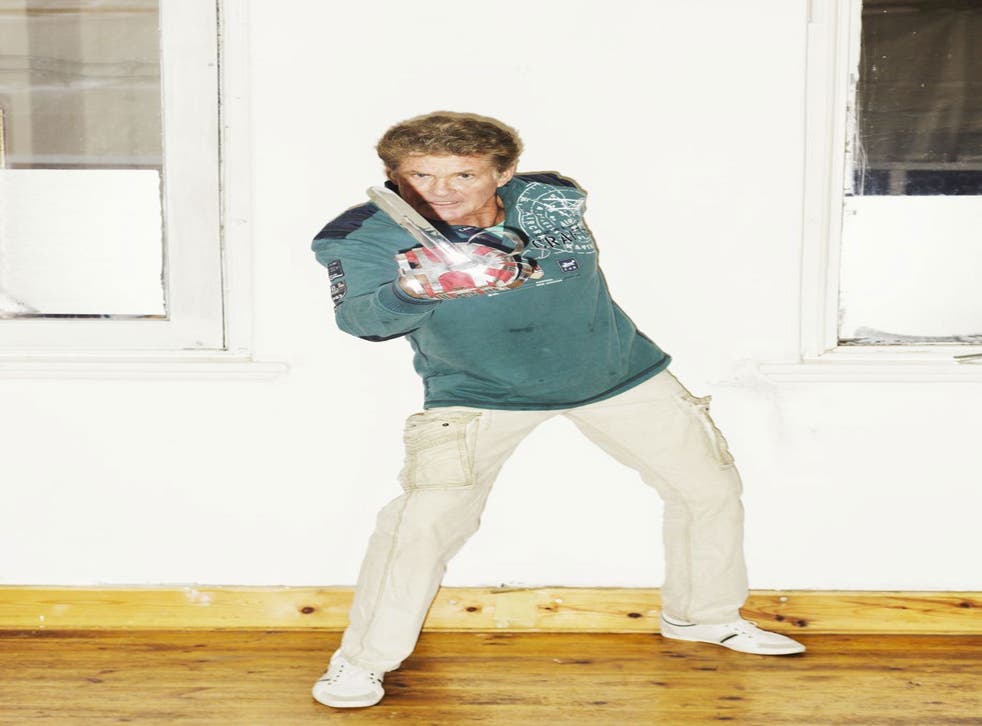 Booing and hissing ex-soap stars and Eighties musicians has become an integral, if confusing, part of the Christmas tradition in the UK. As a kid, I remember pulling at my mum's ski-pants to ask who Sinitta was and why everyone was so excited to see her perform next to Cannon and Ball (it was always Cannon and Ball).
It may seem – thanks to certain castings – like an anachronism, but pantomime is as popular as ever before, with market leaders Qdos (a pantomime production company hosting 24 shows this year) anticipating 1.5 million people shouting "He's behind you" this season.
So why do we still love panto? Is it to do with pulling up the drawbridge on modernity, throwing away the PC handbook and stripping everything back to bawdy basics? To find out, I went along to the rehearsal of this year's production of Peter Pan at Nottingham's Theatre Royal, starring David Hasselhoff as Hook, Su Pollard as Mimi the Magical Mermaid and CBeebies presenter Barney Harwood as Peter.
As the revenue from panto grows, so the machine around it does, too. Most of Qdos's shows begin life at dance studios in London, before being transferred to theatres across the country. Peter Pan is rehearsing in the Dance Attic Studios in Fulham – a traditional space where tiled corridors are stalked by slim, polo-neck wearing choreographers peering over their rimless glasses. I am eventually led through a succession of mirrored dressing rooms by one such gentleman, to a large studio where the full cast, minus The Hoff, are sat in small groups on the floor. As they prepare, I catch up with the show's director Tudor Davies, whose enthusiasm for his job is palpable.
"This is my 56th panto," he tells me, adjusting his scarf with one hand and wafting the air with a flamenco fan held in the other. "In that way, I'm a bit of a panto pixie." The script was adapted from JM Barrie's original story by Jonathan Kiley, with some help from Tudor to include Ed Miliband Miley Cyrus. "It'd veered from the original text quite a lot," he explains.
Tudor is flanked by two blokes in tracksuit bottoms, fleeces and running shoes: Joseph Morley, the music director and Gerry Zuccarello, the show's choreographer.
"Pantomime is a mongrel, it is a mixture of different styles of theatre: Italian commedia dell'arte, English music hall, middle European operetta, burlesque, vaudeville, variety... It's a wonderful distillation of pure entertainment for the whole family."
I wonder if he will be honest in admitting that today, it is also a safe haven for performers who might otherwise have to retire. "I don't know about that. Theatre up until 250 years ago was full of people drinking and defecating; then a man called John Rich came along and said, 'There's a whole audience out there being ignored, and that's the children'."
A director, producer and founder of the New Theatre at Lincoln's Inn Fields in London during the early Georgian period, John Rich pioneered a more visual approach to theatre, notably employing the use of animals and optical illusions. But it wasn't until over a hundred years later, with the arrival of Augustus Harris to the Drury Lane theatre in London during the mid-19th century, that pantomime began to resemble its present form. Harris understood the pull of established names, and brought to his productions luminaries such as operatic sopranos Nellie Melba and Emma Eames. After that, theatres began to engage in a war of celebrity, aiming to score the bigger name in a bid to pull in a bigger audience.
To this show's credit, David Hasselhoff is one name bigger than most on today's panto circuit. Not only was he the central character in two of the Eighties' and Nineties' most popular TV shows – Knight Rider and Baywatch respectively – but he also performed at the fall of the Berlin Wall. The magnitude of having him on board the production is obvious from the giggles between dancers who approach me to ask if I've met David and who coyly describe him as "lovely". I ask if any of them fancy him, but Tudor declares that rehearsals are underway and I'm ushered to another side of the room before they have time to answer.
I've arrived on "clean-up day". The cast had only started rehearsing four days before and were already at the stage of fine-tuning the transition between sequences. As Su Pollard puts it – shouting across the room – pantomime is "very of the moment", insofar as it is learnt, rehearsed and delivered to audiences all within a matter of weeks. She is wearing socks over tights under shorts embellished with jewels and has several large, clip-on flowers in her hair. She shakes her limbs in preparation for a scene referred to as 'Applause', soundtracked by Lady Gaga's song of the same name.
Backstage with the panto brigade

Show all 6
Su channels her Hi-de-Hi! persona while mouthing the words and exchanging glances with Tigerlily and Tinkerbell. Twirling on a pair of sparkly roller-skates, the blonde-haired Tinkerbell later tells me that she has played the role for several seasons. "We both play Tigerlily and Tinkerbell quite a lot," she explains, gesturing to her co-star.
Things slow down with a 'Wave your broomstick' number – the kind of music I'd remembered from panto, as opposed to the Gaga number: more oompah beats and fewer dubstep breakdowns. ("Panto's changed a lot over the years," Su explains. "There's pyrotechnics and mentions of those wonderful console games, PX360s or whatever you call them.") Meanwhile, the girls and boys who make up the rest of the cast put on an impressive show of interpretive acrobatics. Su, true to form, winces and purses her rouged lips in camp horror at the site of all the flailing limbs. The sequence builds to a crescendo of argy-bargy – we may be on-board Captain Hook's ship at this point – as David enters from the other side of the studio.
Peter Pan was David Hasselhoff's first professional performance, as a crew member aboard Hook's ship, aged seven. In recent years he has taken to playing the role of Hook himself, completing four successive panto seasons at theatres across the UK. It's a role he admits to feeling at home in, and it shows. Wearing a green T-shirt and khaki combat trousers, he strolls into the room, towering above Su, and stands next to the first of the female dancers.
"I miss the movies..." he laments, glancing down at the girl's chest, "...and the boobies."
He moves along to the next.
"I miss the TV shows..." he booms, this time louder and glancing down at the second girl's chest, "...and the boobies."

By the time he drops the third scripted booby gag, Tudor and his cohorts – the sound tech and choreographer – are bent double. Even David struggles to finish his lines. The scene builds to one of the said Miley Cyrus gags. Which, if this were a real pirate ship, would be enough to make you want to throw yourself overboard. It's these instances which David refers to when he later admits that he does panto "to keep in touch, and current, with the kids".
In fact, when I ask how it feels going from film to performing alongside Su 'Magical Mermaid' Pollard in a production of Peter Pan, he gives an array of answers, but one I suspect is the more honest admission: "My daughters will be coming over and it's good for them to see what I've been doing and to understand how much work goes into it".
After a well-publicised breakdown, David is reticent about speaking to the press. Yet behind all the bravado of Tudor's script, a candid chat with him in a separate rehearsal area soon shifts from spiel to him expressing some insightful thoughts on theatre, and panto in particular.
"When people perform they forget that they are essentially interacting with an audience. In panto you can't ignore that fact. It's nice when you're on a ride. We had maybe four real super-rides last year, when everything was perfect and it was incredible: every timing was right, every joke we did was bang-on and we couldn't wait to get back onstage. That's the challenge: to try and recreate that every night."
Watching him stride into the dance studio café for lunch, chatting to the cast before learning his lines in the corner, he seems to really enjoy being a part of the whole process. He adds, almost as a warm farewell to those heady days of worldwide superstardom: "I look out the window and think, I'm never going to complain about anything. My girlfriend's dad is a plasterer in Wales working outside every day in the cold. It's like we never have to grow up, spending our days inside here, just pretending..."
Heading outside of the studio and across the road to the church hall where the costumes are being stored before transfer to Nottingham, I bump into Barney Harwood, who is keen to talk about tackling the role of Peter.
"He loves Wendy, but he doesn't realise, or perhaps he does. It's his choice not to grow up."
I suggest that in that way, Peter Pan is actually quite a sad story; that we all have to grow up eventually and Peter misses out by refusing to follow Wendy.
Arriving in the church entrance, costumes are bundled into boxes not dissimilar to those found in a school props cupboard. Su's leaden, teal-green velvet mermaid costume and David's skull embellished, Earl of Rochester-inspired coat and breeches, are all wrapped up in plastic. The guy in charge of logistics explains that costumes are recycled. That there are teams dedicated to amending them, as well as teams devoted to designing and building sets, who work tirelessly throughout the year awaiting the arrival of David.
A van pulls up outside, ready for the boxes to be loaded and delivered to the theatre, where the cast will expand to include two child actors playing Michael and John. The show has runs from 7 December to 12 January, 2014. By the time of going to print, it will have already been running for several weeks.
In that time I hope the cast have gotten on one of those super-rides and given the audience a show they'll remember for a while. Or at least until next year, when the kids who never had to grow up, swoop in from Neverland to sprinkle their fallen-star dust over our market town theatres once more.
Join our new commenting forum
Join thought-provoking conversations, follow other Independent readers and see their replies