Imelda Staunton's Gypsy: The archetypal showbiz mother from hell
Stephen Sondheim was so bowled over by Imelda Staunton's turn in 'Sweeney Todd' that he insisted she starred as Momma Rose in a revival of 'Gypsy'. She tells Paul Taylor about the hell of playing the hardest role in American musical theatre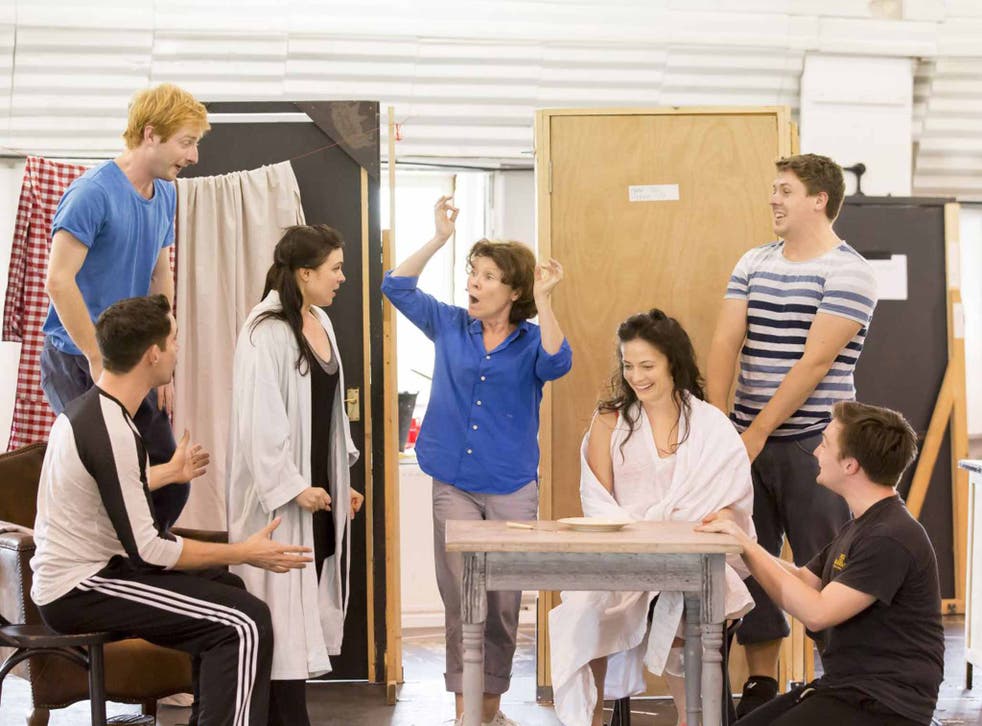 Imelda Staunton looks as though she's just run a half marathon – glistening, a bit wrung-out, and ready to flop – when, with director Jonathan Kent, she enters the cafeteria at 3 Mills Studios in London's East End. In fact, she has just spent the day rehearsing the Chichester Festival Theatre's new production of Gypsy, the musical (with a classic score by Jule Styne and unbeatable lyrics by Stephen Sondheim) in which she plays the archetypal showbiz mother from hell, Momma Rose. Staunton and Kent have agreed to meet me to discuss why the character is such a mythic figure, widely regarded as the summit and the greatest challenge for a female performer in the history of the American musical.
Rose has been called Broadway's brassy answer to King Lear, but Mother Courage is much nearer the mark. The day we meet, Staunton and Kent have reached that nerve-racking stage in rehearsal where they have been trying to run the scenes together for the first time. Particularly tricky and rewarding with Gypsy in which the story of single-mother Rose's emotional abuse (as we'd be more prepared to call it these days) of her two daughters (whom she wants to turn into a headlining act) is intimately connected to the vividly dramatised decline of the vaudeville circuit during the Depression and the corresponding rise of sleazy Burlesque houses.
The first 20 minutes of our encounter are faintly sticky and it's my fault. As we wait for the mineral water and Diet Cokes, the atmosphere is a tad subdued and anxious. So I go into overdrive. I inflict on the exhausted pair the full range of my Momma Rose experience, beginning in 1974 in my gap year, with Angela Lansbury (this was the surprisingly belated London premiere) and including Bernadette Peters onstage and Rosalind Russell and Bette Midler on film. I tell them that Streisand (at the grand old age of 72) has announced that very day that things are looking good for the filming of her much-mooted version later this year, though with Julian (Downton Abbey) Fellowes dropped from the payroll as screenwriter, thus depriving the world of a Gypsy that would surely been the equivalent of Salad Days as overhauled by Norman Mailer. I treat them to my theory that Gypsy is a ghostly contrasting template in Caroline, or Change, the great Tony Kushner/Jeanine Tesori musical, set on the cusp of the civil rights movement, in which the black female protagonist and mother has her own equivalent to "Rose's Turn", that thrilling and agonising 11 o'clock epiphany.
What it takes me too long to realise is that when you are decompressing from a hard day's rehearsal, you don't necessarily want some clever dick bombarding you with a horde of additional matter. It eventually comes home to me when Staunton has a sudden flash of inspiration. "Paul," she says, pointing a finger at me across the table, "you want to play Rose." What red-blooded man doesn't? "And you're telling me all this stuff and what am I supposed to do with these things?" Pause. "Well, you could always ignore them" – whereupon she bursts out laughing and things go a good deal better from there on in.
Staunton is warm, fierce, very likeable. You'd want her on your side in a dispute. She was evidently in creative – and, you can bet, productive – turmoil at that particular point in the proceedings and emphasised this wittily. For some reason, the conversation got hooked on that self-deceiving tic of putting "...but in a good way" at the end of statements that suggest that things are irreversibly otherwise. Bearing Gypsy's scenario in mind, I offer a parody: "Mother's in the next room being tortured – but in a good way." "Ha!" pounces Staunton, revalidating the phrase, "that's me, now, in the rehearsal room. In hell – but in a good way."
She is playing Momma Rose at the express insistence of Sondheim who was bowled over by her performance as Mrs Lovett in Kent's 2011 production of Sweeney Todd which, like this one began in Chichester with the West End very much in mind. The imprimatur of the man who wrote some of his best ever lyrics to Jule Styne's gloriously vaudeville music must be both a support and a further pressure.
Book-writer Arthur Laurents, who brilliantly adapted the already fictionalised memoirs of the older daughter, the eventual stripper Gypsy Rose Lee, described the ferociously determined Rose as "a walking, exuberant advertisement for Self-ignorance is bliss." Sondheim has likened her to Oedipus Rex. The bottom line, then, is her pig-headed self-deception – as a woman who was abandoned by her own mother – about who, fundamentally, she is fighting to get into show business for. Kent says that it's a show "about mothers and daughters and we've all had mothers – so it's universal". Praising the book and toughly integrated nature of the piece, Staunton declares of the numbers: "I don't think of them as songs. They're speeches. I want to get to the point where I do a song and I do a speech and you don't notice the difference." She disapproves of singers who perform the plums as cabaret turns, shorn of context. Take the much-extricated "Ev'rything's Coming Up Roses". As a stand-alone song, it sounds like a sweeping, vaguely empty-headed hymn to the yes-we-can ethos. But in Gypsy, it bursts forth as Momma Rose's reaction to the shock elopement of her younger favourite daughter, June, on whom all her hopes had been pinned. There's a wilful, rather chilling derangement and refusal to face facts about the number's boisterously optimistic dinning-out of the truth.
It's the ambivalence that Rose arouses that makes her such an enduring mythic figure. She's both the American pioneering spirit personified and its terrible drawbacks. As Staunton says, "She's in a playground, full of dressing-up clothes, and trying to keep [the family] together in a colourful world of make-believe but it's on a spiral going nowhere." Vaudeville is dying and she can't adapt to the fact that daughters grow up. One of the crowning ironies is that the older Plain Jane daughter, Louise, strikes out and achieves independence as a diva of stripping. The second half is structured round two spectacular acts of striptease – an actual, arch one from Louise and a climactic emotional one from her mother, performed as savagely exultant mock-strip in "Rose's Turn", arguably the peak sequence in the American musical.
Rose launches into this directly after the momentous dressing-room exit-exchange between her and her now glamorous older daughter. "So now tell me, what'd I do it for?" (Telling pause.) "I thought you did it for me, Momma." If the overture, gives you the tunes as a box of warm, unhatched eggs, "Rose's Turn" is its serrated converse: a collage in which these now verbalised numbers are regurgitated as razor blades. It's a nervous breakdown posing a thrilling centre-stage exhibition of star quality and getting even: "All your life and what does it get you?/Thanks a lot and out with the garbage".
Angela Lansbury, directed by Laurents in 1974, was the first Rose to emphasise that this is all taking place in the theatre of Rose's mind, her bows at the end going disturbingly longer than the actual theatre audience's rapturous applause, suggesting momentary insanity.
In a performance that stressed Rose as herself an abandoned daughter, at once the most gregarious and the most achingly lonely figure in the piece, Bernadette Peters, who played the role for Sam Mendes in 2003, ended this sequence clutching herself in a manically tight hug. Louise ends up forgiving her mother and it's left wonderfully open, and up to the actress to intimate, how far Rose ever allows herself to understand the extent to which she did it for herself. She's incorrigible to the end, a child to her own daughter.
Patti Lupone (Broadway, 2008) raised yearning hands to her name, which had been emblazoned in light bulbs for the climactic solo and which now was soberingly extinguished.
It remains to be seen what distinctive accent Staunton will give to these matter in the new Chichester Gypsy. But her superlative track record and the seriousness and commitment with which she has tackled rehearsals suggest that we can expect something rather special from "Imelda's Turn".
'Gypsy', Chichester Festival Theatre (01243 781 312) to 8 November
Join our new commenting forum
Join thought-provoking conversations, follow other Independent readers and see their replies