John Tiffany: 'You could feel the buzz'
As West End audiences raise a glass of stout to the Broadway hit 'Once', its director talks to Fiona Mountford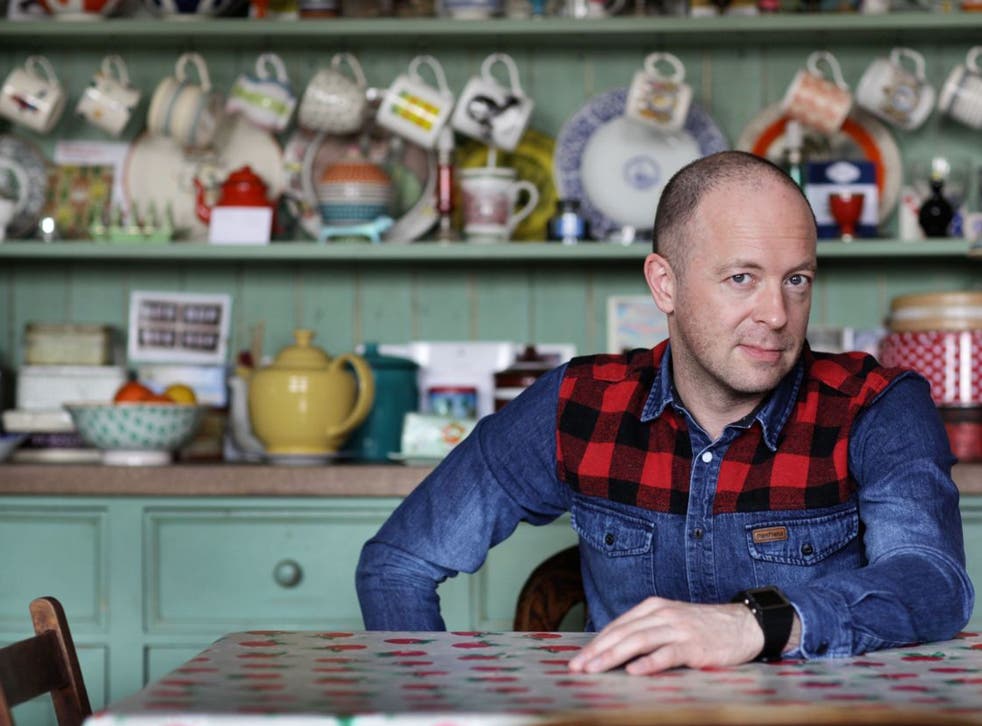 John Tiffany turns out to be such an ebulliently Puck-ish figure that halfway through our time together I decide to take a risk and tell him the truth: that I didn't want to see his production of Once when offered a much sought-after ticket in New York last year. It was grisly to think of the jazz-hands Broadway musical treatment being meted out to a charmingly off-beat, low-budget Irish film about the unlikely friendship between a Dublin busker and a Czech immigrant, so winningly played by Glen Hansard and Marketa Irglova that they went on to win an Oscar for Best Original Song.
But Tiffany's breath-of-fresh-air treatment grabbed me from the start. Before that, even, from the pre-show action, when the audience is encouraged to mingle freely with the cast of actor-musicians on the set, which is a lovingly recreated interior of a traditional Dublin pub.
Tiffany, best known so far as the director of the internationally acclaimed Black Watch, about Scottish soldiers in Iraq, beams. "Once reminded me of when I was young. My dad played in Marsden Silver Prize Brass Band and there was a big thing about people doing their 'turn'. I remember particularly Whit Friday when there was that competition that Brassed Off is about and they would compete in all the villages and then you'd go back to the band room and have a big party and that's when people would sing their song." He pauses. "I had no idea how Once would ever become a piece of theatre, so therefore I was interested."
Once arrives in the West End, trailing clouds of Tony Awards (including one for Tiffany for Best Direction of a Musical), at a fascinating moment for musical theatre. It joins The Book of Mormon in heralding a vivacious new direction for this sometimes lacklustre genre, one energetically propelled by theatre makers new to the form and devoid of traditional star names (although Tiffany assures me with a twinkle that female lead Zrinka Cvitesic is the "Kylie Minogue of Croatia"). "When you look at the really exciting musicals that have come up in the past 10 years, Avenue Q, Spring Awakening, The Book of Mormon, they are coming from a different place, trying to do something slightly innovative with the form," he says. "As Enda [Walsh, the Irish playwright known for his dark absurdist work] said when I asked him to write the book, 'That's like asking Charles Manson to rewrite It's a Wonderful Life!". It's all about leaps of faith as well. Getting the South Park boys to do Mormon is a leap of faith. And we know the musicals in the West End that aren't."
Although he can see the appeal of the "environmental nature" of his show ("You could feel the buzz on the first preview, a West End audience coming in and going [he drops to a theatrical whisper] 'Oh my God, we can go on stage – and we can buy a Murphy's!'"), he admits to being delighted by Once's American success, where the show is currently booking until March 2014 at the Bernard B Jacobs Theatre. "Broadway," he says, "is full of crazy people," unhealthily obsessed with the "two black holes" of overly powerful reviews from The New York Times and the Tony Awards, a situation "we don't have in London". In his typically idiosyncratic phrase, Once, which started small in a downtown venue, "crowd-surfed" to the Great White Way on word-of-mouth recommendation.
Tiffany, 41, is refreshingly unstarry-eyed about the fact that Once is his first West End show in more than a decade. "I don't like the idea of stepping-stones in art forms: that you do your time at a regional theatre and then you work in London and go to the West End and then you do films. I've never felt like following that trajectory." What's so fascinating about his work, shaped by stints at the Traverse Theatre, Edinburgh, new-writing company Paines Plough, and, from 2005 to 2012, as associate director at the National Theatre of Scotland, is its chameleon quality; it's nigh-on impossible to say, "That's a John Tiffany production."
"I like to keep entertaining myself," he says. "I'm delighted that the next thing of mine post-Once that's going to be on Broadway is a very dark, one-man version of Macbeth with Alan Cumming. 'If you liked Once, you'll …'.'' He laughs, as he tries to concoct the appropriate advertising slogan. "If you liked Once, don't come!"
Perhaps this darting about, from Black Watch to The Bacchae to an examination of press ethics in Enquirer, is understandable given his background. He grew up in a Yorkshire tradition of amateur dramatics, playing the title role in Oliver! at Huddersfield Town Hall aged 10, but was only definitively converted to theatre by Canadian experimentalist Robert Lepage while a student during Glasgow's "fizzing" 1990 reign as European City of Culture.
Many, I suspect, think that Tiffany is actually Scottish, given his long and fruitful association with the "peripatetic" NTS, working with artistic director Vicky Featherstone to shape it into the trailblazing success it is today. Was he not tempted by the top job when Featherstone left recently for the Royal Court? Tiffany insists not. "I think associate director jobs are the best in the world, because you can do what you want and not have to take responsibility for it!"
America features with increasing frequency in Tiffany's portfolio; his production of The Glass Menagerie, starring Zachary Quinto (Star Trek, Heroes), is rumoured to be heading for Broadway after Macbeth. I remind him that he previously said the world didn't need any more Macbeths. He grins. "The world didn't need another Macbeth, but it hadn't had a one-man Macbeth set in a psychiatric hospital! That's what we did with it."
Such eclecticism doesn't surprise Featherstone. "John has an incredible zest for life and experiences," she says, "and that energy is in all the work he does. He's exciting in the things he asks of theatre."
Tiffany talks me through his work/travel schedule for the past few months and halfway across the Atlantic for the umpteenth time my pen gives out. He hasn't slept in his own bed, in Glasgow, for nearly four months. "Just before Christmas I went to see Mum and Dad and I was moaning like a grunty little bastard about how busy I was and my Mum went, 'John love, isn't this what you wanted?' It was a real bucket of water over the head."
All these international experiences have at least given him, the former schoolboy who thought he was "too thick" to understand Shakespeare, the chance to hone his philosophy of theatre.
"The only thing I fear is when people say, 'I should go to the theatre more'. I say, 'We should create work that makes you not have a choice'. When do you ever hear people say, 'I should play Grand Theft Auto'? Why can't we create work that people are desperate to see?" With the likes of Mormon and now Once, there's no "should" about West End theatre at the moment.
'Once' is now previewing at the Phoenix Theatre, London WC2 and booking to 30 Nov (0844 871 7629)
Join our new commenting forum
Join thought-provoking conversations, follow other Independent readers and see their replies