Meera Syal interview: Goodness Gracious Me star on why she's campaigning for more black and Asian faces on television
Syal: 'Change really doesn't come from haranguing or guilt-tripping people, it's a much more positive outlook than that'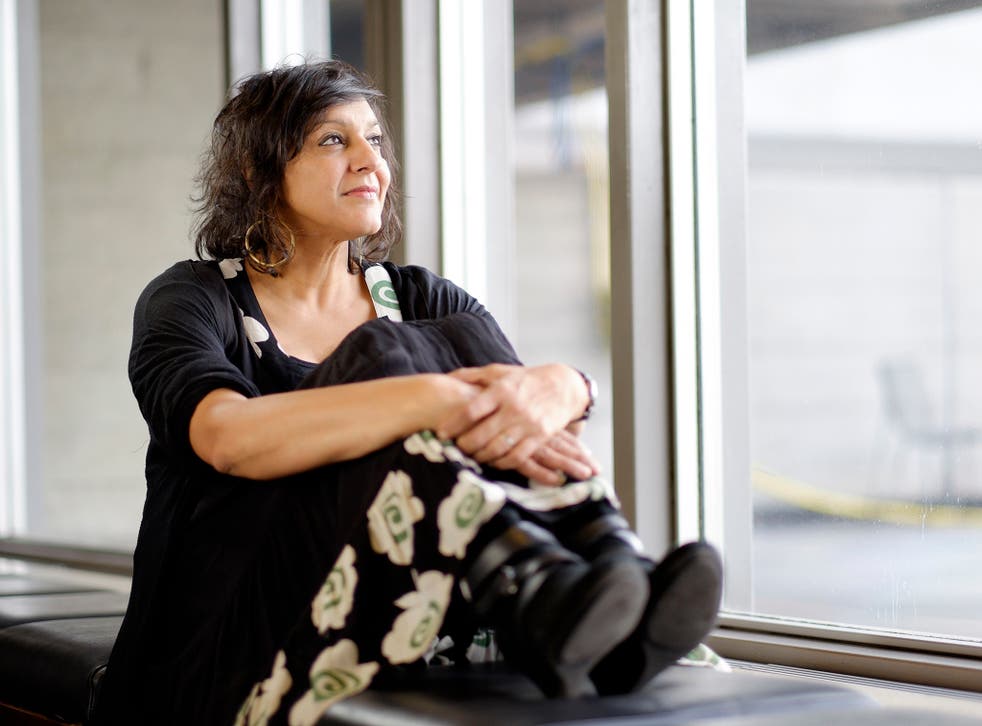 Meera Syal, 53, and now three decades into her stage and screen career, knows what it is to be nervous.
In 2010 when she starred in a one-woman Shirley Valentine at the Menier Chocolate Factory, her jitters nearly overwhelmed her. "I almost did a Stephen Fry. I really did," she says, referring to the actor's notorious walk-out three days into the West End run of Cell Mates. "I was standing in the wings and I could see the back exit and I thought, 'I could just walk out. Just go – they wouldn't find me. And then I wouldn't have to do it.' It really did run through my mind. I still get that."
That show transferred to the West End so evidently no one noticed her nerves, not even when, alone on stage, she forgot her words. "Luckily, she's the kind of character who can rabbit on until you find your thread again… I've forgotten my lines. We all have. The audience don't notice. Or if they do, they weirdly find it quite thrilling sometimes."
When we meet, a week before previews for her new play at the National Theatre are due to begin, Syal has a "slow, sicky feeling" in her stomach that will build as opening night gets closer. Not that you would know it. Flinging open the door to the theatre's roof terrace – "Wonderful!" she says, deep breathing the South Bank air – she is calm, quietly spoken and maternal – "Do you want a sandwich? Have you had your lunch?" To calm herself and get in the zone she has made, as she always does, a new playlist on her iPod. This time it's mainly Punjabi folk music, Adele and Mumford & Sons.
The unusual mix is for Behind the Beautiful Forevers, one of the most intriguing projects yet at the National from its artistic director in waiting, Rufus Norris. It is adapted by David Hare from the book by the Pulitzer Prize-winning journalist Katherine Boo who spent three years living in Annawadi, a slum near Mumbai airport, recording the lives of its residents. The title comes from advertisements on the hoardings the airport planners put up to conceal the slum from those arriving in the city.
It's a peach of a part for a grown woman, the kind that does not come along too often. "Well, actresses have dog years, don't they?" snorts Syal. "We all know that. One of ours is seven of anybody else's. It's now perfectly acceptable for someone my age to play the mother of someone a few years younger and yet actors in their sixties will have 30-year old girlfriends and nobody bats an eyelid. That's television's version of reality, and it's a weird one. I think we're all defining age as we go. That T-shirt, 'This Is What a Feminist Looks Like' – there should be one saying 'This is What an Older Woman Looks Like'. Really, this is what we look like. I could be anywhere between 40 and 55. A lot of women my age could."
There is a danger in making a play out of the poverty found in the slums. But there is a difference, says Syal, between Boo's meticulously researched book – which she picked out for Radio 4's A Good Read before she knew she had the part – and the Western model of people "who go and pat the children and say, 'They're so happy, even though they haven't got anything.' No. They want to get out."
"Inevitably there will be people who say, 'It's not the India I recognise.' But it's so subjective. Your job as an actor is to tell the truth, don't bump into the furniture and honour the fact that you are depicting real people's lives."
Syal has family in Delhi and the Punjab. Her relatives would tell her never to give slum children money – "Because there's somebody standing round the corner waiting to take it off them. Go and feed them instead. Or when there are people shitting on the side of the road, as they have to when there's no sanitation, you never look because that's your shame. Those things make you think, 'I must have my other head on here.' This is a different way of living with it, acknowledging it, not sentimentalising it."
Syal's parents came to Britain from Delhi in 1960. She grew up, "an exotic flower in Midland soil" in Essington, a mining town near Wolverhampton. It was an extraordinary childhood that inspired her "comedic, skewed view of life", she says, not to mention her first novel, Anita and Me, and much of her work since. In 2005, she married Sanjeev Bhaskar, her co-star on the sketch show Goodness Gracious Me and sitcom/chatshow The Kumars at No. 42. They worked together for almost a decade before getting together on a flight to Australia – "20 hours together with not much else to do..." Their son, Shaan, is eight years old and Syal has a daughter, Chameli, 22, from her first marriage, who is already eyeing a career in theatre – "just not on the stage". Both are much more comfortable in their skin than she was growing up. "That culture clash thing is not so sharp-edged as it was. However, other things are different. We're in a post-9/11 world. We're in heavy discussions about immigration and Ukip. Some things are different, some things – plus ça change."
That "plus ça change" is partly why she, Bhaskar and co agreed to bring Goodness Gracious Me back for BBC2's 50th birthday earlier this year. With sketches poking fun at "Blurred Lines", Ukip and the "Delhi Mail", they found they still had plenty of material. "What was quite stark is that there hadn't been anything like Goodness Gracious Me since." Would it get commissioned now? "Probably not. I always thought there would be a baton that would be passed. And in stand-up there has been – there are a lot of really good South Asian stand-ups. But certainly on TV there hasn't been a similar satiric sketch presence." She wouldn't be averse to bringing it back for more but the return of The Kumars, also this year, was less successful. "It's what Sky wanted and it was a good try but it's a terribly difficult hybrid to pull off, and I'm not sure it sustained over an hour. I think half an hour would probably have worked better."
On screen and off, she and Bhaskar work as a team. "Whenever one of us gets a part we say, 'Hooray, that's the mortgage!'" They take turns to work. "He was offered a couple of really nice plays this autumn but he couldn't because it was my turn," says Syal. "I was at home the first six months of this year. And I know when this comes to an end, whatever comes to me in theatre, I'll have to turn down."
She still managed to fit in filming the second series of Broadchurch and the adaptation of David Walliams' The Boy in the Dress, a favourite of Shaan's, for Christmas. In between, she has written her third novel. The House of Hidden Mothers will be released in June next year and is her first book since Life Isn't All Ha Ha Hee Hee in 1999 – "I only have one good idea every five years," she says. This one is about Shyama who runs a beauty parlour in east London. Unable to have children, she travels to India to find a surrogate. Her last two novels both ended up on screen. "But I haven't had anything on television for a long time," she says. "That's not for want of trying. It's got tougher. We don't have Screen Two or Play for Today or any of those things that we used to have."
Syal has recently lent her support to Act for Change, the campaign for diversity on screen. She knows she has lost out on parts because of the colour of her skin. "'They're not going in that direction' is the general phrase…" she says. Does she think there should be racial quotas in television? "There are ways of doing it. This should be a conversation. Change really doesn't come from haranguing or guilt-tripping people. It's a much more positive outlook than that. It's saying, 'People, you are missing out. There is such a wealth of talent out there. It makes you look more multinational if you want to sell your programmes abroad. There is a brown pound, like there is a black pound and a pink pound.'"
This summer she worked in LA for the first time. "You get why so many black and Asian actors have gone over there because they do look at you in a completely different way. They don't immediately go, 'I don't know if this part is right for an Indian character…' when you walk in. They don't have those labels in their heads. And that is the result of many years of campaigning and raising awareness. Sherlock is a great example. Only in America would they cast Lucy Liu as Watson. It's genius, and I can't ever see that happening here, not at the moment."
She was there to shoot a new HBO sitcom, The Brink, about hapless CIA agents. On her first day at Sunset Gower Studios, she found herself being ferried to set on a golf cart with Jack Black and Tim Robbins. "And in the background there was the Hollywood sign. You have to enjoy those moments because unless you're lucky they're very few and far between. This is why we do what we do – for these little moments."
'Behind the Beautiful Forevers', National Theatre, London SE1 (nationaltheatre.org.uk) 18 November to 13 April; part of the Travelex £15 season
Join our new commenting forum
Join thought-provoking conversations, follow other Independent readers and see their replies