Nicole Kidman in Photograph 51: The actress is back in the West End playing DNA pioneer Rosalind Franklin
Director Michael Grandage tells Nick Clark why it's the perfect part for the Hollywood star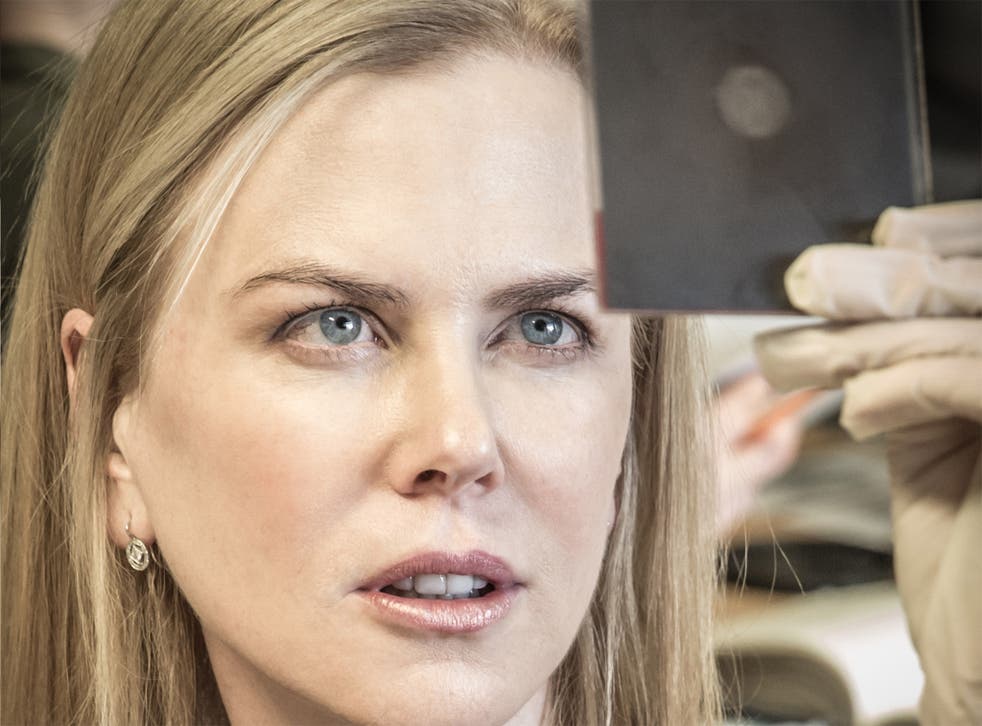 It took four years for Michael Grandage to find a play that would tempt Nicole Kidman back to the London stage for the first time in 17 years, and he discovered it in an unlikely place: the slush pile.
After turning down the chance to headline a classic revival of Ibsen or Tennessee Williams, the Australian superstar plumped instead for Photograph 51, a play about a "scientific injustice" that had been sent to the director unsolicited, and had only ever been staged in minor productions in the US.
Grandage, 53, blanches slightly after revealing the back story to his next major West End production, fearing a deluge of submissions will follow.
"We don't normally read unsolicited scripts," he adds quickly, during a break from rehearsals at the Central School of Speech and Drama, where he is also president. They have just finished the fourth week of rehearsals and will move into the West End's Noël Coward Theatre to start technical run-throughs in the next few days. "I don't know why but the title really intrigued me."
The Tony and Olivier-award winning director had been talking to Kidman about her starring in a play since he set up the Michael Grandage Company with James Bierman in 2011. She last appeared in London in the Donmar Warehouse's The Blue Room directed by Sam Mendes in 1998 – a performance that was famously described by one critic as "pure theatrical Viagra". Grandage was an associate at the theatre at the time.
"She was keen to return to the stage but surprisingly she wanted to do a new play and threw down the gauntlet for me to find one," Grandage says.
Photograph 51 was sent in by the playwright Anna Ziegler's agent. "I read it and liked it instantly," he says. "Theatrically, it was like a thriller. I sent it to Nicole and she responded very quickly saying: 'This is the one.'"
Arts + Ents News in Pictures

Show all 50
The play tells the true story of British scientist Rosalind Franklin and her role in the discovery of DNA's double helix structure, one of the most important scientific breakthroughs of the 20th century. Franklin's work has been largely forgotten and she was not posthumously honoured by the Nobel committee in 1962 when it handed the award for physiology or medicine to Francis Crick, James Watson and Maurice Wilkins. "I may be generalising but I imagine a lot of people have heard about Watson and Crick and not much else," Grandage says. "That's certainly how I came to the play. I'm ashamed to say I knew nothing about Rosalind Franklin at all."
Photograph 51 focuses on the period when Franklin was at King's College London – where she arrived to study DNA in 1951 – before she left to go to Birkbeck College. She died at the age of 37 from ovarian cancer. The photograph was the name given to the X-ray image of DNA Franklin took that proved crucial in identifying its structure. Ziegler wanted to ask that why, if the double helix was the breakthrough of the 20th century, was Franklin almost totally written out of the history books? "We want to tell an epic story in 90 minutes. It's a huge scientific injustice," says Grandage.
The play is based on Brenda Maddox's book Rosalind Franklin: the Dark Lady of DNA. James Watson – "who is kind of the baddie in the play" – did not want to say much about Franklin's role, but mentioned her in his book which led Maddox to ask questions about who Franklin was. "He left the trail, she would have otherwise been completely consigned to the dustbin of history," says Grandage. "It's thrilling to tell her story on the West End stage."
The director has tackled true-life stories in the past, including Frost/Nixon and Red about the painter Mark Rothko. "You have a responsibility to history, though you're not in the business of giving history lessons," he says. "If people are interested, they can go and look up the facts on a computer. We're informing them about something interesting and telling them a story. Though, as it happens, Photograph 51 is pretty damn factual all the way through."
Science and maths have been increasingly popular in West End transfers including The Curious Incident of the Dog in the Night-Time and Oppenheimer. "There's a hunger for it, audiences are seeking knowledge. They want to come away with a human story and some learning," agrees Grandage.
They also want to see Hollywood star Kidman perform live. Major actors have always been keen to work with Grandage. His season of five plays in the West End over a 15-month period between 2012 and 2014, saw him direct Jude Law, Judi Dench, Ben Whishaw and Daniel Radcliffe, among others. "As a director I start with actors," he says. "I absolutely understand the psyche and process an actor goes through during the process. I love the collaboration."
Grandage trained as an actor and spent more than a decade in companies including the Royal Shakespeare Company and the Royal Exchange Theatre in Manchester. He turned to directing in 1996 and two years later directed Twelfth Night at the Sheffield Crucible. He made his name as artistic director of Sheffield Theatres at the turn of the century, before he succeeded Mendes as artistic director of the Donmar in 2002, which he ran for a decade, a reign that was hailed for its critical and commercial success far outweighing its size. He left to pursue other opportunities in 2011.
Grandage has ruled out doing a second season of plays in the West End, which would prove too restrictive, especially after running two theatres. "As I went into my fifties I wanted the freedom of being very flexible," he says. "If I want to do a film, I will. If I want to do an opera or bring in other directors to the company, I can do that."
He would not be in the theatre today, he says, if he had not got a free ticket to a touring Royal Shakespeare Company production of Twelfth Night starring Ian McKellen and Roger Rees that came to a leisure centre in Penzance near where he grew up in 1978. "It had an extraordinary power, it was the inspiration. I knew I wanted to be part of it, the energy in that room. I can almost still see it," he recalls.
One of the key themes that Grandage returns to again and again is the opening up of theatre to the next generation of audiences. In every production he factors into the finances that 25 per cent of tickets will cost £10 and he admits investors have walked away over it. "We need to make money, but it's just a bit less money," he says. "That happens when you want to get young people into the theatre."
The National Theatre has been subsidising tickets for over a decade and actors such as Mark Rylance now insist upon affordable tickets when they perform on stage. Yet the director believes that "everyone can always do more. People will catch up too late when they are asking: 'What's happened to theatre audiences?' Well, they haven't been encouraged to come."
He rarely shies away from the issues affecting the industry and calls for a "joined-up response" to bolster regional theatre in the UK, spearheaded by the National Theatre. "The great responsibility of a national theatre is to join up the regional network," he says. "That's key, it can't just be done through separate funding, it needs to be linked in.
"It's OK to be London-centric if the agenda-setting London theatre uses resources wherever it can to help the regions. Hundreds of things could be done, and I'd like to see a bit more of that happening," he says. Like what? He suggests "co-productions, training programmes and premiering major shows outside London".
Another issue affecting theatre is the decline in the number of professional critics. "The decline never gets talked about enough. When our play is gone, the only thing that is left is the review," he says. "It's crucial for the theatre ecology, and not just for telling people what to see."
On the morning we meet, it has been announced that Grandage has an exciting new production heading to New York in spring. He is to direct the Oscar winner Forest Whitaker in his Broadway debut in a revival of Hughie by Eugene O'Neill. "The play interests me, and working with Forest really interests me," he says. While he has taken transfers of productions from the UK to New York before, it will be his first time working on a new staging on the Great White Way.
Grandage prefers to look forward rather than bask in the glories of the past. "I'm motoring forward like I always have done, but there is a cusp where you slow down and think of what you've done and what you want to do. It just hasn't happened to me."
So far he is still motoring, and in several directions at once. He has directed and produced his first film, Genius, about the literary editor Max Perkins, which co-incidentally brought him together with Kidman. It also stars Colin Firth and Jude Law and will likely be released early next year. "It was a very scary transition because I had no idea what to do," he says. "I can't believe what that film did to me. It's like all my nerve endings came up and I felt alive in a way I hadn't for years. I have spent years cultivating my craft and then this brand new challenge comes along. I long for that. When I did my first opera it was the same. The challenge seems to feed me. I don't get dejected, I say bring it on."
He is now considering projects for after Hughie's run on Broadway finishes, is talking to actors about theatre projects and looking at films scripts. "I would also like to tentatively look at commissioning television," he says. "I love the idea of reaching further."
'Photograph 51', Noël Coward Theatre, London, 5 September to 21 November (0844 482 5141)
Join our new commenting forum
Join thought-provoking conversations, follow other Independent readers and see their replies