Star choreographer Matthew Bourne gives young carers a chance to perform at Sadler's Wells
They have spent much of their young lives helping others. So what happened when superstar choreographer Matthew Bourne encouraged these 27 teenage carers to think about themselves for once? Holly Williams joined them as they prepared to make their dance debut at Sadler's Wells…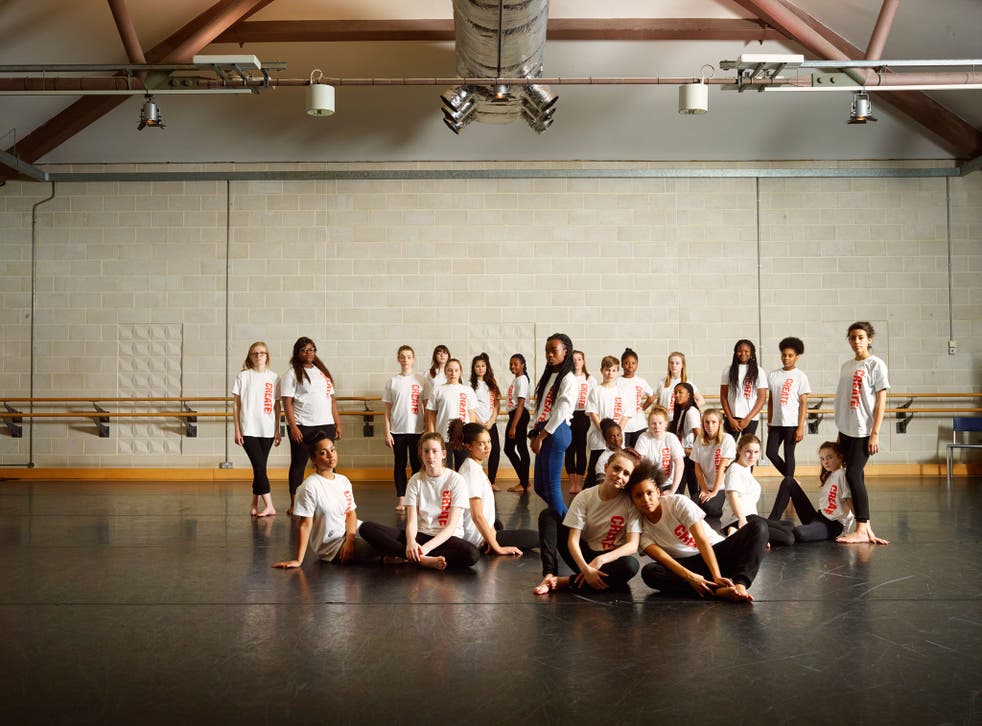 Many a professional dancer could only dream of such an opportunity: to perform in front of a sold-out crowd at London's esteemed Sadler's Wells, with a personal introduction by one of contemporary dance's leading lights, Matthew Bourne. And for one group of teenagers, it may prove a life-changing experience.
These youngsters arguably deserve a break more than most: all carers, they spend significant time looking after family members and taking on responsibilities far beyond their years.
As part of a tie-up between Bourne's New Adventures dance company and Create – a charity that provides the most disadvantaged in society with access to, and creative experience of the arts – two members of the company recently worked with 27 young Londoners to devise a curtain-raiser staged before New Adventures' performance of Edward Scissorhands.
"Young carers spend so much time thinking about someone else, so the opportunity to be asked to think about yourself and what you want to express must be a really wonderful, rare thing – I think that's what's so special about the project," says Bourne.
"A lot of young carers make so many sacrifices and have so little time of their own," agrees Nicky Goulder, Create's committed chief executive. "They suffer so much isolation and bullying and lack of confidence; to be given an opportunity like this is an incredible gift."
As I drop in on rehearsals, midway through the week-long project, the glitzy theatre where they are practising thrums with excitement. Most of the carers have a prior interest in dance, though the group is a mix of ages and ability.
The project focuses on encouraging creativity: this is not about learning to be a pointe- perfect ballerina in a week; it's about discovering a way to express yourself through movement.
Meet the young carers who danced with Matthew Bourne

Show all 5
Dance is the perfect medium for this, Bourne suggests. "Dance is very basic in some ways: we all have a body; it's something primal." Devising material in a collaborative manner means you're not simply teaching set steps, imparting knowledge about a "right" way to dance, "but k actually getting something from them," Bourne continues. "It's particularly exciting in young people, as it's coming from their bodies, from them; it's not about training and form."
The carers' short piece picks up themes from Edward Scissorhands, a dance adaptation of the Tim Burton movie – and one of Bourne's hugely popular ballets that have made him a household name over the past 25 years. The workshop leaders, Kerry Biggin and Paul Smethurst, point out that the material is perfect: the sequence they're working on explores what it is to be an outsider, and feelings of isolation and difference that turn to acceptance and inclusion. In the final performance, the teenagers move and leap as a company, in unison, across the stage; twisting and turning, spread fingers and raised arms evoking their scissor-handed source material.
"We like to introduce people to dance through games, and work with them all as individuals, pinpointing their strengths," says Biggin. "It's been amazing to see them blossom. Some of those who barely contributed in the first day now really feel they have a voice."
Smethurst agrees, pointing out that many of the teenagers are even walking taller after a few days spent thinking with their bodies. "They've gone from being apologetic to having confidence in their physicality. You can see it really clearly; they have a glow about them."
Bourne himself famously came to dancing late – aged 22. It is partly this delayed flowering that makes him so keen to support projects for young people; if he'd ever had access to a project like this as a young person, he says, it might have set him on a performing pathway all the sooner. "I would have jumped at the chance to do something like this, but it wasn't there, really. I was at an all-boys' school in Walthamstow – dance was not something you wanted to talk about. I didn't think it was something I could get into, I didn't know how. That's why this sort of thing is so fantastic – it's more important than you realise. You can completely change someone's life."
Rebecca, 14
Lives in Richmond and cares for her mother, who has depression
"My mum sometimes gets quite anxious about weird things; I just have to make sure she's happy and not stressed. Sometimes I help round the house, or just do things that will lower her stress levels.
"I've been caring for her since I was about six. Every year, I start to understand more: she can sometimes hide her depression, but every year I start to notice that better, and become more aware of the problems that she has.
"I started doing projects with Create last year. It gives you a break from your caring role, regardless of what that role is. You can express yourself, you can work in a team, you can make your ideas heard because you have a voice – everyone respects you, and they understand you. Which is different from if you were with, say, your friends – they don't really understand. Only other young carers understand fully.
"It's really important to have two sides to your life – one where you're in your role, and one where you can have a break from it. You're less stressed, you can have a bit of fun and be creative.
"I think it's good that we get to work with the professionals – it makes you feel proud of yourself. And because they're experts, they can show you the ropes."
Alana, 15
Lives in Kingston upon Thames and cares for her mother, who has rheumatoid arthritis
"Because of her condition, my mum has a metal knee; she also often gets ill – she'll be gagging, and on other days she'll be physically throwing up.
"I get worried about her when I'm at school, if I'm just leaving her… if she threw up in the car, it could cause an accident. And I have to take care of her at home; if she's ill, I go and get her drinks and stuff that she wants - but she often won't eat.
"[This project] is really important: it makes you forget about everything for a bit.
"I've been dancing since I was three, I find it very fun. It gets rid of energy – it relieves you of stress – and you get to socialise with people. Especially on Create projects, you get to socialise with people you don't know, and who have the same situation as you.
"That's quite important, because if you're talking to someone who's not really in that situation, they won't understand as well. Someone who is a carer will know what you mean when you're saying certain things.
"I'm excited, and I'm a tiny bit nervous about the performance. Before we go on stage I'll probably be like, 'Ohmygod, ohmygod!'"
Dannika, 16
Lives in Raynes Park, and cares for her mother, who has cystic fibrosis
"Because my mum has cystic fibrosis, when she gets a cold it's worse than for a normal person – she normally ends up in hospital. That's when I have to take up my caring role: make sure she goes to hospital, that she's OK, that she has her medication. She doesn't really like hospital food, and it means going to the nearest shop and buying whatever she wants. I help out around the house a lot as well. I've been caring for her since I was six. It's a long time.
"Because she works, we usually get home around the same time, and then I can help her do the washing-up, the clearing up, the washing – so it fits pretty well.
"I've been dancing since I was three. It just takes my mind off things – I don't have to think about the chores, or if my mum's going to be OK. You can be your own self, and express your feeling through dance.
"I do dancing at college fulltime. I definitely want a career in dancing and acting; I'm going to apply for drama schools at the end of the year. This is quite different, though: at college, it's more that you learn a routine, but this is very much devised work. It's nice to have a different element of learning; it's more of our input, our ideas."
For more information: createarts.org.uk. 'Edward Scissorhands' is touring the UK to 14 March; for more: new-adventures.net
All images by Dan Burn-Forti
Join our new commenting forum
Join thought-provoking conversations, follow other Independent readers and see their replies