Late Company, Finborough Theatre, London, review: This is theatre in its purest form: a cathartic cleansing
After the suicide of their son, a grieving mother and father dine with his tormenter. Masochism, absolution, forgiveness, and revenge are unravelled in the intimacy of the Finborough Theatre.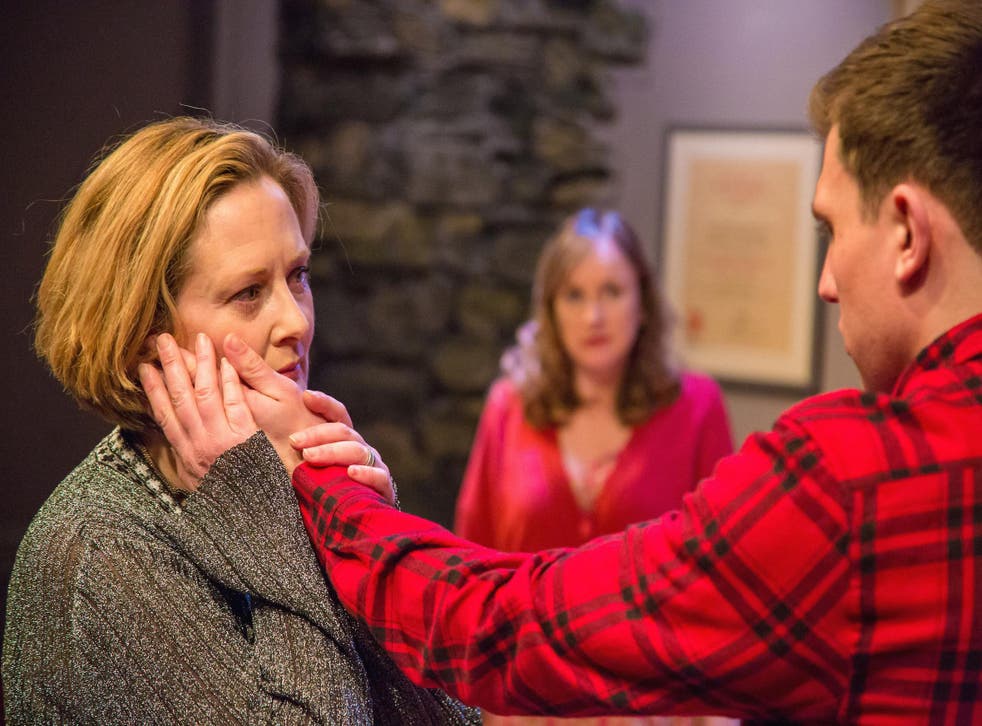 The audience meets the Shaun-Hastings couple in their home, an artist and member of the Canadian parliament respectively.
They have mood music and appetisers at the ready for the evening's event – confronting the boy who tormented their closeted gay son to suicide, along with his own parents.
Said tormentor, Curtis (David Leopold), seems so ordinary, like any other teenager, and it's this lack of monstrosity which sends Debora (Lucy Robinson) over the edge.
Yet, for a play which takes on heavy topics of suicide, depression and grief, it has little more to add to the conversation.
The new age "sharing" concept feels like a satire a few years out of date, even for when this play was written (2010). Despite the idea behind their structured handling of grief (they share photographs, school awards, and two horribly juxtaposed letters, written by Debora and Curtis respectively), all are there under false pretences.
Curtis' mother Tamara (Lisa Stevenson) wants absolution for her son, and it quickly becomes evident that Debora is willing to do anything to Curtis but forgive him.
This play does not set out to explore the depression Joel, their late son's depression. It's more concerned with how people react to tragedy, and how class informs so much of it.
Playwright Jordan Tannahill penned Late Company aged 23, in the aftermath of the suicide of a close friend.
Given the raw emotions, the amount of empathy Tannahill extends to bully Curtis makes this more than an open and shut case of homophobia.
The play examines responsibility, blame, hypocrisy, and homophobia.
The discussion has been seen before: do you act as if the world is the way you want, or do you accept grim realities such as being different can attract attention?
Both the set and costumes were subtle, but well observed enough to communicate the different social standings of the two families as they spend an evening crossing the great divide of middle and upper middle.
There are no set pieces that stick in the mind, more a series of well observed moments, such as the sharp head turn when father Michael looks to Curtis, as the tormentor of his son knows details of Joel's life his parents never knew – even down to what character he played in Midsummer Night's Dream – Oberon (king of the fairies – get it?).
Humour such as this is played for then awkwardness of ill-chosen words. The strength of both script and the performers is the toe curling, stomach jabbing unpleasantness of the entire exercise of the evening, and the uneasy dynamic these actors create on stage – a palpable mix of hostility and pity on all sides.
This is a solid story, if not a new one and with these performers it's an excellent rendition too. The performance by Lucy Robinson, crucial to the success of the work, reduced many in the audience to tears. David Leopold played a frequently silent role excellently. Rather than coming across as obtuse, he displays such a maelstrom of emotions as he listens to the others mull over his crime. These instances - rather than the times he does give voice to thought, are beautifully communicated without verging into a stereotypical grunt or eye roll so often ascribed to teenagers on stage.
The performances of the two fathers, Todd Boyce and Alex Lowe are similarly nuanced. The pair are united in their unease at the evening's premise, but different in their approaches to parenthood.
Late Company weighs heavily on your mind in the days following the performance, and the desire to revisit the Shaun-Hastings and see more of their recovery sinks deep into your consciousness.
This is theatre in its purest form: a cathartic cleansing. You enter the space, weep for 85 minutes and then reemerge a better, more rounded individual.
Register for free to continue reading
Registration is a free and easy way to support our truly independent journalism
By registering, you will also enjoy limited access to Premium articles, exclusive newsletters, commenting, and virtual events with our leading journalists
Already have an account? sign in
Register for free to continue reading
Registration is a free and easy way to support our truly independent journalism
By registering, you will also enjoy limited access to Premium articles, exclusive newsletters, commenting, and virtual events with our leading journalists
Already have an account? sign in
Join our new commenting forum
Join thought-provoking conversations, follow other Independent readers and see their replies