Fish in the Dark, theatre review: Cliché-ridden play will curb the enthusiasm of Larry David fans
Had it been penned by a civilian it would have barely got a reading, let alone £10m advance sales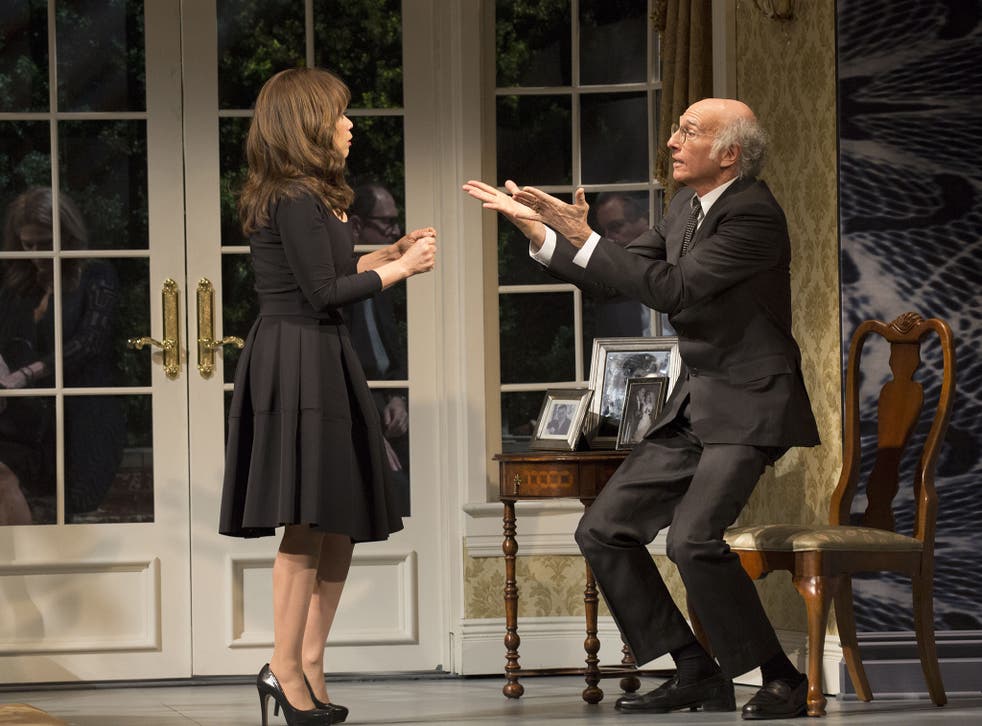 Larry David co-created Seinfeld and starred in and wrote Curb Your Enthusiasm. Between those two landmark TV comedies he wrote and directed Sour Grapes, a dire, almost unwatchable film, about cousins who fall out over a casino jackpot windfall.
Despite a box-office advance of over £10m and tickets fetching four-figure sums on the black market, Fish in the Dark, David's debut play, is closer to Sour Grapes than it is to his beloved TV comedies. David himself stars as Norman Drexel who feuds with brother Arthur (Ben Shenkman) over who gets to live with their spiky mother, Gloria (Jayne Houdyshell), following the death of their father. The fallout over funeral arrangements spreads to their extended family and is exacerbated by the revelation from family maid Fabiana (Rosie Perez) that she gave birth to a son with their late hitherto-upstanding patriarch.
From a brother-in-law determined to get his hands on the deceased's Rolex watch to a loud, tactless uncle, Fish in the Dark swims in clichés. Until a preposterous second act subplot involving the maid's son, Diego, and Gloria, the comedy stays true to life without ever saying anything significant about life.
There are a few choice Larry David-isms sprinkled into the play ("I want to live alone, I just don't want to die alone"… "Do you know why we don't have sex any more?" Norman's wife, Brenda, played by Rita Wilson, asks him. "Because you don't want to ruin our friendship," he replies.) But it's hard to avoid the conclusion that if Fish in the Dark had been penned by a first-time "civilian" playwright – David Larry, say – it would have been fortunate to receive a reading.
Theatre highlights of 2015

Show all 7
The unknown writer would be told his characters are depthless stereotypes (particularly Perez's Puerto Rican maid who inexplicably doesn't sue for a share of the family's fortune following her paternity revelation); that the play is set in California yet the family speak and act like neurotic New Yorkers; and that his eye for detail – exemplified by the lead character running a company that he clarifies makes urinals, not toilets – is firmly shut.
Director Anna D Shapiro stages proceedings in a lively fashion, aided by Todd Rosenthal's stylish sets and Anne Roth's vivid costumes. David projects his voice too moderately and adopts a wry, detached presence that would make sense if the material were more sophisticated. Yet credit must go to most of the 18-strong cast who infuse the play with a madcap spirit that makes the performance zip along faster than it would otherwise do.
It should be said that I was in the minority in finding the most arresting corpse in this funeral comedy to be the play itself. The audience had a blast, collapsing in hysterics even when Norman remarks a relative was "no day at the beach". How ironic that Larry David, the master of comedic misanthropy, whose persona is dependent upon the sense that life is out to get him, is benefiting from Broadway audiences giving him such an easy ride.
Join our new commenting forum
Join thought-provoking conversations, follow other Independent readers and see their replies