Glenn Close in Sunset Boulevard reviews roundup: A 'blend of Cruella de Vil and Maggie Smith in Downton Abbey'
The actor makes her West End debut, returning to the iconic role featured in Andrew Lloyd Webber's musical version of the 1950 film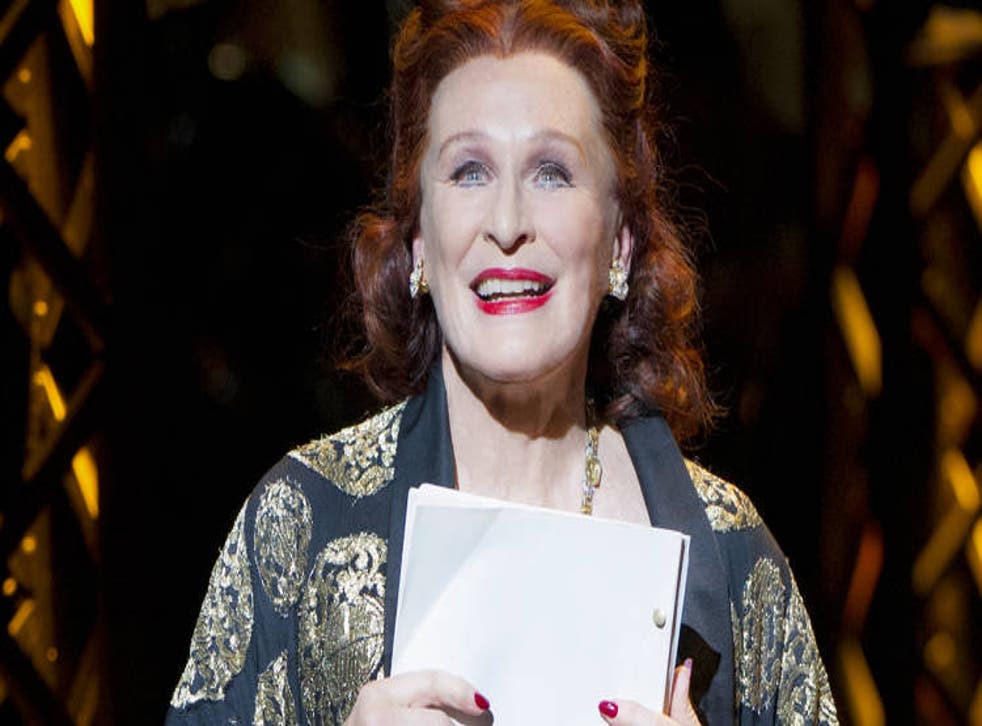 There's something utterly triumphant about an actor breathing new life into an iconic role; surpassing history and legacy, in the creation of something entirely new.
Glenn Close has transformed into Norma Desmond for a staging of Andrew Lloyd Webber's Sunset Boulevard, which runs during a pause in the English National Opera season. Close played the role in its original 1993 Broadway premiere, which famously dropped original star Patti LuPone; she now forms part of its revival a full 22 years after she won a Tony for the role, in what acts as her West End debut.
Here, the musical is pared down to a semi-stage version, featuring the magnificent 48-piece English National Opera orchestra; though critics have mildly disagreed as to the effectiveness of Lonny Price's staging, praise for Close's performance has been entirely unanimous.
The Telegraph - Dominic Cavendish - 5/5
Andrew Lloyd Webber's most under-valued musical, based on the 1950 noir classic by Billy Wilder, is confirmed in Lonny Price's semi-staged revival as a glorious, creepy (if resolutely technicolor) thrill a minute – bristling with lush, brooding songs apt to nestle inside your head and keep you awake at night in tormented ecstasy.
The Guardian - Michael Billington - 4/5
But the chief pleasure of Lonny Price's production lies in watching Close... Her big achievement is to treat the character not as a grotesque harpy but as a real woman who lives in a remembered past. The temptation is to see Norma as a sacred monster or a movie Miss Havisham: in Close's hands she becomes a victim of her own delusions. It may not be a perfect musical, but a show that in 1993 seemed too big and spectacular to catch the ironic tone of the Wilder movie has been given a new lease of life. Sometimes semi-staged is better than the luxurious grandeur of an elephantine West End musical.
BritishTheatre.com - Douglas Mayo - 5/5
Glenn Close is mesmerising as Norma Desmond, she has Norma teetering between Machiavellian manipulation and madness. It's a balancing act that makes this version of Sunset Boulevard compelling. Close delivers the blockbuster songs from Lloyd Webber's score with ease. This is 1000watt star-power and it makes for an intoxicating evening of theatre.
WhatsOnStage - Holly Williams - 4/5
Close gives a performance that shades and shimmers like one of sequined gowns: grandly majestic, her mouth set in a ferocious resolute little line, then giddy with girlish, gleeful, grotesque excitement. But when the fear takes hold, she's suddenly needy and manipulative; pulling Xavier down towards her for a kiss, nails almost visibly digging into his back even through her long gloves, there's no doubt that's he's in the grip of a fatal attraction…
The Hollywood Reporter - Stephen Dalton
Sex, murder, glamor, madness and the Faustian price of fame: Sunset Boulevard offers rich potential for dramatists. But despite the blank-slate options afforded by a minimalist production, Price takes disappointingly few stylistic risks. Fortunately, Close gives great diva in a fabulous succession of sequin-studded, fur-lined, zebra-striped outfits.
She sports a more pronounced English accent than her previous incarnation as Norma, while dialing down the Grand Guignol mania in her final torrid meltdown scene. The overall effect is a weapons-grade drag-queen blend of Cruella de Vil and Maggie Smith in Downton Abbey. Crucially, she makes sure Norma is no mere gothic grotesque but a vulnerable older woman facing the horror of redundancy and invisibility in a male-dominated industry. There is tragic desperation behind her brittle bravado.
The Arts Desk - David Nice - 3/5
The difference with the musical as opposed to screen Norma Desmond is that she has to sing, a lot. That's not to suggest that over 20 years on from her Tony Award-winning Broadway triumph – adding another layer of fascination to the passing-time theme – Close has lost any of the powerful chest voice needed for the role. It's just that her first two signature numbers are simple-banal, with Lloyd Webber immediately failing to sustain the aura of an eerie gulf between past and present so necessary for the role
Sunset Boulevard opens at the English National Opera on 5 April.
Join our new commenting forum
Join thought-provoking conversations, follow other Independent readers and see their replies