Oh! The bare-faced cheek of it: Release of amateur rights to stage 'Calendar Girls' sparks record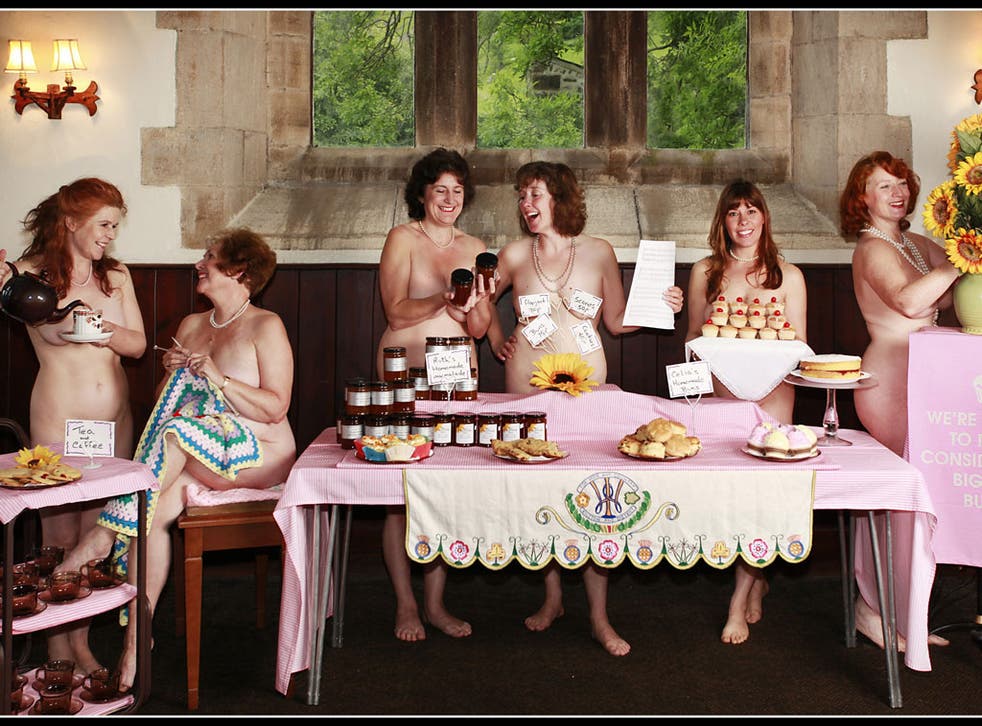 Some are remembering loved ones; others are driven by naked ambition to perform. Whatever the motivation, thousands of women are rushing to strip off on the public stage in the coming months.
Next month's release of the amateur rights to stage Calendar Girls has sparked unprecedented interest from theatre groups. "It's wonderful all these ladies are doing it. But, at the same time, I think there might be a few upset and over-jealous and protective husbands and a few embarrassed sons and daughters out there," said David Pugh, co-producer of the play, a professional staging of which goes on tour from September. The involvement of a few vicars' wives has not gone down "totally well" with parishes, he added.
Tim Firth's 2008 play – and preceding 2003 hit film – is based on the ladies of Rylstone and District WI who posed naked for a 2000 calendar in aid of Leukaemia & Lymphoma Research (L&LR) after the death of John Baker, the husband of Angela, a member, from non-Hodgkin's lymphoma. The Grassington Players, of which Mr Baker was house manager, will perform the amateur premiere on 31 August.
"In a way, the amateur spirit of giving it a go is the closet parallel to the spirit of the original women doing the calendar," said Mr Firth.
Such was the demand to stage the play that producers extended the release window from 12 to 18 months after realising some groups were "fighting over" the same venues. Samuel French London, which holds the amateur rights, has received 520 applications from groups wanting to perform the play to date and issued 322 licences. Vivien Goodwin, the managing director, said the company had "never experienced anything like this" for a play, partly because of the limited release.
The producers hope to establish a Guinness World Record for the most productions of one play in a twelve-month period, with a percentage of performance fees going to L&LR.
The Two Rivers Theatre Company's production at Sir John Mills Theatre, Ipswich, in September will see Valerie King, 75, a retired accounts clerk from Ipswich, make her acting debut as "Jessie". Her husband, Peter, left the company £1,500 when he died from lung cancer two years ago.
"I went to see Calendar Girls in Southend and my sister, Kay Friars, said she'd like to direct this, but would I be in it …? I'd like to think Peter's sitting up there thinking: 'I'm really proud of her'. "
Llanelli Little Theatre's shows at the Lyric Theatre in Carmarthen in September are being co-directed by interior designer Kathy Bowen, 49, of Llanelli, Carmarthenshire. She also stars as "Chris".
"I actually find directing more nerve-racking, because when you aren't on stage you can't control what's going on. The naked scene is such a giggle. Every time I look at the poster for the play I can't believe that it's me. I'm not too nervous now, but ask me again how I'm feeling on opening night!"
The prospect of starring as "Chris" with Stourbridge Theatre Company at Stourbridge Town Hall Theatre in November prompted midwife Maria Lodge, 50, of Stourbridge, West Midlands, to lose a stone in weight.
"I am hoping to lose another stone before the show. I used to be very fit and the play has encouraged me to get back into shape. I have a few weddings to go to … but the play was the biggest motivator. We won't be too exposed on stage, but you still want to look your best."
Among the Kingswood Players to be stripping off is retired midwife Kate Bond, 61, of Whitehall, Bristol. Her husband, Richard, 63, a credit controller, is directing their shows at Kingswood Community Centre, Bristol, in October.
"One of Cora's lines is, 'If I don't get them out now, when am I going to?' and, at 61, I thought, 'Yeah, that's very true' … I put my two-pence worth in sometimes [at rehearsals], but Richard tells me to keep quiet. He's the boss there, but not necessarily at home!"
Jane Ellison-Bates, 48, who works in PR and marketing, plays "Annie" in Grassington Players' amateur premiere at the Town Hall, Grassington, North Yorkshire, on 31 August. Her partner, sales director Mark Bamforth, 52, the son of the original Miss January, Beryl Bamforth, plays "John".
"Normally when you take a role … the only guidance is your gut feeling, what you get from the script and what your director might say, whereas … I have actually got the person on whom that character is based [Angela] who I can talk to"
Retired teacher Kathy Firth, 74, mother of the Calendar Girls writer, Tim Firth, will play retired teacher "Jessie" in Stockton Heath Methodist Dramatic Society's production at the Cheshire village's Methodist Hall in November. Her husband Gordon, 76, also a retired teacher, is designing the set.
"It's lovely saying Tim's words that have become so familiar. One of Jessie's speeches about ageing, ever since the play went out, I have had those words on my kitchen wall; they mean a lot to me."
Medical secretary Julie Potter, 46, of New Hartley, is playing "Annie" alongside her sister, Diane Legg, as "Celia", in memory of their brother, Brian Heslop, who died from non-Hodgkin's lymphoma in 1995. They will perform with the Whitley Bay Theatre Company at the Playhouse, Whitley Bay, Tyne and Wear, in September.
"It is both difficult and therapeutic …. Sometimes I just have to shut out my own memories to get through rehearsals because there are a lot of emotional scenes, but the whole cast are supportive."
Finance officer Alex Rolle, 45, of Cheshunt, Hertfordshire, who is playing "Ruth", joined EHOS purely so that she could be in Calendar Girls at Broxbourne Civic Theatre in September.
"I am quite a big lady and wanted to try to do something that inspired other people to try to step out of their comfort zone. I have a 16-year-old daughter, Victoria, who has a poor self-body image because of weight issues and I am sick and tired of people saying, 'I can't do this – whatever this might be – until I've reached a certain weight'."
Monica McTurk, 57, a speech and language therapist living with her farmer husband John, 58, eight miles outside Port William, Dumfries and Galloway, is "Cora" in Port William Pantomime Company's November shows at Maxwell Hall.
"I don't really do amateur dramatics and I find I am not only actually doing this but taking my kit off …. The [Dumfries and Galloway NHS] staff are threatening to have their Christmas night out coming to see the boss on stage. I'm hoping I can dissuade them."
Cheltenham's Playhouse Theatre will host Cheltenham Operatic and Dramatic Society, including marketing manager and new mum Joanne Alexander, 35, in September.
"I'm playing "Celia", the one with significantly bigger buns … I've been very lucky because my husband, Stewart, is very supportive. I'm on maternity leave until October and I thought it would be a great way to be able to have a bit of 'me time', so he is looking after [three-month-old] Phoebe while I go to rehearsals."
Join our new commenting forum
Join thought-provoking conversations, follow other Independent readers and see their replies