The Independent's journalism is supported by our readers. When you purchase through links on our site, we may earn commission.
Steven Berkoff: Othello should not be a 'no-go-zone' for white actors because of 'political correctness fiends'
The actor's controversial Facebook post has angered some of his followers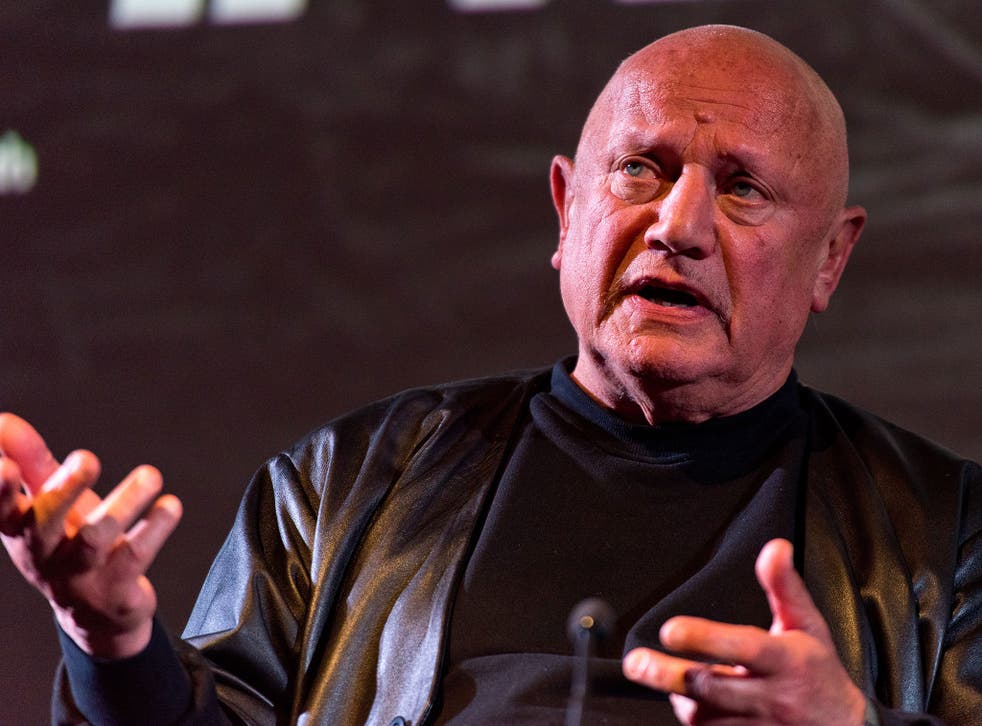 Controversial theatre veteran Steven Berkoff has attacked a critic for "warbling" about "how fortunate we are that actors no longer black-up" for roles.
The 77-year-old actor and director was angered by "bilge" comments made by Paul Taylor in The Independent's recent review of the Royal Shakespeare Company's Othello production, in which black actor Lucian Msamati plays manipulative villain Iago alongside Hugh Quarshie's lead.
Berkoff is believed to have been referring to Taylor's opening line - "The days when it was thought acceptable for a white actor to black up as Othello are well behind us" - when he shared a lengthy Facebook post blaming "fiends of political correctness" for making traditionally black parts a "no-go-zone" for white actors.
Berkoff said of white actor Laurence Olivier's portrayal of Othello in the mid-Sixties: "There are some roles that seem to draw from an actor the very essence of the character's humanity, so much so that one could not help but feel that the actor was born to play that particular part.
"I was so lucky I was able to witness this great event before the fiends of political correctness in all their self-righteousness had struck a no-go-zone for white actors on that particular role."
Berkoff continued to argue that Olivier "did not merely 'black up'...as if that's all there is to playing Othello - a bit of shoe polish on your chops".
"Great drama is colour-blind and goes far deeper than the colour of a person's skin, white or black," he wrote.
Shakespearean sayings you use without knowing it

Show all 8
Some of Berkoff's followers responded negatively to his open letter. "Maybe if you were on the receiving end of racial discrimination you would perhaps realise that actually this is not the time," wrote Bev Willis, while Jon Harman argued that "drama should indeed be colour-blind but never has been for many actors of colour".
When approached by The Independent for further comment, Berkoff said: "I believe actors of all colour, particularly black actors, should be cast for the immensity of their talents and not the slack-jawed nod to political correctness.
"To reserve, out of the hundreds of Shakespearian characters, the role of Othello for black people only, is a form of racism in reverse and to me, particularly obnoxious.
"What drama does is express the fundamental core of human existence and to omit one play, is like taking a major key out of a piano. The immense range and passion of a role like Othello belongs to all humanity. In its performance, it reveals the deepest part of the human soul.
"Some of the greatest performances seen over centuries have been when an actor has taken on that particular part from Edmund Kean onwards. I would like to see black actors not only play Othello, but Macbeth, Lear, Hamlet etc."
Berkoff has raised eyebrows recently for claiming that Oscar-nominated actor Benedict Cumberbatch is "more worthy of Hello! than Hamlet" and writing a novel celebrating misogyny.
Join our new commenting forum
Join thought-provoking conversations, follow other Independent readers and see their replies