There will be blood! Theatre directors painting the stage red is good for fake blood suppliers
Nick Clark learns the trade's secrets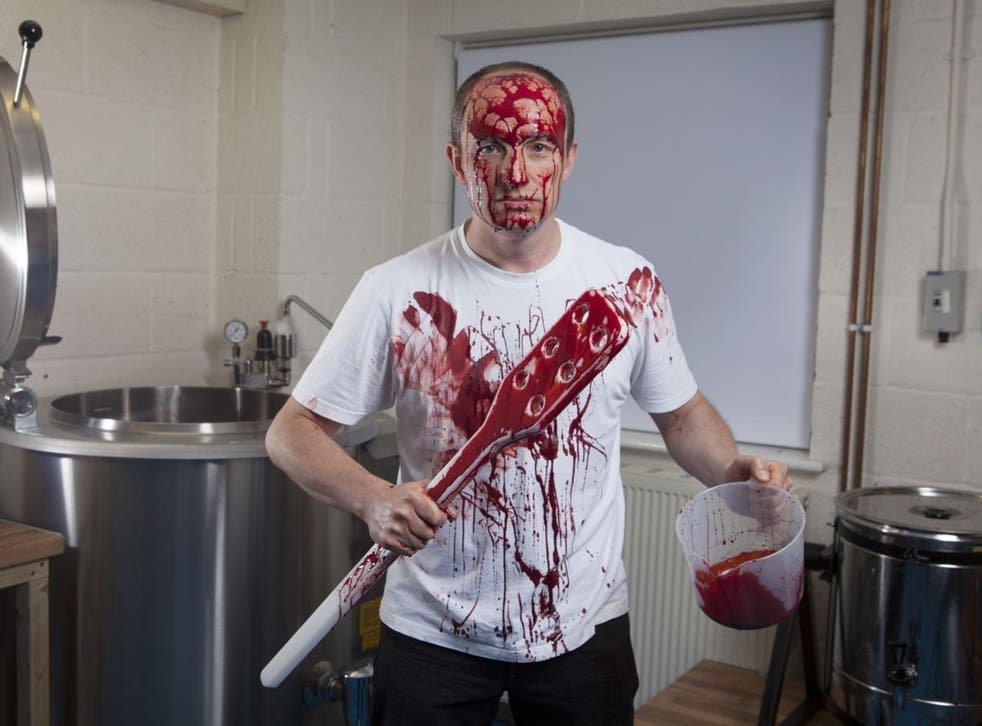 The most talked-about theatre production in London is Titus Andronicus, currently playing at Shakespeare's Globe. It has become notorious for racking up a body count in the audience as well as on stage – the relentless blood and guts proving too much for the faint-hearted. It is described by its own publicity material as "grotesquely violent" … but it is only the latest blood-soaked production to hit the stage.
Where then, gore-flecked audience members and the rest of us want to know, does the blood come from? The answer is Pigs Might Fly South. This fancifully named company makes stage blood, and for them, business has never been better. It has doubled turnover in the past year and boosted production five-fold since March, and still demand is growing.
The company, which also provides blood for television and film, now makes up to 450 litres of the fake blood a week, and is taking on new employees to help meet demand. They've had to replace their 30-litre vat with a 150-litre catering vessel in order to deal with the production demands.
Anthony Davies, who runs PMFS with his partner Lois Oakes, says: "There's been a dramatic increase in the past 18 months in the desire for bloody theatre productions. It's not just that there are more shows with blood, it's the quantity of blood that they want. They're really going for it now."
The production that kicked off the trend was Macbeth, directed by Jamie Lloyd and starring James McAvoy, which opened at the Trafalgar Studios in the West End in February last year, and used "tens of gallons" of fake blood. At one stage it rained from the ceiling.
Since then, shows including 1984, Urinetown: The Musical and several further productions of Titus Andronicus have coated the stage in blood. The publicity around the audience fainting at the latest Titus "is great for us", Davies says. "To have that sort of effect on the public."
"In the past, theatre has shied away from the carnage that would require a lot of blood. That has changed and it seems they want to put a lot more blood in," he continues. "They want it 'movie' realistic."
Terri Paddock, a theatre industry expert, comments: "It does seem to be the influence of films and television on the younger theatre directors like Jamie Lloyd that is causing the definite growing trend for more blood on stage."
It is a competitive market, with stockists carrying up to eight fake blood brands. PMFS provides two types: "Standard", imitating freshly drawn arterial blood, and "Dark" for older blood, both made out of a sugar-based syrup coloured by industrial food dye. Theatre directors prefer "dark" as it looks better under the lights.
"Our blood is incredibly realistic," says Davies. "The colours were carefully chosen. Another big draw is that it's very washable. It easily comes out of costumes." Which must be a comfort for the beleaguered wardrobe staff of theatreland.
Demand shows no sign of slowing, and the company has taken over blood supplies for the West End musical The Commitments, as well as the forthcoming production of Richard III starring Martin Freeman. "That's looking like it will be pretty bloody," Davies notes.
The blood was developed three decades ago by Nick Dudman, a special effects expert who worked on the Harry Potter movies. He passed the business onto his niece Oakes, and Davies. "We kept the business in the family," Davies says, with a smile. "Blood is thicker than water."
Join our new commenting forum
Join thought-provoking conversations, follow other Independent readers and see their replies