The opening of two Shakespeare productions signal a considerable leap forward for gender-blind casting
Directors are rapidly accelerating a fascinating movement in theatre, says David Lister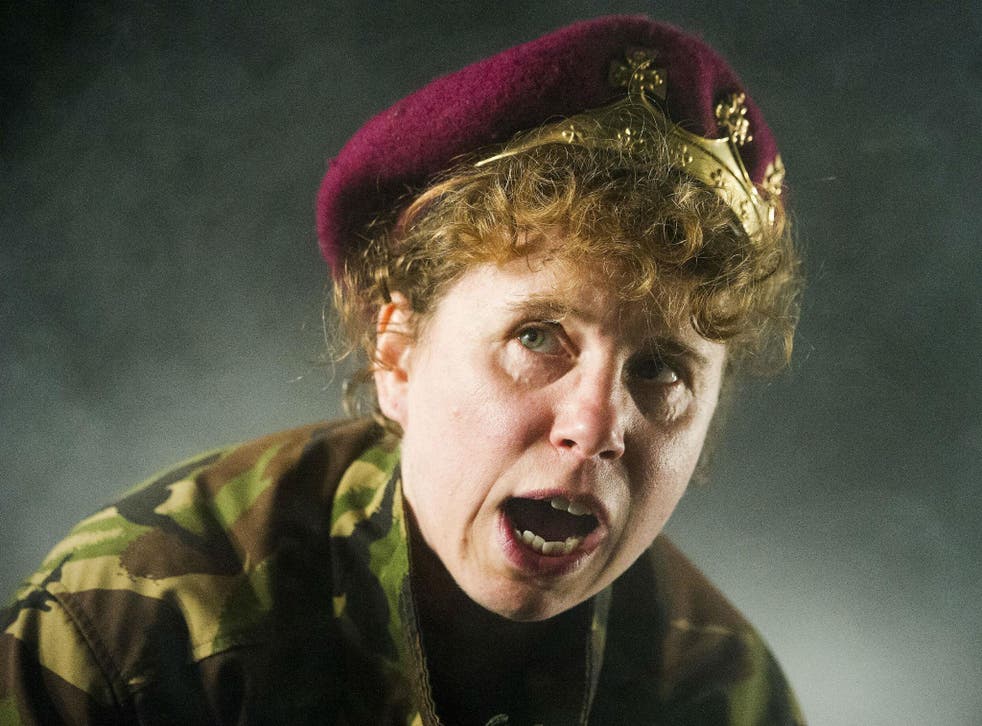 Gender-blind casting in Shakespeare plays is not new. In the Bard's own time boys played women; in Victorian times there were notable examples such as Sarah Bernhardt's Hamlet; and in recent times there have been acclaimed examples, including Fiona Shaw as Richard II, Maxine Peake as Hamlet, Harriet Walter as Henry IV and, later this year, Glenda Jackson as King Lear.
On the other side of the coin, Mark Rylance has played Olivia in Twelfth Night and Cleopatra to huge acclaim.
But in recent days, the opening of two Shakespeare productions signalled a considerable leap forward for gender-blind or gender-neutral (call it what you will) casting.
The most significant was the Regent's Park Open Air Theatre production of Henry V. It was not just that the king was played by an actress, Olivier-award-winner Michelle Terry, in Robert Hastie's production. It was much more that gender was deliberately ignored, or perhaps deliberately contradicted, in the rest of the cast.
The rival army captains Fluellen and MacMorris were played by women as was the Bishop of Ely, as was a Duke. And, to drive home the point that we should no longer even think about whether a part if male or female in the original, the French princess Katherine was played by a man.
Hitherto, the casting of women in leading Shakespearean roles has been in those roles where there is little sexual engagement. Richard II is a clear example. Indeed, when I once asked Fiona Shaw if she had considered playing Hamlet, she replied: "Hamlet is a story of a boy and his mother." And though actresses have played Hamlet, one saw what she was getting at. Henry V, too, is a role that has little sexual interplay, except crucially for the scene where the British king woos Princess Katherine.
With Henry played by a woman and Katherine by a man, this was certainly taking gender-blind casting farther than I had seen it taken before. And it needed two fine performances in that scene to prevent it lapsing into unintended comedy.
So, while this hugely significant production has shown that numerous roles, major and minor, can henceforth ignore gender in their casting, it has not for me proved that there is no risk in swapping both genders in a romantic or sexual encounter.
The day after Henry V opened at Regent's Park, a new production of Macbeth opened at Shakespeare's Globe Theatre. The central roles were played as nature intended. But there was a fascinating piece of casting lower down the pecking order. The porter, who has his (usually) one solo scene of comedy, was played by a woman, Nadia Albina, who has a handicap: her right arm finishes at the elbow. Hers was a virtuoso comic performance, and of course the porter's jokes about lechery had a different tenor when spoken by a woman. Albina also joked about her own handicap, offering her shortened limb to the groundlings and asking for a high five. Her success also made one think how much more casting of actors with disabilities there needs to be, and what great talents we must be missing out on. In the many years now of discussion and campaigning for colour-blind and gender-blind casting, this area has been woefully lacking from the debate.
Albina's performance and popularity with the groundlings may well prove instrumental in pushing this to the forefront of the debate now. Let's hope so. Certainly, I predict that the traditional playing of the porter by a male actor will now happen less and less.
Gender-blind casting in Shakespeare has been with us for some time, but still I see this last week or so as being particularly significant. In the past, gender-blind casting has largely either consisted of a leading actress in a key role, a star turn such as Mark Rylance playing a Shakespeare heroine or a company wide cast of women playing men, as with Phyllida Lloyd directing Harriet Walter and a female company in Henry IV and Julius Caesar.
In Robert Hastie's production of Henry V, gender-blind casting was scattered throughout. There was an assumption that women can play not just the king of the title, but soldiers, bishops, noblemen, feuding officers. And it seemed so natural that it will surely now become the norm. Casting a male actor as Princess Katherine to be wooed by a female Henry asks a lot of the audience I think, and the jury is still out on whether one can take gender blind casting that far.
What was very clear is that gender-blind casting in Shakespeare will now spread well beyond the title roles and right through the cast list. It will provide not just exciting and unexpected opportunities for performers, it will bring new dimensions to text and performance for audiences too.
Whether directors have those objectives behind their casting, or whether they have simply (albeit very knowingly) decided to cast the best performers around and not even consider gender, I'm not sure. Either way they are now rapidly accelerating a fascinating movement in theatre.
Join our new commenting forum
Join thought-provoking conversations, follow other Independent readers and see their replies