Brave New World, Royal & Derngate Northampton, review: Harrowing story of an anti-tragic utopia is heartily recommended
William Postlethwaite serves up a charismatic and passionate lead performance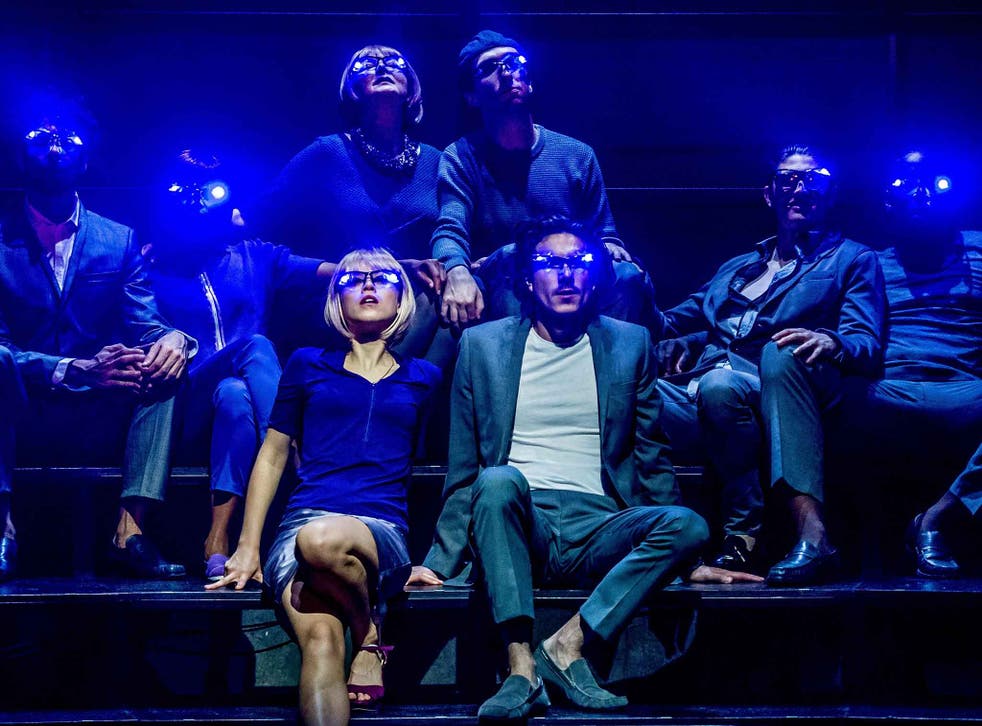 Adaptations of Orwell's 1984 come along fairly regularly (as witness Headlong's recent acclaimed account of it). Far rarer are stage versions of Brave New World, Aldous Huxley's 1932 vision of a global totalitarian state where dissent has been eliminated not through fear but by enslaving the population to an empty, passionless form of happiness.
There is no hunger, pain, want, war, or fear of death in this ostensible utopia but stability has been achieved at a terrible price. There's a genetically engineered caste system; the turbulence of love has been replaced with state-encouraged promiscuity even amongst children ("Everyone belongs to everyone else" is the slogan); individuality is considered an anti-social solecism, so great art from the past is censored in favour of group sensation such as the "feely" movies. Soma, a hallucinogenic drug with no side effects, is dispensed to give people little holidays from this idyll.
For obvious reasons, putting such a world on the boards is a tall order. All the more reason, then, to welcome Dawn (Foxfinder) King's shrewd and imaginative adaptation staged with startling flair by James Dacre in this co-production with the Touring Consortium. King remains broadly faithful to the novel's take of the future but she artfully tweaks it at points to emphasise how its prescience trains light on our own current fears about techno-addiction and mind-control. The look is retro-futuristic --sci-fi Art Deco, with screens on which there's a blizzard of Keith Skretch's compelling video imagery (from the cells of doctored embryos to the drips of blood after a bout of religious self-mortification). The ritualistic beat and sombre surge of the original music by These New Puritans' heighten our sense of location and mood.
All of which serves, rather than swamps, the human story which – as penetratingly re-shaped by King – feels more than ever like a progression from mordant intellectual satire to piercing tragedy. The protagonist is John (portrayed with extraordinary charisma and desperate passion by William Postlethwaite), a young man with an Alpha father but the result of a shameful natural pregnancy and reared on the Savage Reservation where he's fed himself not on Soma but the "destabilising" plays of Shakespeare. He's brought over for research purposes by Gruffudd Glyn's comically insecure psychologist, Bernard, who's torn between dissident feelings and a craving for social acceptance because he's suspiciously short for an Alpha.
It's harrowing to see John's idealistic onslaught against this conditioned, anti-tragic world (ripping out the Soma tubes of the patients in the ward where his mother dies) turn into madness – his self-flagellation at his lighthouse retreat hideously filmed as a "feely". King doubles the emotional impact. Her version begins and ends with a lecture tour of the factory-farm for embryos. Here we are introduced to the beautiful Beta-technician Lenina (excellent Olivia Morgan) who later develops a crush on John. She's singled out for being a perfectly adapted operative. But when we return at the end, something so devastating has happened to her, that we feel the awful weight of what she is suppressing behind her smiling show of gratitude. Heartily recommended.
To September 26, then national tour till December 6; 01604 624811
Join our new commenting forum
Join thought-provoking conversations, follow other Independent readers and see their replies