Buried Child, Trafalgar Studio 1, London, review: I hope that we will see Ed Harris in the West End in another role soon
Hollywood actor, Ed Harris, makes his West End debut in 'Buried Child' with his real-life spouse, Amy Madigan, who plays his wife in the Sam Shepard revival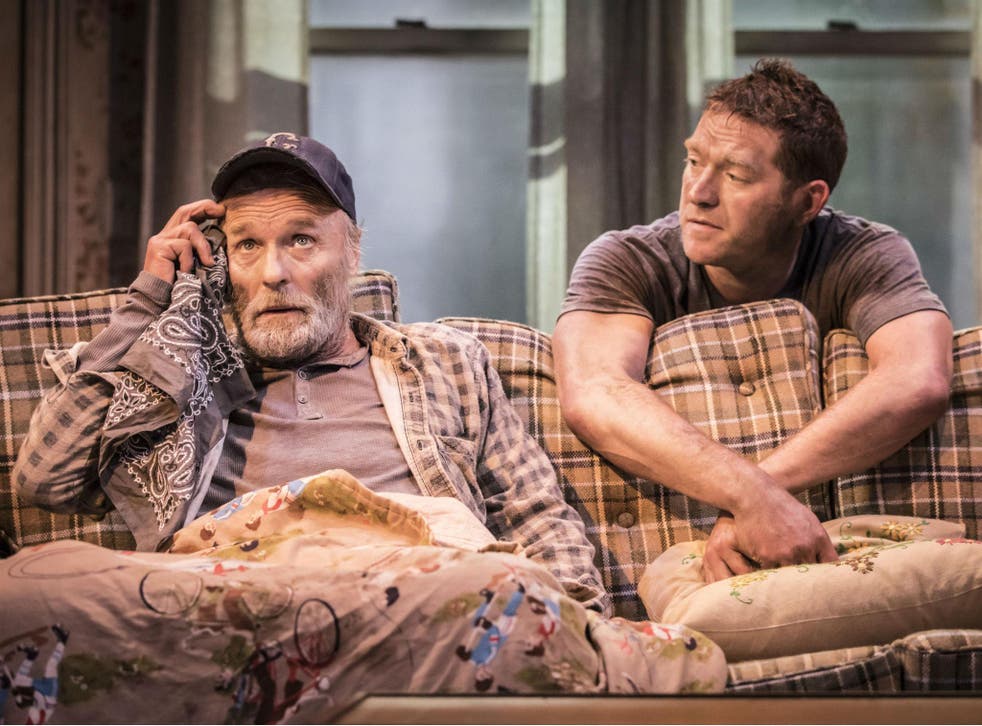 At the age of 66, Ed Harris has finally got round to making his West End debut. Better late than never. The Hollywood veteran rivets the attention with a performance of terrific, understated authority in this Sam Shepard revival, directed by Scott Elliott for The New Group, which has come to London following a run in New York. Buried Child won Shepard the Pulitzer Prize in 1979 and marked his shift from off-Broadway experimentalist to a writer who could claim to be in the tradition of Eugene O'Neill and Edward Albee.
Certainly, the play is an echo-chamber of influences, not least that of Harold Pinter's The Homecoming which likewise strands a young woman in the unlovely household of her partner's male relations, though with a very different outcome. The distinctive Shepard note emerges from the way he takes material that could furnish a straight-faced school-of-O'Neill modern Greek tragedy, full of mythic undertones, and shoots it through with oddball hilarity. Not as means of apologising for the underlying sense of ancestral doom but in order for the black wackiness to bring out the horror all the more forcibly. Elliott's revival is compelling and lucid but its brow seems to be a bit too furrowed with solemn respect. There's a loving attention to detail, sure – in one sequence, for example, we listen to the different rhythm of two leaks dripping through the roof – but the production is slow and over-deliberate. For my taste, Matthew Warchus offered a more devastating account of the play at the National Theatre because he has a keener instinct for the grotesque comedy in American gothic.
Harris plays grizzled Illinois patriarch, Dodge, a retired farmer now unable to budge from the sofa where – seemingly hollowed out by loathing and some dark suppressed secret – he spends his days furtively gulping Scotch, coughing his guts up, and launching grouchy, gravel-voiced barbs. His shrewish, church-going wife Halie (vividly played by Harris's real-life spouse, Amy Madigan) is off to have lunch with her fancy man, the local minister, whom she hopes will help her to erect a monument to the dead son whom she dogmatically idealises as the young man who would have blossomed into an all-American action hero if he'd not been so remiss as to marry a Catholic. The state of her surviving sons does not give that estimate much credibility. Because of some (as yet) undisclosed hurt, Tilden (sensitively portrayed by Barnaby Kay) seems to have regressed into a child-man and keeps bringing in mysterious armfuls of sweetcorn and carrots from the back lot that has been barren for forty years; Bradley (Gary Shelford) is a malevolent, one-legged self-amputee, not to be trusted with the electric hair-clippers.
Grandson Vince (Jeremy Irvine) is not best pleased to discover that nobody recognises him on a flying stop-over with his girlfriend Shelly during their drive to New Mexico – not even when (in a deliciously absurd sequence) he performs for them what he thinks are his trademark tricks: drumming daft tunes on his teeth ("You used to kick me out of the house for this one") and turning the flesh on either side of his navel into a jabbering cartoon mouth. But then, as the title indicates, this family is in the business of disowning the real past. Charlotte Hope (from Game of Thrones) gives a particularly admirable performance as Shelly, showing you a young woman who, forgivably, at first wants to beat an instant retreat from this mad house but whose freshness of spirit and refusal to narrow her eyes in pre-emptive reproof let the air in. She's leered at by Dodge, has her rabbit fur stroked with infantile devotion by Tilden, and has to endure having her mouth probed by Bradley's fingers. Talk about meet the folks. Hope remains beautifully spontaneous and appealing throughout, especially when Shelly is forced to appropriate Bradley's wooden leg as a defensive weapon.
Harris brings wit,subtlety and a complete freedom from melodrama to his portrayal of this curmudgeonly husk of a once-fierce man (the climactic revelation and Dodge's delivery of an improvised will are master classes in the potency of quiet acting). I hope that we will see him in the West End in another role soon.
Join our new commenting forum
Join thought-provoking conversations, follow other Independent readers and see their replies