Cat on a Hot Tin Roof, Apollo Theatre, London, review: Sienna Miller reeks glamour, allure and sexual frustration as Maggie
Miller stars with Jack O'Connell in Benedict Andrews's Young Vic production following his smash hit 'A Streetcar Names Desire' in 2014 with Gillian Anderson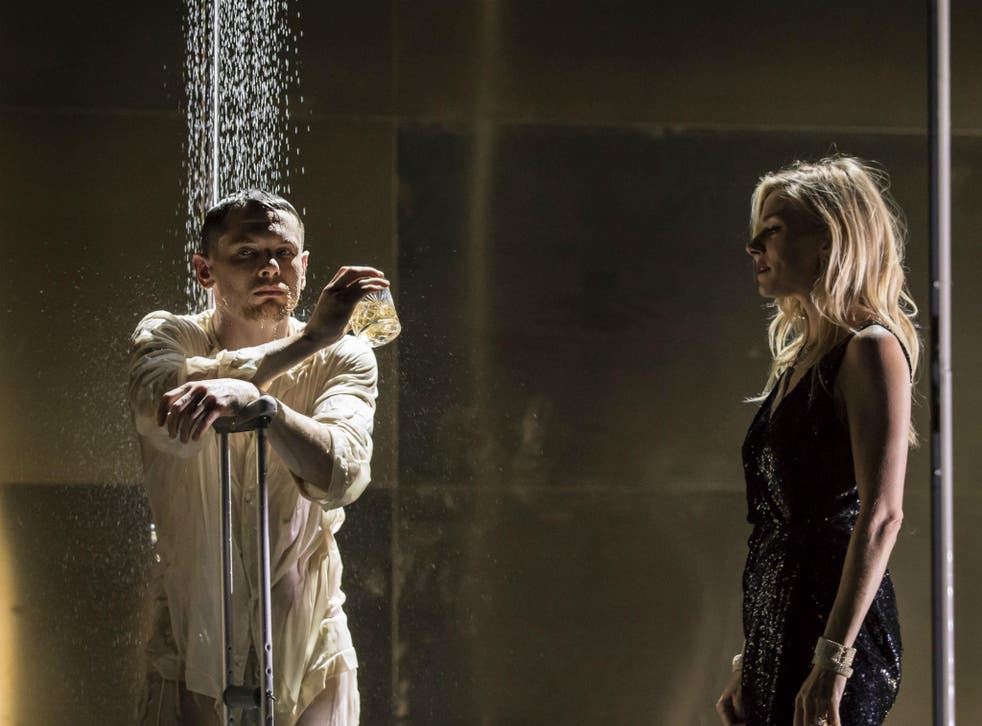 Tennessee Williams's 1955 masterpiece shows you a Mississippi world awash with whisky and lies. Brick – former college football star and impotent husband of Maggie the Cat – would rather numb himself to oblivion with booze than own up to the real nature of his relationship with his dead friend Skipper. Nobody dares to tell Brick's father, the overbearing Big Daddy, that his "spastic colon" is cancer. It's the plantation owner's 65th birthday and he hasn't yet made a will, so the festivities are bound to be fractious...
As with his production of A Streetcar Named Desire, starring Gillian Anderson, a few years ago, Benedict Andrews offers a brilliant, lacerating account of the play that jolts you out of any complacent sense of cosy familiarity with the dramatist's characteristic terrain. He's a director who likes to strip things to their primal forces.
The lights go up here and Jack O'Connell's excellent Brick is seen slumped naked and despairing under the flow of water from a free-standing shower that seems to grow like a strange plant out of the bedroom carpet. Over the course of the evening O'Connell has to spend so much time under this spray, as Brick seeks unconscious watery absolution, that I began to wonder if his insurance covers erosion.
In this Young Vic production, Sienna Miller reeks glamour, allure and sexual frustration as Maggie but her commanding performance also spiritedly brings home how this is a woman who was born poor, raised poor and expects to die poor unless she can somehow use her native aplomb to engineer a child by a man who won't touch her.
She's vulgar in a classier way, so to speak, than her rich in-laws. "Skipper is dead! I'm alive. Maggie the Cat is alive" she roars and you can almost hear the vitality coursing through her veins. Wounded and impassive, O'Connell's Brick impressively weaves between withdrawal and outbursts of violence when his defensive reserve is pierced.
Magda Willi's symbolic design (black bed linen; surround of golden panels) places the half-dozen bottles whisky and a bag of ice on the floor right at the front of the stage. It's an awkward position that compounds the difficulties Brick already has, hobbling round on a crutch because of a drunken accident (the crutch flies and chunks of ice are hurled at the wall in moments of fury) and his desperation for drink after drink after drink until he hears the "click" that makes life bearable is highlighted by all the one-legged unwieldiness.
The proceedings are set in the present day (Lisa Palfrey's gloriously garish Big Mama keeps her mobile down her ample cleavage). Does this make Brick's denial of his homosexuality seem less convincing? To my mind, it emphasises how Big Daddy's attitude (because of the gay couple who mentored him) is more liberal and than his son's, suggesting that Brick's problems with facing up to who he is can't be confined to the issue of his sexuality.
The big showdown between father and son – a literal and figurative kicking away of crutches – is beautifully negotiated by O'Connell and Colm Meaney, who signals the sensitivity and the dread of mortality in this lewd, overbearing man, and the whole is played out against the ironic explosions of celebratory fireworks.
The last act was rewritten several times. I don't want to give too much away about the version used here, except to say that it predates the script used for the Broadway premiere and goes back to a darker and less redemptive view of the play in which Big Daddy does not return to give his blessing to Maggie's lie about her pregnancy. It's unforgettable and not just because Andrews's intrepid production leaves the stage covered with ice-cubes and shredded birthday cake. Strongly recommended.
Join our new commenting forum
Join thought-provoking conversations, follow other Independent readers and see their replies