Cymbeline, Sam Wanamaker Playhouse, London, review: Production rises to the drama's complicated occasion
Shakespeare's bizarre play is full of expressively abrupt transitions between violently disparate tones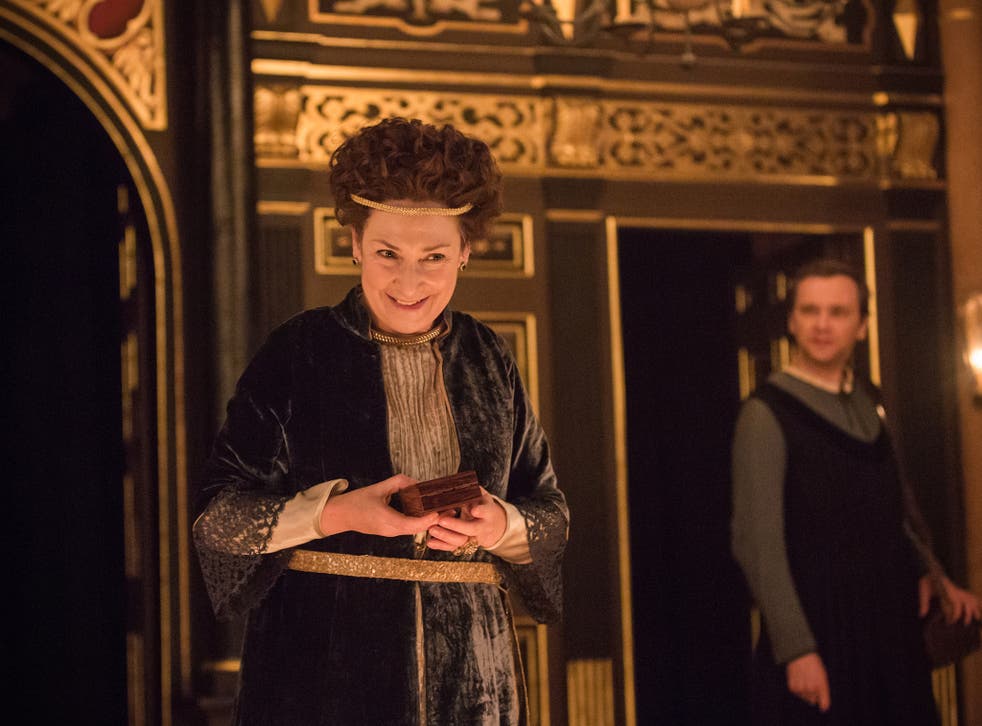 Cymbeline has claims to be considered one of the most exorbitantly wondrous and bizarre plays in the Shakespeare canon. This work is several things at once. It's a tragicomic romance with long-lost royal sons kidnapped and reared in the wilds of Wales and a protracted final scene of dizzying multiple reunions which straddle the preposterous and heart-stopping. It's a history play in which Britain defies Rome and its demand for tribute only to succumb to the colonial claim once the home team has won on the battle field. There are affinities with Othello as faith in a virtuous wife is undermined by a pasteurised variant of Iago. It has pantomime figures who are also speechifying patriots and it's the first piece by Shakespeare in which a God descends ex machina.
This is sophisticated indoor-theatre. Sam Yates's production rises to the drama's complicated occasion in a production that takes beautifully simple and fully-felt advantage of the venue's gilded, candle-lit intimacy. This is a play that, in the classic manner of late work by geniuses, is full of expressively abrupt transitions between violently disparate tones. Yates' warm achievement is to tip the audience a gently knowing wink about the tricksiness of this while tackling each emotional tone and colour on its own merits and convincing you that the play adds up to a great deal more than the sum of its parts and reaches into the souls of spectators much further than a cool view of its separate components might seem to warrant.
An exceptionally skilful and engaging cast expedite Yates's poetically supple and humane vision of the piece. They keep you hooked on a narrative that, at times, would try the patience of a credulous saint. Take the scene that combines grotesque farce and a sudden surge of insight into the treacherous overlap between inner and outer worlds. Now disguised as a young man and on the run, Emily Barber's admirably unsoppy, indeed sometimes stroppy, and briskly intelligent Innogen wakes up from supposed death pillowed on a headless corpse. Because of its clothes, she takes this to be her estranged husband and itemises how its various heroic properties make it unmistakably the body of her spouse. In fact, it's the remains of the well-named Cloten, his doltish rival. He's played very well by Calum Callaghan whose delivery is a series of short aggrieved screeches that sound like the skidding of an badly-oiled bubble car that somehow imagines that it's a Rolls. But here we laugh at the situation rather than Innogen and it's as if a snatch of one of Beethoven's Late Quartets has invaded the incident when she reflects on the bleak fact that the corpse is no figment or fantasy: "The dream's here still. Even when I wake it's/Without me as within me; not imagined, felt". The modulation is effected with a haunting tug.
And it's a lovely witty touch that, being bound in chains, Jonjo O'Neill – who is in fine form sardonic, slightly melancholic Posthumus – nuts rather than strikes his disguised wife, before the famous embrace and the immortal "Hang there like fruit, my soul/Till the tree die".
To 21 April; 0207 401 9919
Register for free to continue reading
Registration is a free and easy way to support our truly independent journalism
By registering, you will also enjoy limited access to Premium articles, exclusive newsletters, commenting, and virtual events with our leading journalists
Already have an account? sign in
Register for free to continue reading
Registration is a free and easy way to support our truly independent journalism
By registering, you will also enjoy limited access to Premium articles, exclusive newsletters, commenting, and virtual events with our leading journalists
Already have an account? sign in
Join our new commenting forum
Join thought-provoking conversations, follow other Independent readers and see their replies