Dance review: Royal Ballet triple bill - Something masterly in the woodshed
A Britten homage mesmerises, but Ratmansky's debut stumbles over tricky music. As for Acosta's Apollo, he simply sizzles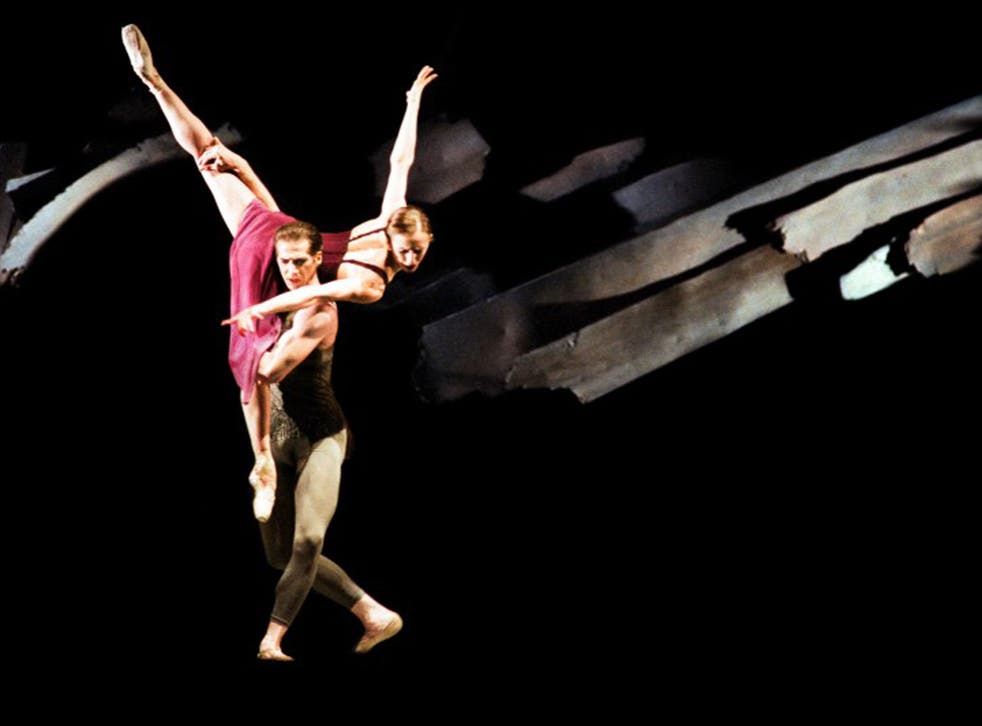 Here's a formula for upping the stakes in a triple bill. First, commission new work from the ballet world's two most-wanted choreographers. Then, drop in a masterpiece. Wham. That's the hand you have to trump, guys.
The Royal Ballet's new programme opens with Apollo, as bracingly modern as the day it was made in 1928 by a 25-year-old Russian emigré called George Balanchine. With its blue wall the colour of Greek skies, the stage setting alone is dermabrasion for the eyes, and Stravinsky's translucent score for strings holds the listener in a state of tremulous alertness. It helped that the opening-night cast gave a near-definitive showing, Carlos Acosta a sungod of palpable heat, his three muses as like as peas and silvery as air.
Apollo is certainly hard to follow, but another Russian emigré, Alexei Ratmansky (the ex-Bolshoi director making his first ballet for a British company), falls at the first hurdle: his choice of music. The 24 Preludes from which his new ballet takes its name are Chopin's, nuggets of Romantic pianism, quintessential and unimprovable. Yet Ratmansky can't do anything so obvious as play them straight. Instead he picks a perverse 1960s orchestration. Trombones adopt rippling bass lines meant for an agile left hand, turning them to mud. Whining woodwinds cloy what should be limpid melodies. The entire set feels unwieldy and wrong.
Is this why Ratmansky pushed his cast into such extremes of facial engagement? The steps contain emotion enough, as well as bright spots of humour. Hunky Edward Watson gamely tries to keep two girls happy and exits with one of them clinging to his leg; there's a harum-scarum duet for Alina Cojocaru and Steven McRae, the company's twin speed-merchants; and some neat overlapping of numbers, such that a gaggle of dancers making their entrance appear to take sides in an earlier lovers' spat.
The shadow of Jerome Robbins's 1960s classic Dances at a Gathering looms large – another reason to have eschewed Chopin and mackerel-sky backdrops, lovely as they are. But if the cast were to take the Russian temperaments down a notch, 24 Preludes might hold its own.
Christopher Wheeldon also saddles himself with difficult music in Aeternum, his homage to Benjamin Britten on the composer's centenary. Here he lets a giant, floating sculpture (design, Jean-Marc Puissant) embody the apocalyptic gloom of Britten's Sinfonia da Requiem. I found myself mesmerised by this flattened, grey version of Cornelia Parker's exploding shed, suggesting a new kind of nuclear cumulonimbus. It starts on the floor, rises as if riding a thermal, then turns spectacularly on its axis, like a lamb on a spit, during which time it's easy to forget the dancers underneath. Marianela Núñez repeatedly hoists a leg as if were a rifle. The chorus cluster and gasp. There's a sense of impending end-of-the-world, followed by a deep peace. Whether that means armistice, heaven or oblivion, the image you take away is of that floating logpile.
While shows by the late Pina Bausch (Sadler's Wells, London ****) always sell out quickly, there was no hope for dawdlers in the case of Vollmond, a piece featured prominently in Pina, Wim Wenders's 2011 film. Here are the usual Bauschian tropes – men and women, the difficulty of rubbing along, Mars and Venus-stuff – but minus the angst.
Vollmond means full moon – which also means high water – and the back half of designer Peter Pabst's stage is a pool across which performers gambol or doggie-paddle, the women wetting their long hair to swing wide arcs of glittering spray, their bright silk frocks stuck to them like clingfilm. Men, stripped to the waist, chuck bucketfuls of water at a rock, emulating the power of the sea – or perhaps demonstrating the ultimate futility of human endeavour. Like the woman who carefully threads a glass of water under the hem of her dress and up to her lips before she'll allow herself a sip, smiling with satisfaction. There's always a flipside to Bausch's imagery, which tends to worm its way into your dreams.
Royal Ballet triple bill (020-7304 4000), to 14 Mar; 'Vollmond' (0844 412 4300), to 6 Mar
Critic's Choice
As media mergers go, sculpture and dance is a no-brainer. Russell Maliphant's The Rodin Project goes one further by setting the movement on a sextet of hip-hop dancers, whose low centre of gravity and propensity for extreme torque make them highly mouldable into Rodinesque shapes. A short UK tour takes in Wyvern Theatre, Swindon (Tue), Sherman Cymru, Cardiff (Thu), and The Lowry, Salford (12 Mar).
Join our new commenting forum
Join thought-provoking conversations, follow other Independent readers and see their replies