Death of a Salesman, Royal Shakespeare Theatre, review: Antony Sher is piercing
Gregory Doran puts on a gutting and acutely-pondered production
Paul Taylor
Saturday 04 April 2015 11:55 Comments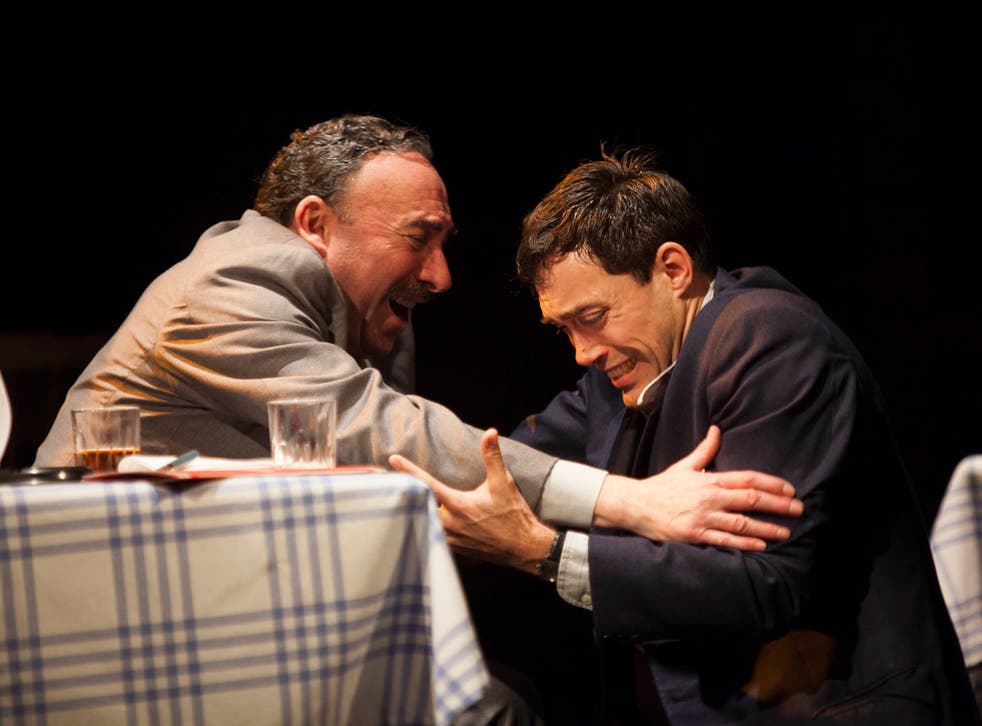 It's the centenary of Arthur Miller's birth and you can't accuse the Royal Shakespeare Company of not marking the occasion as prominently as possible. The Bard has been obliged to budge over for a while. This revival of Miller's landmark 1949 play not only launches the main house season at Stratford but also has the honour of being the first modern work ever to be programmed for celebratory performance on Shakespeare's birthday, April 23.
I'm happy to report that Gregory Doran's gutting, acutely pondered production of Death of a Salesman goes a long way towards substantiating his claim that its "rightful place" is "alongside Shakespeare's greatest works". Private and public, present and past, an Oedipal drama about fathers and sons and a devastating critique of the debased American dream – these dimensions can truly be said to penetrate each other in this piece.
Miller's innovatory stroke is to show Willy Loman, his 63 year old failing, suicidal travelling salesman, contending with unreliable, subjective memories and fantasies at the moment they come into his mind, always prompted by the unforgiving present realities of facing the scrap heap after thirty six years' dedicated service.
Antony Sher's piercing performance pulls off the considerable feat of making you cringe and tearing at your heart simultaneously as he shuttles between the fagged-out, crumpled older Willy, with his fear of being laughed at, his spurts of puce-faced Lear-like anger and his sudden surges of mad, incurable optimism and the spiffy, overbearing young huckster with his fantasies of career-making popularity whom we see placing a terrible burden of expectation on his adoring, sporty sons.
Alex Hassell, who was Hal to Sher's Falstaff in Henry IV, is excellent as Biff, the golden boy turned drop-out, conveying that it's a despairing agony of love as well as fury and frustration that drive him to confront Willy with the phoniness of his dreams.
I have always felt that the play fights shy of acknowledging that the long-suffering Linda has effectively been an accomplice in the ruining of her sons by so steadfastly siding with her husband. arriet Walter's portrayal beautifully conveys, though, something heroic in her pragmatic, stoical devotion so that in the key "attention must be paid" speech she sounds like her own painfully perceptive woman rather than Miller's editorialising mouthpiece.
Stephen Brimson Lewis's design on the mighty thrust stage projects the dreamscape quality that the author stipulated, situating the Loman's wooden house at back, dwarfed by tenement towers that are redolent of Willy's sense of encroaching suffocation, with the forestage the arena for his dramatised thoughts. The often surreal fluidity of the transitions is heightened by the fact that the set becomes translucent when the play switches to his consciousness.
Sher is superb in the later scenes of almost unbearable humiliation, forced to crawl, say, to a boss he knew as a baby who is too preoccupied with the 1940s equivalent of an executive toy to listen properly. It certainly whets the appetite for the thematically paired production of King Lear in which he will star next year.
To May 2; 0844 800 1110
Register for free to continue reading
Registration is a free and easy way to support our truly independent journalism
By registering, you will also enjoy limited access to Premium articles, exclusive newsletters, commenting, and virtual events with our leading journalists
Already have an account? sign in
Join our new commenting forum
Join thought-provoking conversations, follow other Independent readers and see their replies