Dinner With Saddam, Menier Chocolate Factory, review: I'm still aching from the laughter
Steven Berkoff is in sublime form as a Saddam trying to come across as the gentle, musing Father of his People – but with lethal flashes of the monster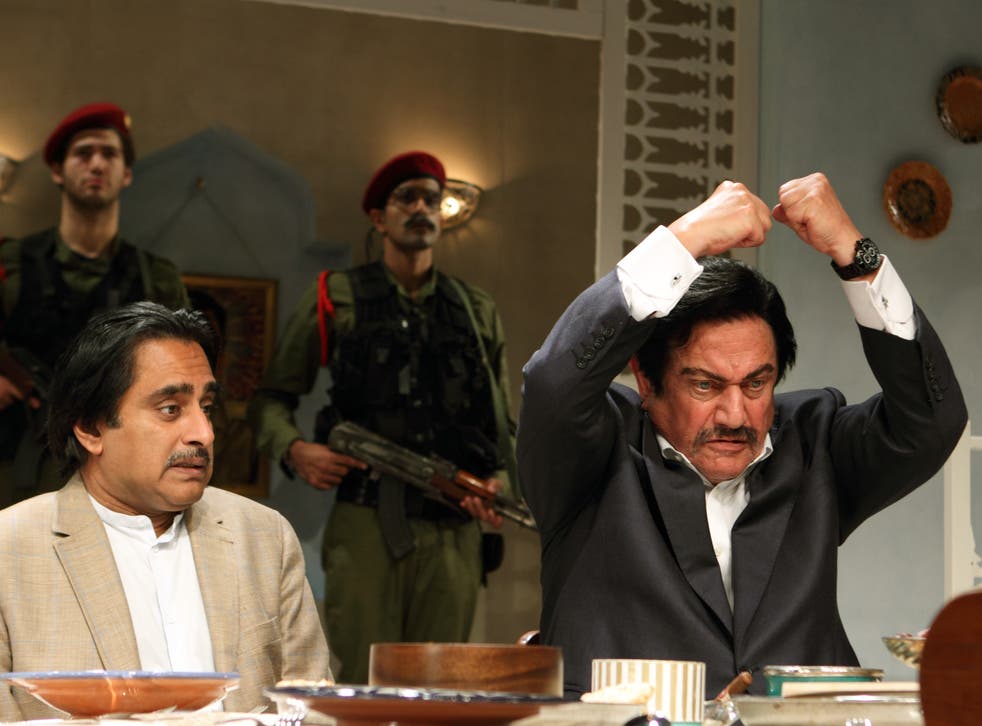 I once had a brainwave. A big movie-musical in which Ethel Merman, Special Envoy, brings peace to the Middle East. Working title; Call Me Saddam. Such a pity Ethel died in 1984 or we'd have cleaned up. Pretty miraculous, then, that I feel no resentment towards Anthony Horowitz.
He's had a genuinely inspired idea and developed it into a delirious, sharp-edged farce. It's premiered now by Lindsay Posner and a highly engaging cast who perform it with terrific dexterity and warmth.
We're in Baghdad on March 21, 2003 – a day that will end in "shock and awe". But try telling that to Sanjeev Bhaskar's hilariously panic-stricken Ahmed, a construction supervisor who refuses to believe that there'll be an American bombardment. Not a view shared, it seems, by Saddam who is descending on the dumbfounded families of ordinary citizens for meals so as to dodge the missiles targeted at him.
Though he looks more like Robert Maxwell, Steven Berkoff is in sublime form as a Saddam trying to come across as the gentle, musing Father of his People – but with lethal flashes of the monster. I thought that I'd died and gone to heaven when he waxed lyrical about the virtues of Mateus Rose before sliding into murderous contempt for Portugal. Superbly plotted heart-attack mix-ups and a disarmingly eloquent indictment of American adventurism. I'm still aching from the laughter.
Join our new commenting forum
Join thought-provoking conversations, follow other Independent readers and see their replies