Displacement, Lilian Baylis Studio, Sadler's Wells, London, review: evokes the experience of war and migration
Syrian dancer and choreographer Mithkal Alzghair's work is part of the Shubbak festival of Arab culture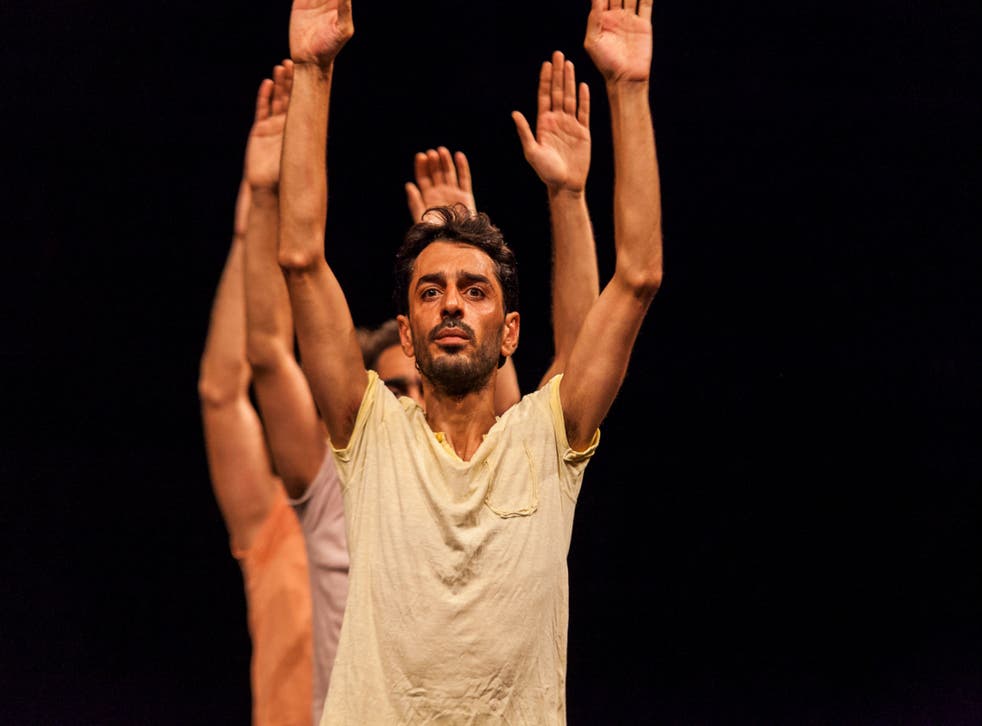 In Displacement, Syrian dancer and choreographer Mithkal Alzghair finds a way of dancing restraint, when movement is forced or prevented. Snatches of folk dance ripple through his body, before being brought short. Tiny moves suggest whole held-in dances; big, swooping steps look driven, as if his body is controlled from outside.
Appearing as part of Shubbak, London's biennial festival of contemporary Arab culture, Alzghair's double bill evokes the experience of war and migration. There's little music or explicit storytelling: it's all carried in the body.
Solo, the stronger of the two works, opens with the offstage sound of traditional music. A pair of heavy boots sit on the bare stage. As the music fades, Alzghair brings on and sets down a folded white cloth, then zips himself into the boots. As soon as they're on, they seem to direct and dominate his movement.
At first, it's as if he's trapped on the spot, as if his feet are glued to the floor. When he starts to dance, in little shuffles that barely move from the ground, hinting at steps and rhythms that he can't perform at full volume. Growing bolder, he starts to suggest traditional Syrian dances, twists of the waist and shoulders, his feet finding some freedom.
Alzghair is a slender, wiry dancer, moving with contained energy and lively rhythm. As his steps get bigger, turning into swoops and dashes around the stage, it's as if the boots have become Hans Christian Andersen's red shoes, driving their wearer to dance. The only sound is Alzghair's breath and the rhythmic stamp of his feet. He moves to the point of collapse, but even that is changed and edited. The first time he falls, it looks desperate. The second, it's almost languid.
In Trio, Alzghair is joined by Rami Farah and Samil Taskin. They line up to perform small movements in intricate rhythmic patterns, shifting in and out of unison. Raised hands could be a folk step or a sign of surrender. Even when they're moving together, they're not at ease with each other. When they unfold the white cloth, left over from Solo, and wrap themselves in it, it suggests a muffled rather than a shared identity.
Trio is a longer and more muted dance, with dimmer lighting from Séverine Rième. Its insistent patterning can feel self-absorbed. As a programme, Displacement has a powerful sense of distress held in the body, of the physical experience of political grief.
Join our new commenting forum
Join thought-provoking conversations, follow other Independent readers and see their replies