Dogfight, Southwark Playhouse, London, review: 'Enjoyable, moving, stimulating and wonderful'
New musical would win awards in any truly discriminating theatrical culture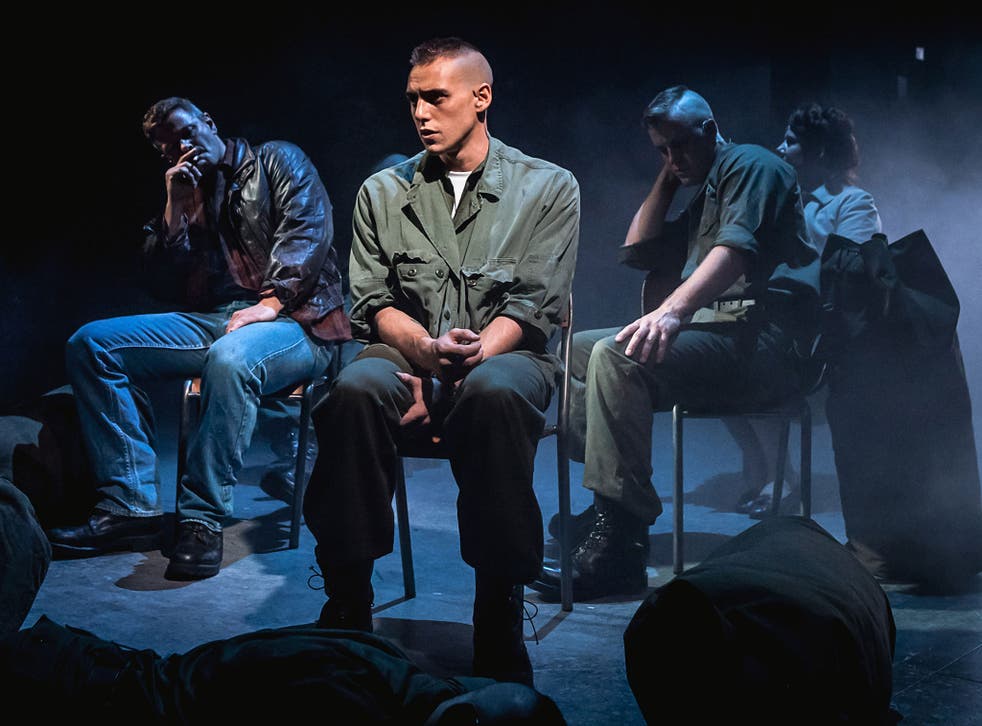 This is, to spit it out directly, not only the most enjoyable, moving and stimulating new musical that I have seen in ages but it is also – for all that it is set in San Francisco in 1963 amongst a bunch of marines on their last night of shore leave before setting off for Vietnam – a work that can genuinely and agelessly be talked about in the same breath as a great play (Much Ado About Nothing) and a great, under-rated 1963 musical (She Loves Me – Masteroff, Harnick, and Brock).
In all three of these works, there's a similar narrative foundation and emotional trajectory. You take a pair of misfits (or least people who are at an awkward angle to the prevailing ethos, a bit like having a permanent stone in one's shoe) and you show them meeting, clashing, and having to work through the perilous pitfalls of mutual misapprehension before bursting through to an oddball soulmate romance that somehow throws into relief the shortcomings of the surrounding society.
This musical – with a shrewdly tailored book by Peter Duchan and a marvellously up-for-it chameleon score and lyrics by Ben J Pasek and Justin Paul – is based on the 1991 movie of the same name, starring River Phoenix.
The initial premise – the dogfight is a revoltingly misogynist prank in which the marines gamble against each other for money as to who can snare the ugliest date for a dance – sounds like the uber-cynical set-up for a Neil LaBute play.
Now there's a real challenge for composers: last one to musicalise a Neil LaBute play is a cissy. But crew-cut virginal-stud Eddie Birdlace (stunning Jamie Muscato) meets his match in more senses than one when, under false pretences and intent on financial gain, he squires to this emetic bash one Rose, an overweight, homely-on-the-outside coffee-shop attendant.
She eventually realises, crest-fallen, what's going on; he, in a dim agony of (liberating) shame, tries to atone by inviting her out for a private dinner.
In a performance of inexhaustible psychological and vocal loveliness, Laura Jane Matthewson nails completely, how Rose is a young woman who's straddled, with unassuming anguish and deep wit, between a culturally determined underestimation of herself and a wryly acute and unself-regarding emotional intelligence.
In a manner that brings a smile to the lips and a lump to the throat simultaneously, her character is the most intelligent person on stage, by far, and this adaptation augments that aspect of her by making her, with heels-dug-in modesty, an amateur song-writer of the Woody Guthrie protest-persuasion.
Yes, but what of the numbers in Matt Ryan's well-nigh perfectly cast production? Well, they're terrific. With canny drive, they forward our insights into the broad political context (naively patriotic soldiers poised to topple into hell) and into the shifting subtleties of the central relationship.
On the subject of the latter, I was particularly charmed, moved and haunted by the song the pair sing as they tread their the way to the restaurant. They are each, burblingly and defensively, in their separate grooves of meditation: "Bum bum bum/Ba-Ba Ba-Ba/Bum/Don't know why/I deci-/Ded to come".
Ah but the harmonies derived from these two distinct lines, that swarm towards each other and swerve apart, tell a different tale.
A wonderful evening and one that, in any truly discriminating theatrical culture, would win awards.
Join our new commenting forum
Join thought-provoking conversations, follow other Independent readers and see their replies